The Kia Motors EV6 is in Demand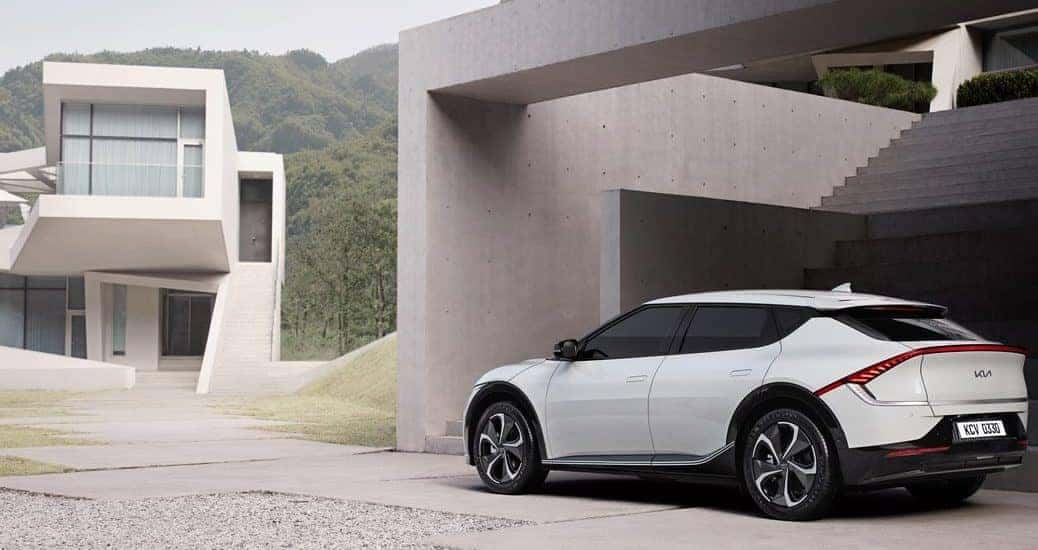 Earlier this year, Kia Motors unveiled something extraordinary. It was the all-electric Kia EV6 . This is a first for the automaker, having always released plug-in hybrid and electric versions of vehicles after an internal combustion engine was the precursor. One exception is the Kia Niro, released in 2017, and the first hybrid compact SUV of its kind; a plug-in hybrid and eventually an electric vehicle followed. The EV6, however, has no precursor, and is starting off as an all-electric vehicle, also referred to as a battery-electric vehicle (BEV). Popularity for the Kia BEV is already rising overseas, with over 7,000 units ordered in Europe alone.
" Kia has opened factory orders for the ground breaking EV6 following a successful European reservation phase. The brand obtained 33,000 prospects, including 7,300 reservations. On top of that, more than 26,000 customers showed interest in Kia's first dedicated battery electric vehicle. Thanks to this remarkable performance, Kia already secures 300% of the expected sales volume for 2021. Customers will be able to order the EV6 from their local dealer from today, ahead of production starting mid-2021." – Kia Motors
Over in Europe, the price is estimated to be about 44,990 euros, but this doesn't reflect the numbers for the U.S. The Kia EV6 will undoubtedly make its way overseas, expected to have strong demand in North America, but the same information nor the pricing for the U.S. has been released as of yet, but based on the European starting MSRP, one could guess around $45k. It's not your everyday budget vehicle, but it's also a huge leap forward for the automaker. Able to be powered by either a 58 or 77 kWh (the starting MSRP is for the 58-kWh configuration), the EV6 also comes with dual-motor all-wheel-drive or single motor rear-wheel-drive.
The all-wheel drive will be exclusive to the EV6 GT. Yes, we're talking about a high-performance EV from Kia Motors. Able to generate 545 lb-ft of torque, accelerate from 0-60 mph in 3.5 seconds, and equipped with electronic-Limited Slip Differential software, the EV6 GT is going to change the way Americans think about EVs. Equipped with an Integrated Charging Control Unit (ICCU), a new vehicle-to-load (V2L) function, the Kia EV6 also has the ability to act as a portable battery, able to supply up to 3.6kW of power. If glamping is on the list this summer, the Kia EV6 can power a 55-inch television and air conditioner simultaneously for an entire day.
Technology is also a step up in the EV6. Starting from the front with an augmented reality (AR) head-up display system projected onto the windshield, 12-inch dual screens make up the center console. Kia Motors introduces its new "Kia Connect" connected car system. Previously known as the UVO infotainment system, it still provides Kia real time services and over-the-air (OTA) updates, but has also been optimized for the EV6 to help consumers recharge by finding locations and showing the pricing of nearby EV charging points. For those who get anxious about running out of juice, consumers can also view their vehicle's charging status, plan smart charging schedules, and check how much range the vehicle has left in case a charge up is needed along the way.
More information is being released as 2021 continues to surprise. To stay informed on the Kia EV6 and other Kia Motors vehicles, follow us on Miami Lakes Kia social media . You can also find many of the vehicles mentioned in this article at Miami Lakes Automall today.
Photo Source/Copyright: Kia Media
Previous Post How Well Do Car Seats for Kids Fit into the new Kia Carnival MPV Next Post Kia Motors Donates $250,000 to Covenant House