Kia Reveals the New EV6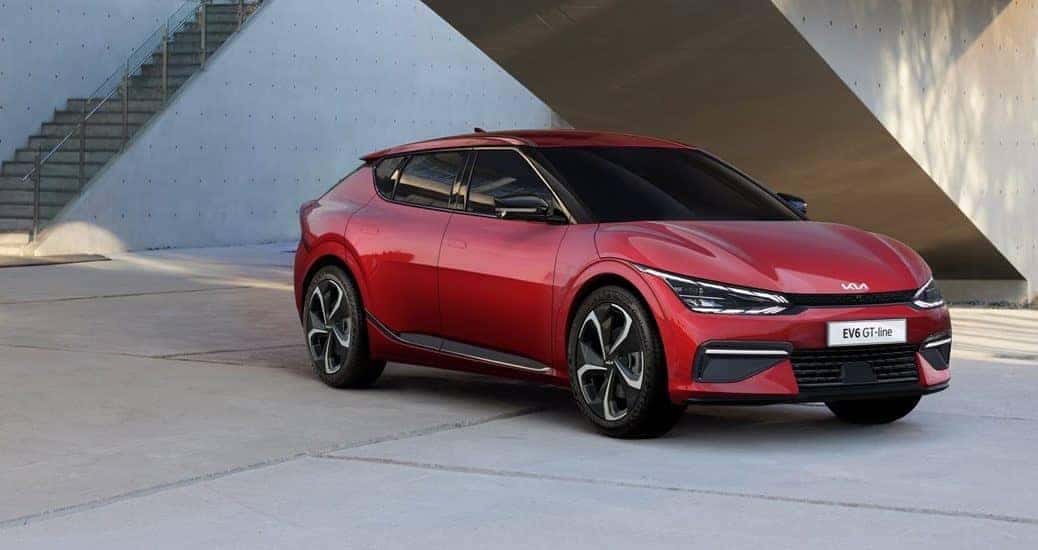 A few weeks ago, Kia Motors gave the world a preview of its first all-electric vehicle . That is to say, Kia Motors has had electric vehicles before, with the Kia Soul EV and Kia Niro EV, but this would be the first time the automaker produced an all-electric vehicle before a gasoline internal combustion engine or plug-in hybrid vehicle. Going straight for zero carbon emissions and all battery power, the new Kia EV6 is an icon of what comes next for Kia Motors.
"EV6 is the embodiment of the new Kia. It is born to inspire every journey, through bold design, progressive engineering, innovative technologies, and exciting electric performance…EV6 also represents the beginning of Kia's long-term commitment to sustainable mobility, accelerating the transition not only to clean transportation, but also products, materials and manufacturing." – Ho Sung Song, Kia's President & CEO
All-Electric Power
Making up the powertrain for this EV is a pair of 430kW motors. Showing off the power of an electric motor, the EV6 comes with an all-wheel drive GT trim, able to generate 545 lb-ft of torque and accelerate from 0-60 mph in 3.5 seconds with a top speed of 161 mph. Equipped with an electronic-Limited Slip Differential software, the EV6 GT will give drivers a greater sense of control and dynamic ride and handling in all conditions. And people thought a high-performance electric vehicle was nonsense.
This is an electric vehicle, which means recharging the battery. Available in 800V and 400V charging capabilities, without the need for an adapter, consumers don't need to wait 30 minutes anymore. In just 18 minutes, the EV6 can complete a high-speed charge from 10 to 80 percent. If using the 2WD with the 77.4-kWh battery option, then it's 120 miles in 4.5 minutes. Wow! Drivers can also choose from six regenerative braking levels to control how much energy is recuperated.
The EV6 also acts as a transportable battery. Equipped with an Integrated Charging Control Unit (ICCU), a new vehicle-to-load (V2L) function enables the vehicle battery to supply up to 3.6kW of power. Able to tow up to 3500 pounds, consumers can make use of the V2L function to glamp up the next camp night as long as they keep the battery life above 35-percent. Think about this – with the V2L, a Kia Ev6 could operate a 55-inch television and air conditioner simultaneously for more than 24 hours.
Style
Embracing a new design language, we discussed much of the exterior in the preview with a new front fascia donning a 'Digital Tiger Face', an electrified version of Kia's 'Tiger Nose Grille', combined with a 'sequential' dynamic light pattern for the daytime running lamps (DRLs). With simple lines and natural energy, the body still has its own sculpted look that has an impact. With a modern, sleek and aerodynamic silhouette, the windshield and windows feel as if they're all one. The rear slopes down and is highlighted by a wing-type roof spoiler.
Inside is just as nice, immediately feeling futuristic with the high-tech curved high-definition audio visual and navigation (AVN) screen, seamlessly integrated into the dashboard. Built upon Kia's dedicated E-GMP platform, the interior space is more than one would guess, akin to that of mid-size SUVs. In fact, there is 18-cubic-feet of cargo space with the second row up and 45 cubic-feet when it's down. There is also a front trunk of 1.9 cubic-feet on a two-wheel drivetrain, and 0.7 cubic-feet with AWD. The upholstery is made up of modern, visually interesting and robust fabrics made out of 111 recycled water bottles.
The Tech
Here is what we're really looking for. Starting with 12-inch dual screens, the cluster and infotainment system are connected and wrap around the body of the dashboard, protected with reinforced glass. Some of the cooler options include an augmented reality (AR) head-up display system for easy viewing of basic driving information on the windshield, as well as turn-by-turn navigation instructions and Advanced Driver Assistance System alerts.
Also available is the latest version of Kia's innovative connected car system "Kia Connect", previously known as the UVO infotainment system. Optimized for the EV6, not only does the system provide Kia real time services and over-the-air (OTA) updates, but it helps users find locations and pricing of EV charging points, view their vehicle's charging status, plan smart charging schedules, and check how much range the vehicle has left based on the remaining charge. If all this isn't enough, a powerful 14-speaker Meridian® surround audio system is also available, a first for the BEV.
Safety is also a must, and the EV6 comes with some cool stuff like Remote Smart Parking Assist. With an enhanced suite of driver assistance systems (ADAS), the Kia EV6 helps to protect occupants when inside and getting out of the car. We're sure many more safety features will be revealed, but the PR highlighted Safe Exit Assist, Lane Following Assist, and Highway Driving Assist (HDA). That last one is new – the HDA will help the EV6 avoid accidents in close proximity to avoid a collision if possible. Merging lanes is also as easy as putting on a turn signal, and Remote Smart Parking Assist helps rivers enter or exit a parking spot without needing to be behind the wheel.
The Kia EV6 offers all of this and more. Follow along with us on Miami Lakes Kia social media to find out when it's available.
Photo Source/Copyright: Kia
Previous Post Kia Telluride Wins "Best 3-Row SUV for Families" by U.S. News Next Post Kia Motors Has Best Sales Since March 2016