Kia Telluride Lands on Another Best Interiors List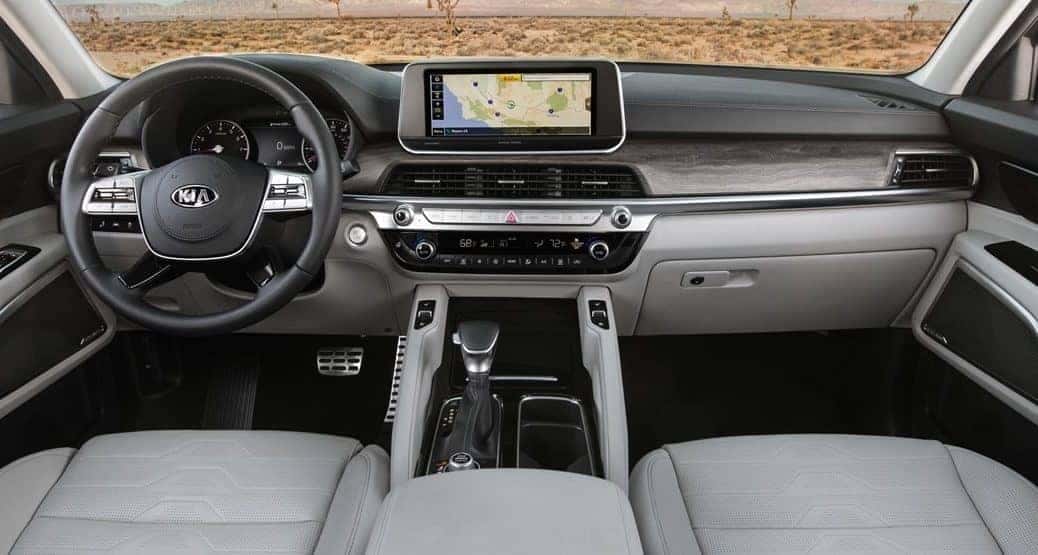 It's not hard to keep the 2020 Kia Telluride, the largest SUV in the Kia Motors lineup, in the spotlight. Just about every automotive journalist, media outlet, and news source is drooling over this one-of-a-kind, all-powerful and adventurous SUV. Recently named the 2020 New England Motor Press Association Winter SUV of the Year during its annual Winter Vehicle Driving Event, the Kia Telluride has also been celebrated by well-known name Autotrader. Having popped on two lists, Autotrader has placed the Kia Telluride on its Best New Cars of 2020 List and put the Kia Telluride on its Best Interiors Under $50k List . Now, another well-known name amongst automotive journalists just sank its teeth into the Kia Telluride and also found that it has a really nice interior cabin. _ WardsAuto _ placed the Kia Telluride on its "10 Best Interiors List".
The 2020 Kia Telluride is definitely not alone. Also riding with this large SUV are the 2018 Stinger, 2015 Sedona, 2014 Soul, 2013 Forte, and 2011 Optima – all of which have also landed on _ WardsAuto _ "10 Best Interiors List" for their respective model year. The exterior of the Kia Telluride is stylish and screams adventure with all the accessories one can add on. Powered by a 291-hp 3.8-liter V6 and able to offer active on-demand all-wheel drive, the only thing that makes the Telluride better is everything the cabin offers. A perfect combination of aesthetics, comfort, ergonomics, material use, fit-and-finish and user-friendly technology, the _ WardsAuto _ accolade holds the Telluride in high regard for the large SUV segment in leadership, innovation, design, safety, driver satisfaction, and overall value.
"Kia deserves every accolade it's received for its Telluride SUV. From the massive flat load floor, dual sunroofs and stellar infotainment system to the heated and ventilated second-row seats, premium cloth headliner and third-row USB charging ports, the Telluride is an excellent value, well-equipped in SX V6 trim for $47,255, as tested…Sealing the deal are the Telluride's aesthetics: Dune Brown leather seats that look and feel as warm as a cowboy's saddle, brushed metallic trim and switchgear, matte finish wood-like trim and meticulous stitching." – Tom Murphy, _ WardsAuto _ managing editor
There are many things to love about the 2020 Kia Telluride interior. If going all out for the high-end 2020 Kia Telluride SX trim, starting MSRP of $41,790 (plus destination fee), a whole list of great features is made available. These include a dual sunroof, a 10/25-inch touchscreen, seven-passenger seating with second-row Captain's Chairs, dual-zone automatic temperature control, a Harman Kardon 10-speaker Premium audio system, and a surround-view monitor. When it comes to safety, every 2020 Kia Telluride trim offers Forward Collision Warning, Blind Spot Detection, Rear Cross-Traffic Alert, and other features, but only the SX comes with a Blind-Spot view monitor, and a parking distance warning system for the front of the vehicle. With Kia Motors offering some of the longer-lasting automotive warranties in the industry, with the basic warranty alone lasting for 60 months or 60,000 miles (whichever comes first), consumers can keep the Telluride in great condition for years to come.
Interested in your own 2020 Kia Telluride ? Contact us Miami Lakes Automall Kia today.
Photo Source/Copyright: Kia Media
Previous Post Kia Releases Digital Owner's Manual App with Google Cloud and Megazone Next Post Kia Telluride SUV Wins 2020 NEMPA Winter SUV of the Year