2020 Kia Telluride Named on Autotrader Best New Cars of 2020 List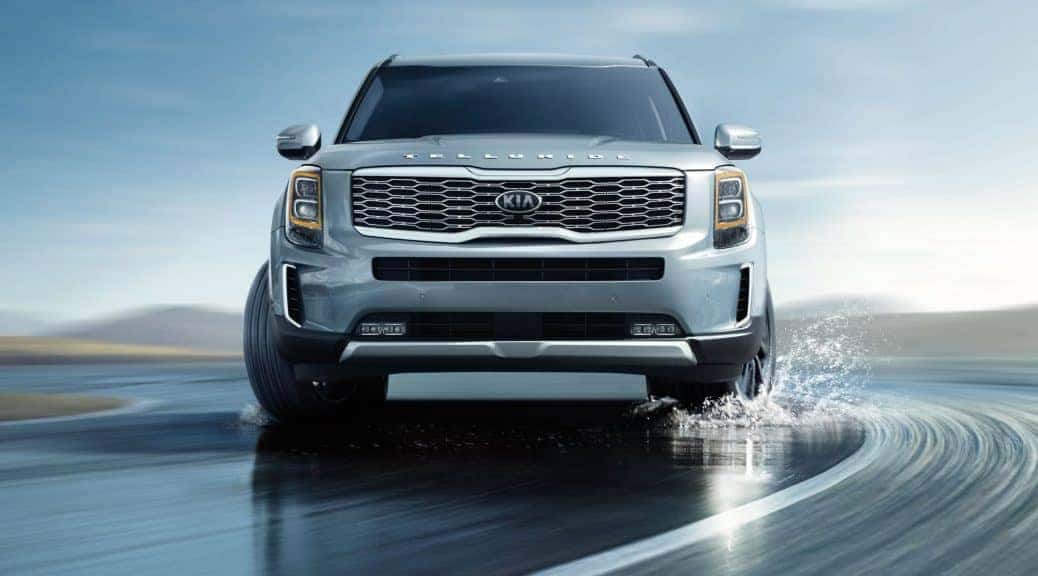 No matter what, Kia Motors keeps gaining awards with the largest SUV to grace its lineup, the 2020 Kia Telluride. Seriously, this baby has won award-after-award. Just last week, we got news of the 2020 Kia Telluride winning the All-Stars Award from leading publication _ Automobile _ magazine . Of course, anything after winning the "Triple Crown" of Automotive Awards , earning awards from _ MotorTrend _ , Car and Driver, and winning the Utility category in the North American Car, Utility and Truck of the Year Awards, is just gravy on top of some fine mashed potatoes. Most recently, _ Autotrader _ , the most recognized third-party car listings brand with the best need-to-know information when in the market for buying a new car, named the Kia Telluride the "Best New Car of 2020". This declaration comes just a month after _ Autorader _ put the 2020 Kia Telluride on their "Best Interiors Under $50k" List .
Heralded for its powerful yet elegant exterior design, and the premium and tech-filled potential of the interior, the Kia Telluride is a bold SUC that stands out in an already crowded market full of SUVs and crossovers. How did Kia Motors manage this one? Well, it wasn't easy.
A group of twelve vehicles was put to the test when _ Autotrader _ started evaluating vehicles for the Best New Cars Award, intended to benefit a variety of shoppers. We already know the many options of variety the Kia Telluride provides, appearing in a number of different concepts before its official release, with four Kia Telluride concepts at the SEMA 2018 Auto Show in addition to the concept from 2018 Fashion Week in New York . Each vehicle on _ Autotrader _ 's list for the Best New Car needed to meet four requirements: (1) Each vehicle has to be either current or next model-year and available for purchase at by the time the awards conclude, (2) the vehicle offers a significant value for the asking price, with a base price no more than $75,000, (3) each vehicle to appear on the final list of twelve had to be agreed upon unanimously by the entire editorial and data team at Autotrader, and (4) the winning cars of 2020 had to score an overall 3.9 or higher on the editors' 5-point evaluation sheet. Now we know why it was so tough.
"The Kia Telluride is the best three-row SUV you can get right now. In every aspect, they got it just right – space, looks, equipment, technology, comfort – it's all there…A real high-point is the interior. The clean lines and uncluttered look make it both functional and attractive. The understated elegance effectively splits the line between everyday utility and uncommon luxury. If a three-row SUV is in your future, consider the made-in-America Telluride, it's really, really good." Brian Moody, executive editor for Autotrader
Lovely words for the best darn SUV currently available in North America. We're not sure why the base price limit was so high. Even the 2020 Kia Telluride SX trim barely cracks past $40k with a starting MSRP of $41,790 (plus destination fee), and that's the high-end trim of the lineup with many pleasing features that landed it on _ AutoTrader _ 's Best Interiors List. This was due to many great features, such as a dual sunroof, a 10/25-inch touchscreen, seven-passenger seating with second-row Captain's Chairs, dual-zone automatic temperature control, a Harman Kardon 10-speaker Premium audio system, and a surround-view monitor. Plus, the 2020 Kia Telluride SX trim came with an assortment of safety features, such as Forward Collision Warning, Blind Spot Detection, Rear Cross-Traffic Alert, and other features, but only the SX comes with a Blind-Spot view monitor and a parking distance warning system for the front.
Looking for your own 2020 Kia Telluride? Take advantage of our digital retailing at Miami Lakes Automall Kia and ask for a test-drive right in your neighborhood.
Photo Source/Copyright: Kia.com
Previous Post Highlights of the 2020 Kia Seltos SUV Next Post Kia Motors Extends Warranties Amidst Stay-at-home Orders for Select Vehicles