Kia Optima Lineup is More Fuel Efficient with Hybrid and PHEV Options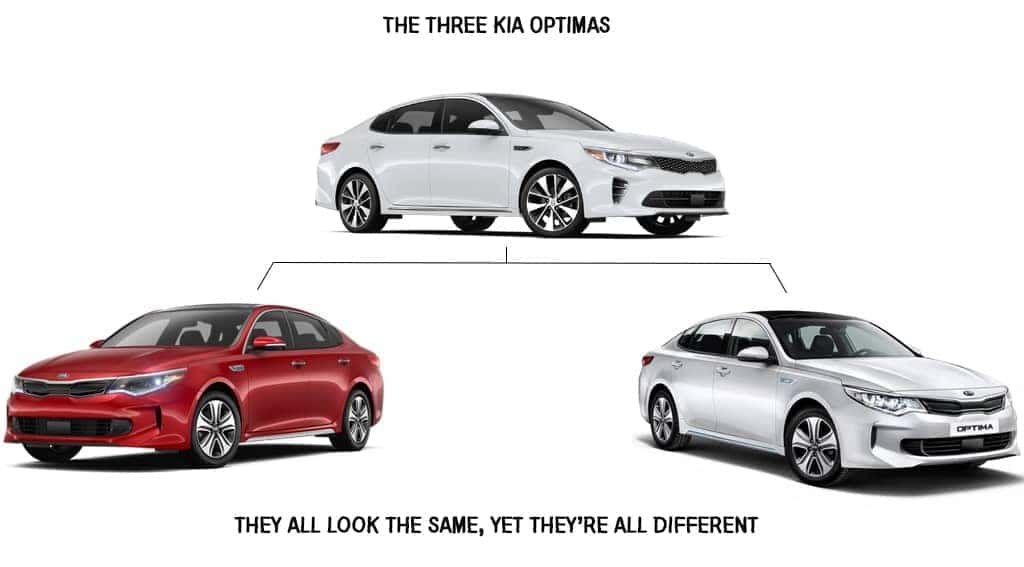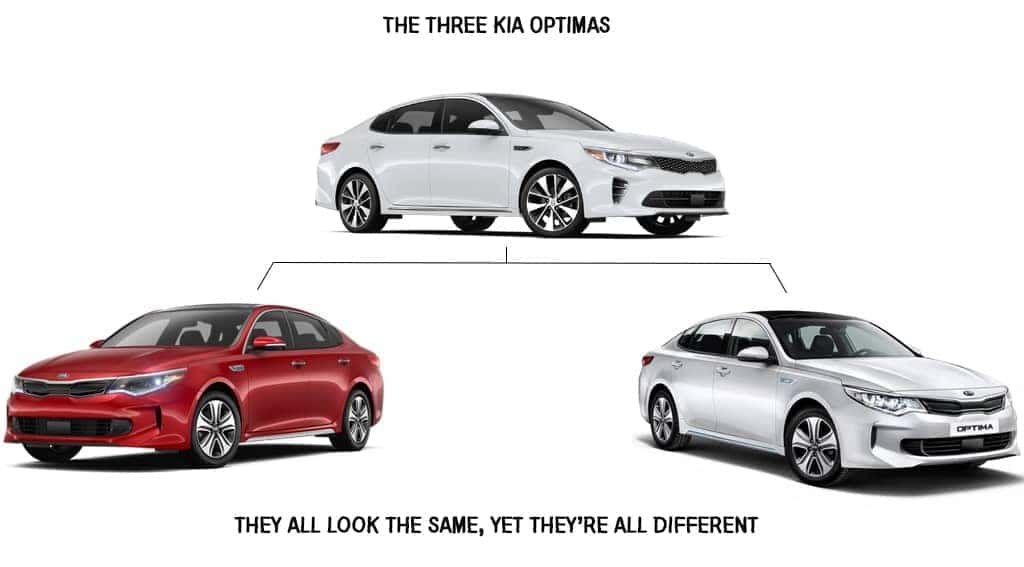 The Kia Optima has been steadily earning awards over the years and in 2016, the Kia Optima was ranked highest in vehicle appeal among midsize cars by J.D. Power, so for the 2017 model year, Kia expanded its lineup. New for 2017 are two new Kia Optima models, the Kia Optima Hybrid and the Kia Optima PHEV.
When a vehicle gets a hybrid version things tend to change, though most of it takes place under the hood. So what exactly is powering the three 2017 Kia Optima models – the 2017 Kia Optima, 2017 Kia Optima Hybrid, and 2017 Kia Optima PHEV?
Kia Optima
The 2017 Kia Optima is an above average sedan as it is built with style and luxury. Run by an internal combustion engine, the Optima has three engine options. The first and standard engine on the Kia Optima LX and EX is a 2.4-liter DOHC 16-valve I-4 engine that generates 185 horsepower and 178 lb-ft of torque. "DOHC" stands for "Double Overhead Camshaft", and is an engine design that takes stress off the engine and optimizes vehicle performance. Better performance lends to better fuel economy, and the Optima LX gets 25/37 mpg city/highway; the Optima EX has a similar fuel economy (24/35 mpg).
The second engine on the lineup is a 1.6-liter DOHC 16-valve I-4 engine with a turbocharger. A "turbocharger" is a system that forces air into the engine's cylinder combustion chambers, and more air = more power. The turbocharger also gives the engine a little more bang without sacrificing fuel economy. This engine produces 178-horsepower and 195 lb-ft of torque and boosts the Optima's fuel economy to 28 mpg in the city and 37 mpg on the highway.
Upper-level trims such as the Optima SX and SX Limited are equipped with the most powerful engine on the lineup, a turbocharged 2.0-liter DOHC 16-valve I-4 engine. This engine generates a total of 245 horsepower and 260 lb-ft of torque. Since this engine burns more fuel and air to create more power, it has a slightly lower fuel economy of 22/32 mpg city/highway, but that is excellent given how much power it produces.
Kia Optima Hybrid
New to 2017 is the Kia Optima Hybrid, and it is somewhat different from the Optima. Most notably, is its new hybrid system. The Optima Hybrid has a 2.0-liter I4 Full Parallel Hybrid System run by a 2.0-liter GDI engine with CVVT and a 38 kW motor, powered by a 1.76 kWh lithium polymer battery. The vehicle's total horsepower sits at 193 horsepower, and the Kia Optima's fuel efficiency has gone up by 10% , now averaging 39 mpg in the city and 46 mpg on the highway.
There's a lot actually going on in the engineering aspects of this parallel hybrid system. First off, "GDI", known as gasoline direct injection, is a type of fuel injection system that injects highly pressurized fuel directly into the cylinders during the combustion cycle, lending to optimized performance and fuel efficiency. "CVVT", or Continuously Variable Valve Timing alters the timing of air intake and exhaust valve lift events to optimize performance and fuel efficiency. To put it simply, no air or fuel is wasted when shifting to a higher gear and faster speed or vice-versa. GDI and CVVT are the backbone of the 2017 Kia Optima Hybrid's fuel efficiency increase.
Kia Optima PHEV
PHEVs are another type of hybrid, but unlike regular hybrids, they need to be recharged. The Kia Optima Hybrid uses regenerative braking to charge its battery juices, a process that converts the kinetic energy used to slow a vehicle down and recycles it to recharge the electric motor's battery. The Kia Optima PHEV has a substantially larger battery than the Optima Hybrid, so it needs an extra power source.*
With a Level 1 (120v) charger, drivers can charge their Kia Optima PHEV at home (9 hours for a full charge); a Level 2 (240v) charger at public stations can fully charge the battery in less than three hours, but are also available for home installation. Either way you charge up, a fully charged 9.8 kWh lithium-ion polymer battery pack will get enough juice to power its 50 kW electric motor for over 30 miles with electric-only, zero-emission power. Paired with a 2.0-liter GDI engine that generates 156-horsepower, the combined fuel economy is 40 mpg.
All of the Kia Optima variations have all the latest technology for entertainment and safety available, from UVO eServices and Android Auto and Apple CarPlay to autonomous emergency braking and some form of camera display for additional awareness of one's surroundings.
You can check out our inventory to find your own Kia Optima or Kia Optima Hybrid .
*Requires charging, but also uses a form of regenerative braking.
Photo Source: Kia Ad Planner
Previous Post Kia Sorento, Most Affordable 3-Row Crossover Next Post Kia Safety Features Overview