Kia Safety Features Overview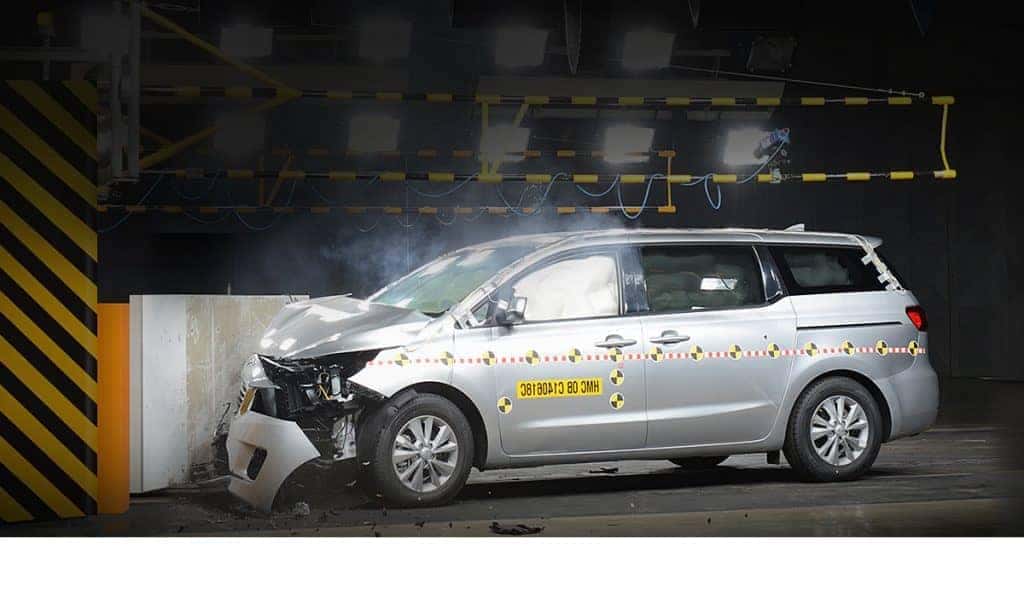 Kia Motors is all about safety and they have received many awards for their designs and implementations of safety features. Many vehicles have safety features, but some don't go very far past the basics. Today, there's a lot of automatic features that lessen the risks of an auto accident, and Kia Motors probably has the most of them.
Keeping an Eye on Things
These features are like giving the driver eyes on the back of their head, and all around the vehicle for that matter.
The rear parking assist system is a sonar system that detects obstacles when backing up. When an object is detected, it emits an audible warning. Another variation of this detects objects in the front and back, found on the K900, Soul EV, and Sportage.
For a complete view of the drivers surroundings, the touchscreen comes with a Surround View Monitor , or in other words, a bird's eye view of the car that uses four cameras to show obstacles behind the car and in its immediate vicinity. Blind-Spot Detection also helps with this, alerting the driver to vehicles in their blind spot with a visual cue in their exterior mirror. There are more advanced versions of this in the next section.
Keeping Your Ducks in a Row
These features all help the driver stay aware of their surroundings and traffic while on the road.
Rear-cross traffic alert uses a sonar system to detect vehicles in the drivers proximity, but only when they're backing out of a parking spot; if a vehicle or obstacle is detected, an audible alert will sound. The Lane Departure Warning system also helps drivers avoid unexpected collisions by alerting drivers if their vehicle has left its original driving lane and the turn signals are not on. A more advanced version of the this is Lane Keep Assist , found on the Kia Forte, that applies brake pressure when leaving the original lane. Smart Blind-Spot Detection , found on the Kia Cadenza, operates in the same fashion, but only if there is a vehicle in the driver's blind spot.
Lastly, also found on the Cadenza, is Lane Change Assist , a system akin to blind-spot detection but also warns the driver if vehicles are fast approaching from behind, regardless of whether they are already in their blind spot or not. Blind spot detection and lane change assist can sometimes be found grouped together in some vehicles, known as "Blind-spot detection with lane change assist." This is found on the Kia Sportage and Forte.
Automatic Features
As the header states, these features are all automatic and require little-to-no driver input.
One of the most helpful of these features is Autonomous Emergency Braking (AEB), a system that will automatically try to bring the car to a full-stop. This system usually works in conjunction the Forward Collision Warning System (FCW), a sonar system that detects if the driver is fast approaching another vehicle or obstacle. If a detection occurs, an audible chime or alert is presented; if no driver input occurs, brake pressure is applied automatically if the vehicle is equipped with either AEB or Forward Collision Warning Plus .
A variation of the two is Advanced/Smart Cruise Control , another sonar system that is activated when the car is set to cruise control. If fast approaching another vehicle while in cruise control, the system slows the vehicle down to an appropriate speed for cruising. If this does not mitigate a collision, then AEB will come into play if the vehicle is equipped with it.
Two other advanced braking systems are Brake Assist and the Emergency Stop Signal (ESS) . No one likes having to abruptly stop, especially when the driver behind you isn't paying any attention. If in an emergency situation where the brakes are quickly applied, if not enough to avoid a collision, a vehicle with Brake Assist will apply additional braking pressure in an attempt to mitigate the situation. At the same time, if equipped with ESS, the vehicle will emit a fast-blinking of the brake lamps to alert other drivers, most notably those behind you.
Top Heavy Safety
Found in mainly Kia SUVs and crossovers, there is one feature that stands out. When it comes to SUVs and crossovers, they have a higher center of gravity, so vehicle rollovers can happen if the vehicle swerves too quickly at a high speed. If stability control systems fail and an impending rollover is detected, airbags are deployed via a Rollover Sensor to lessen the chance of injury.
* This is a pretty diverse list of advanced safety systems, but that's Kia for you. Check out what we have in inventory for your Kia vehicle . *
Photo Source/Copyright: Kia.com
Previous Post Kia Optima Lineup is More Fuel Efficient with Hybrid and PHEV Options Next Post 2017 Kia Niro Available at Miami Lakes Automall