Kia Motors Reveals New Luxury K8 Sports Sedan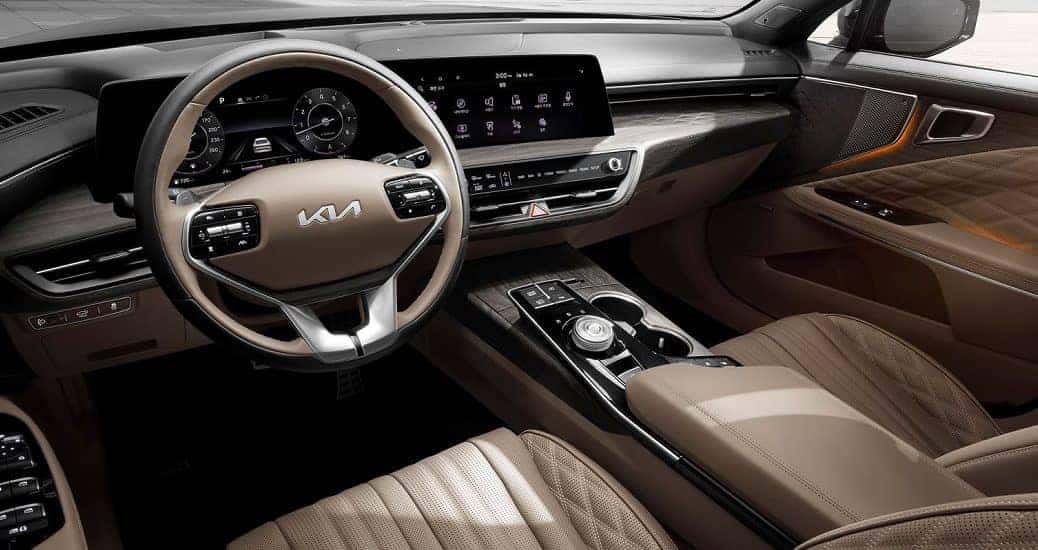 If there is one thing Kia Motors hasn't been well-known for is luxury cars. Sure, the interiors are roomy and often come packed with technology, and their cars drive as nice as they look. But when it comes to car segments, Kia Motors is not classified as a luxury automaker. Even J.D. Power, that ranked Kia Motor as the highest brand during the 2020 J.D. Power Initial Quality Study did so as the highest non-luxury brand. Considered a mass-market automaker, it's still a title Kia Motors has held for five years in-a-row now, but luxury? That's definitely new, and Kia Motors is shooting for the title with its new K8 luxury sports car.
We saw inklings of what luxury means to Kia Motors when the automaker first released the new K5 , previously named the Kia Optima, back with a more sporty appeal and high-end materials. Now that the automaker has shown us what it can do, it would seem Kia decided to go all in with a luxury vehicle when it came to designing and producing the Kia K8. A premium sports sedan, the interior is a first-class interior lounge that blends premium luxury style and comfort.
Starting from the driver's seat, a 12-inch digital cluster and a 12-inch infotainment system make up the dashboard, blending advanced connectivity and infotainment technology into one console. It's definitely a sense of luxury with that effective minimalist-meets-simplicity tech style. Luxury always means high-end this or that, and for the K8, Kia Motors breaks ground by featuring industry-leading audio from Meridian for the first time in a Kia vehicle. Consumers will have the option (if not a standard feature) of listening to their favorite tunes through a 14-speaker premium sound system from the world-renowned British audio pioneer.
We're just starting to break new ground for quality, technology, and performance here. The interior is all high-class with detailed finishing on wood surfaces directly inspired by modern yachts for an added level of sophistication and a sense of the "good life". The wood is matched with high-quality metals that have a young and industrial chic look to it while still blending traditional and contemporary style. Along the outside, luxury speaks in volumes with an intricate diamond lattice design, only to flow back into the interior with elegantly stitched patterns on Napa leather. Kia's innovative 'Star Cloud' lighting projecting glittering and interactive ambient lighting on the door trim and dashboard, and the infotainment system sits atop a swooping curved display.
To top it off, a touchpad is the main control for the air conditioning system and operation modes to reduce the number of physical buttons. After all, luxury also means simplicity as well as comfort. That's why the Kia K8 also comes with an ergonomic center console that features wood-based cupholders, glossy soft-touch switches, and a raised profile alongside the shift-by-wire transmission dial. Lastly, the steering wheel gets a new design and the company's contemporary new logo.
"The interior of the K8 is a canvas for our ambition to define the future, nature meets modern technology, and refinement meets uncompromised comfort. It is a first-class travel space that fulfills the needs of the driver and passenger…The K8 is a modern sedan with a dynamic exterior that is matched by its progressive and elegant interior. This car – our first since our new company rebranding – puts us on the path forward as we look to realize our future goals." – Karim Habib, Senior Vice President and Head of Global Design Center
We know we're mostly talking about the interior of the new K8, but what kind of luxury can only be found on the exterior of a vehicle? No, we're looking for a high-class cabin, and the K8 has it. Kia Motors has also only shared information about the interior, so there's that, but more information will be made available in due time. The Kia K8 is set for a market launch later this year, 2021. Follow along with us on Miami Lakes Kia social media to learn more about this new high class, luxury sports sedan from Kia Motors.
Photo Source/Copyright: Kia Media
Previous Post Ever Hear of the Kia Niro Touring Special Edition? Next Post Kia Motors Teases 2022 Kia Stinger