Kia Motors Teases 2022 Kia Stinger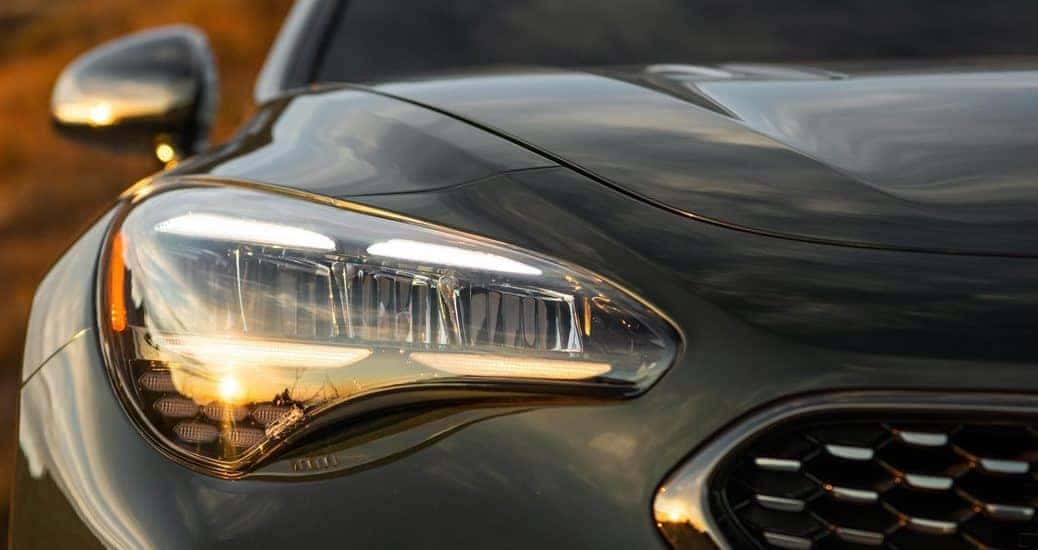 We've heard a lot about the new Kia Stinger coming to the lineup. Updated with a mid-cycle refresh, the Kia Stinger is getting a boost only after a few years in the market. When it first came out, there was an initial rush to get the Stinger, we couldn't keep them on the lot. When COVID-19 hit, all automobile sales went down, and some of the newer models suddenly seemed outside of budget for many consumers. Although the pandemic is still worldwide, we have a better handle on it, and the automotive industry is starting to bloom once more. Already nearing the end of the third quarter for 2021, Kia Motors decides to tease the new Kia Stinger a week ahead of schedule.
Oh, why do automakers do this? A tease is good to get people talking and to spread some hype, but too many times is a tease about a year or so too early. We're hoping that isn't the case with the newly refined Kia Stinger. Skipping a model year and going straight to 2022, the Kia Stinger was named the best sport sedan in the world, able to outrace luxury sports cars while still costing a fraction of the price. The mid-cycle refresh only chooses to push the envelope further with more power, more technology, and a refined design. Full press materials and specs will be shared next week on March 16, 2020.
The tease, however, really shows nothing but the headlight above. For now, how about a recap of what we have to look forward to? After all, we have information on that power, technology, and design mentioned above. Little-by-little, Kia Motors has been releasing tidbits of information about all three changes coming to the newly refreshed 2022 Kia Stinger.
The most recent bit of news we received was about the new powertrain coming to the lineup. With all of the trims in the lineup named with the "GT" moniker and a number, a powertrain lineup should match that. New for the base trim, "GT", is a 2.5-liter turbo engine capable of generating 300 horsepower and 311 lb-ft of torque. This is a small upgrade from the 255 HP turbocharged 2.0-liter DOHC I4 engine, with the rest of the lineup supposedly still powered by \a twin turbocharged 3.3-liter DOHC V6, also optimized with continuously variable valve timing (CVVT) for added performance.
We also heard about the new exterior and interior changes coming to the mid-cycle refresh for the 2022 Kia Stinger. The new Kia Motors signature 'tiger-nose' grille and new multifaceted reflector LED headlamps are all we can really see in the above image. We were also promised LED daytime running lights, new headlamps, a new combination lamp that stretches across the rear, and 10 individual LED units arranged in a grid pattern for the new rear new turn signals – designed to symbolize a checkered flag. Also on the outside is a larger wide-bore bright silver exhaust mufflers and a performance-inspired rear diffuser. The sports car can also ride on 18- or 19-inch wheels with geometric designs for that motorsport feel.
Inside, consumers are greeted by a new HD 7.0-inch fully-digital instrument cluster, a frameless rear-view mirror, and a new glossy black finish for the dashboard. We assume Kia's upgraded 10.25-inch touchscreen infotainment and navigation system available for 2021. Kia's upgraded 10.25-inch touchscreen infotainment and navigation system will also be made available, along with other bits of technology. This includes a new mood lighting system with 64 colors to choose from, and optional seat trimming options, such as Nappa leather upholstery finished in Saturn Black, Red, or Beige.
Don't forget – March 16. Be there with us, and join the discussion on Miami Lakes Kia social media .
Photo Source/Copyright: Kia Media
Previous Post Kia Motors Reveals New Luxury K8 Sports Sedan Next Post Kia Motors Gives Early Preview of EV6