Kia Corp Wins Two Awards at 2021 AutoPacific VSAs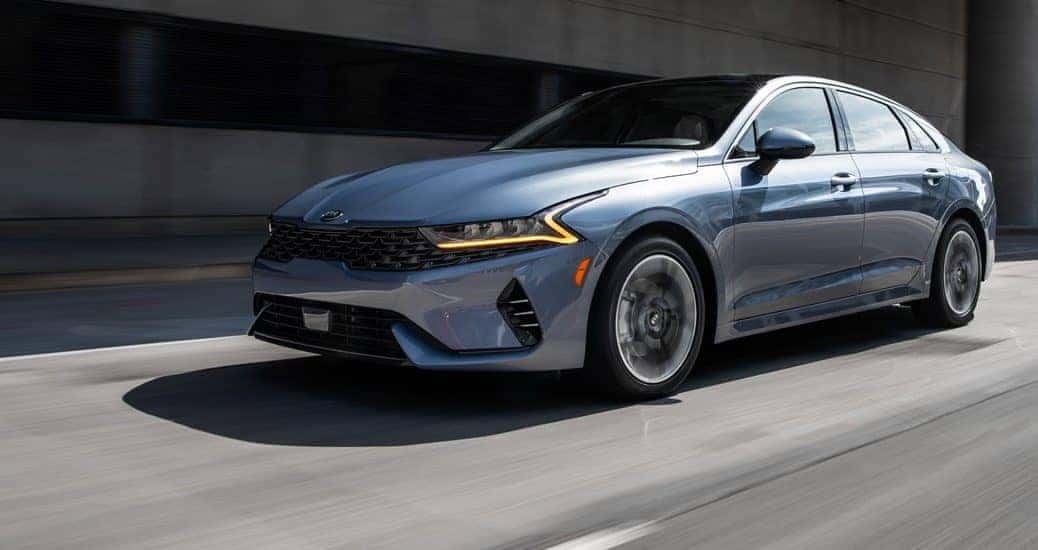 Kia Corp has been doing very well for the last few years, and with the new name and new logo, there is a lot more "new" coming, such as the recently released Kia Carnival MPV and all-electric Kia EV6 . Sales have been skyrocketing, with a strong closing for the first half of 2021, and Kia sales in July 2021 already set the goal high for the rest of the year. July also brings another win to add to the belt before officially closing out – at the end of July 2021, AutoPacific wrapped up its 2021 AutoPacific Vehicle Satisfaction Awards (VSAs). The one and only Kia K5 sports car and the Kia Telluride both won awards for their respective categories during the 2021 VSAs.
Who is AutoPacific and what are the AutoPacific VSAs? A well-known and trusted name in the automotive industry, AutoPacific is a company that focuses on future-oriented automotive marketing research Many automakers consult with AutoPacific on new trends and furthering their success. Consumers in the market for a new car also look towards AutoPacific for consumer insight into the industry and reviews on the latest and newest vehicles in the market. The AutoPacific Vehicle Satisfaction Awards have been going on for 25 years, and for 2021, vehicle satisfaction was rated across 36 individual vehicle attributes, covering traits such as driving performance, features, usability, seating comfort, and interior design.
Like J.D. Power automotive studies, AutoPacific sends out surveys to current new car owners. Based on the responses, the winners for each car category are chosen. That being said, the results of the AutoPacific annual New Vehicle Satisfaction Survey came from a total of 89,000 new car and light truck owner responses. It's a nice sample size of the population, if statistics are anything to go by, and this year's winners are spread across 12 manufacturers and 14 brands for a good variety of automobiles.\
"Our VSAs give consumers true, unbiased insight into which vehicles are providing their owners with the most satisfying experience," – AutoPacific president George Peterson
The 2021 Kia K5 was named the most satisfying premium midsize car, and the Kia Telluride won the award for the most satisfying Large Crossover SUV. This win comes soon after another accolade for Kia Corp, with the 2022 Stinger sports sedan earning a Top Safety Pick+ (TSP+) award from the Insurance Institute of Highway Safety back in June. The Kia Telluride may have the title of the lineup's largest SUV, but the sports cars are slowly stealing the spotlight with new special edition Kia Stinger, a new package for the Kia K5, and the Kia EV6 GT.
Sometime in late-May/early-June, Kia Corp revealed the 2022 Kia Stinger Scorpion Special Edition. Heading to dealerships, the special edition is an U.S. market exclusive, with only 250 units available per month in production. After that, the Kia Stinger Scorpion Special Edition will be no more. For consumers interested, the Scorpion comes with a blacked out fender garnish, side mirror caps, and darkened exhaust tips; body-colored rear spoiler; 19-inch black wheels; and carbon fiber-pattern trim throughout the cabin. Available in Snow White Pearl, Aurora Black, or Ceramic Silver, the Kia Stinger Scorpion is built off of the GT2 trim and can be equipped with rear-wheel drive (RWD) or all-wheel drive (AWD).
The new generation of the Kia Optima became the Kia K5, and after a number of death-defying stunts in this Kia sports car by professionals, Kia Corp unveiled a new package to add a little more comfort to the K5. It's the GT-Line AWD Premium Package, complete with a panoramic sunroof, heated steering wheel, LED projection headlights, Highway Driving Assist, and Navigation Based Smart Cruise Control-Curve. The GT2 alone is already pretty jacked with an assortment of new features for 2022, including a Surround View Monitor, additional wireless chargers, Driver Attention Warning, Blind-Spot Collision Avoidance Assist, Rear Cross-Traffic Collision-Avoidance Assist, Forward Collision Avoidance Assist, Lane Keeping Assist, and Lane Following Assist.Want to find your award-winning Kia? Find a new Kia automobile at Miami Lakes Automall .
Photo Source/Copyright: Kia
Previous Post The Great Features of the 2021 Kia Seltos Next Post Kia Corp Has Record Sales for July 2021