Going Green with Help from Kia Motors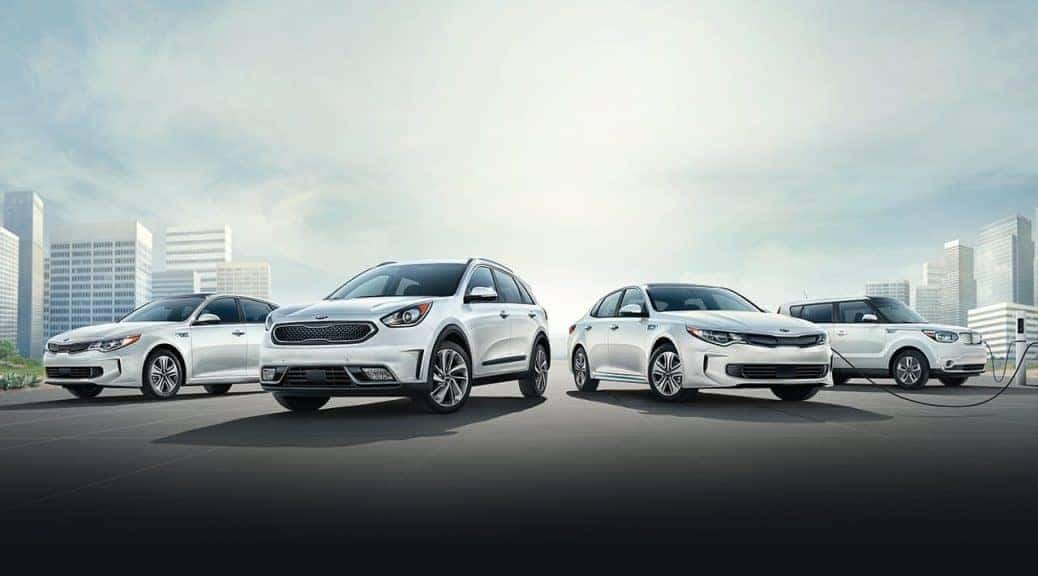 When going green for your next car, take a look at Kia Motors. They have many hybrid and electric vehicles, and more are on the way. No other automotive company has expanded their lineup with green cars as much as Kia Motors, unless they're purely a hybrid and/or EV automaker. Kia has the Kia Optima in three different variations, the Kia Soul as an electric vehicle, the recent Kia Niro hybrid crossover, and the Kia Stonic is due by the year's end. There are many choices, but how do you know which one to pick?
The Kia Optima – Gas, EV, and PHEV
Let's look at the Kia Optima , the first of the bunch. The Kia Optima lineup has three gasoline-powered engine options of varying power. The smallest engine option is a 1.6-liter DOHC I4 engine with a turbocharger that generates 178-horsepower and 195 lb-ft of torque. Turbocharged, it has a little more bang, and with the implementation of a double overhead camshaft (DOHC), there is less stress on the engine, leading to a commendable fuel economy of 28 mpg in the city and 37 mpg on the highway. The strongest engine option is a turbocharged 2.0-liter DOHC I4, generating 245 horsepower and 260 lb-ft of torque. This engine helps the Optima achieve a fuel economy of 22/32 mpg city/highway.
Gasoline cars are pretty easy to take care of. There's a gas station every mile or so on the road as long as you're not on the interstate, so filling up is easy. However, as with all cars, a gasoline car has long-term expenses. Most consumers will be looking at a cost between $1,000 and $2,000 a year for fuel.
The Kia Optima Hybrid is surprisingly strong. The Optima Hybrid has a 2.0-liter engine with gasoline direct injection and continuously variable valve timing technology. Made with an I4 Full Parallel Hybrid System, the hybrid has been optimized as much as possible for the best performance. It can generate up to 193 horsepower, and gets 39 mpg in the city and 46 mpg on the highway. That's a 10 percent increase from a year ago, and Kia will continue to increase the fuel efficiency of its vehicles going forward.
Buyers of the Kia Optima Hybrid are eligible for a tax credit of $7,500 and that means one could pay the government $7,500 less than what they owe for the tax year they purchase the Kia Optima Hybrid. There are some things to take into consideration, though. For now, hybrids are a little more expensive than vehicles powered solely by gas engines until they become more common in the auto market, so that $7,500 won't mean much until tax season.
The third Optima model is the Kia Optima PHEV and it is a little different than the aforementioned hybrid. That's because it has a rechargeable electric motor, so the driver has the option of using both gas and electricity while driving, or one over the other. They also have various options to recharge the battery; some stations recharge in as little as 30 minutes, some take 3 hours, some take all day. However, the price is pretty small – a couple of bucks. Only one option for the engine and motor, this PHEV gets as much as 202 horsepower. With that, this vehicle has an EPA MPGe of 40 mpg combined, an all-electric range of 29 miles, and a combined range of 610 miles.
Along with the federal tax credit, consumers of the Kia Optima PHEV are estimated to save $5,000 in fuel costs over five years of ownership. In addition to the savings, recharging the battery isn't a hassle. There's several apps that can show you local charging stations wherever you are. Plus, we have a little 101 on PHEV and EV charging . However, the more a battery is recharged, the sooner it dies, and if a driver is driving on fumes without a gas station or charging station for miles, then they're stranded. So it's not all glory, but it's definitely great in the long-term.
Other Kia Options
If a sedan isn't your style, check out the Kia Niro. Perfect for those that don't like the idea of looking for a charging station, but like the thought of a hatchback, the Kia Niro hybrid crossover is for you. The most stylish crossover to ever grace the streets, the 2017 Kia Niro has a fuel economy of 52/49 mpg city/highway. Again, more mpg in the city, but for a hybrid that's a great fuel economy to look at. You could drive to Orlando and back on one tank and charge. With UVO eServices, Apple CarPlay, and Google Android Auto it's time for a road trip.
* Isn't it nice to have options? Our inventory has plenty, including the Kia Optima and new Kia Niro. *
* Photo Source/Copyright: Kia.com *
Previous Post Kia Earns Top Spot in J.D. Power Initial Quality Study for Second Year in a Row Next Post The Kia Motors Philosophy