Kia Earns Top Spot in J.D. Power Initial Quality Study for Second Year in a Row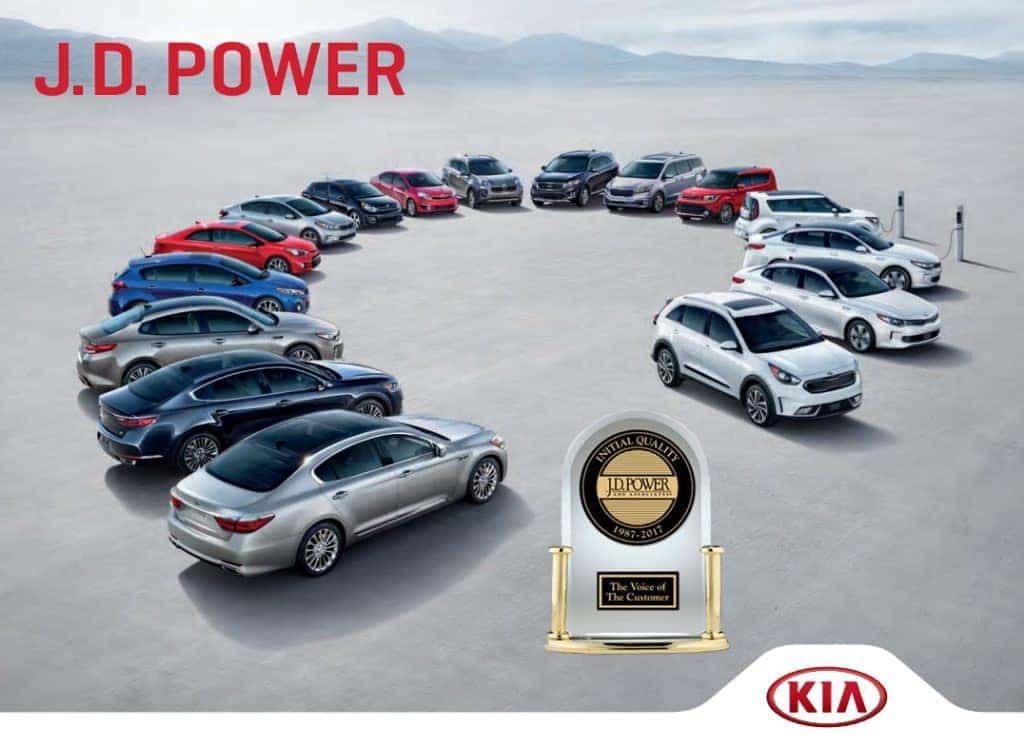 The results of the J.D. Power Initial Quality Study (IQS) have been released, and Kia Motors did better than any other brand for the second year in a row. In fact, it turns out, many 2017 model year vehicles did great this year.
Every year, J.D. Power and Associates conduct various studies, and the Initial Quality Study focuses on vehicle quality reported by drivers after 90 days of ownership. Surveys are sent out between February and May each year, and this year (2017) more than 77,000 responses were collected from owners and lessees of 2017 model year vehicles. To gain the top spot in the IQS, an auto brand has to have the least amount of problems and hiccups during those 90 days. Kia Motors only had 72 problems for every 100 vehicles.
Kia Motors didn't just earn the top spot, but also several Kia models earned many model-level rewards. These include the Kia Cadenza in the large sedan segment; the Kia Forte in the compact car category; the new Kia Niro in the small SUV segment; the Kia Sorento in the midsize SUV segment; and the hip Kia Soul in the small multi-purpose vehicle segment.
In addition to Kia's success, the study's results actually saw a new-vehicle quality record for the auto industry overall. The industry average used to be 105 problems per 100 vehicles, but it's now down to 97 problems per vehicle for the 2017 model-year – which is an 8 percent improvement.
Dave Sargent, vice president, global automotive at J.D. Power, had this to say when releasing the results at an Automotive Press Association meeting in Detroit. "This is without question the best quality the world has ever seen … The industry is picking up steam and really improving the quality of their vehicles … For the most part, the industry as a whole has got their arms around this … [and it's] the third-straight year of improvement. It's an accelerating rate of improvement."
This isn't all the good news for Kia Motors though. Earlier this month, the brand also received vehicle satisfaction awards from AutoPacific. Three of their vehicles, the 2016 Optima midsize sedan, the 2016 and 2017 Cadenza luxury sedan, and the 2017 Sportage Compact crossover, were all named segment winners for their respective category. This is also the second consecutive year for Kia to win these awards, so it's safe to say Kia won't be letting up anytime soon.
* * Want to see what the buzz is about? You can search our inventory of Kia models and contact us for a test drive . * *
* Photo Source/Copyright: Kia Ad Planner; J.D. Power *
Previous Post 2017 Kia Soul Named Best Budget Vehicle by Two Publications Next Post Going Green with Help from Kia Motors