All the Cool Tech in the EV6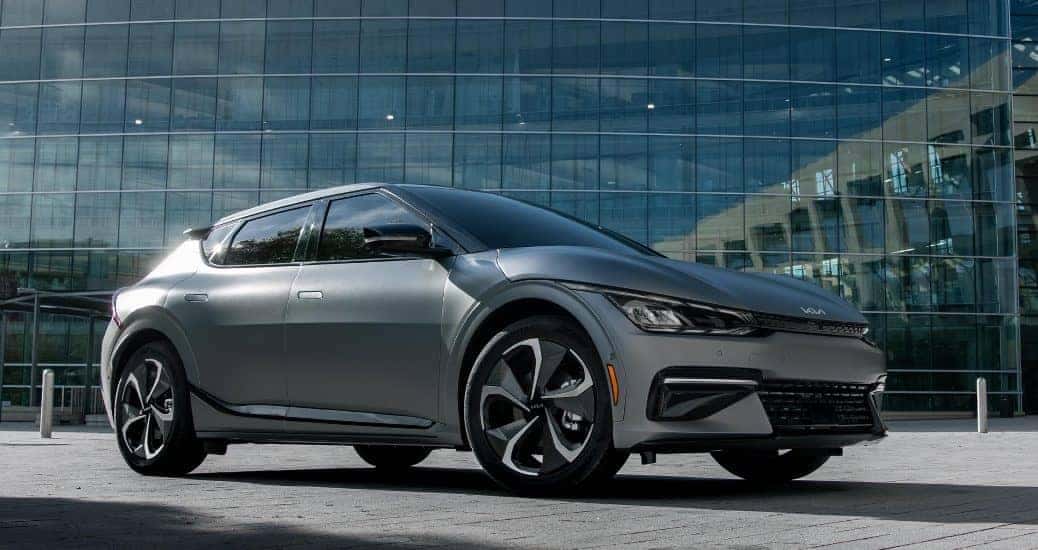 Last week, we discussed the reveal of the Kia EV6 , the very first vehicle to come from the Kia Motors Corp, now Kia Corp , and known as Kia America for Kia Motors America. There was so much information to cover, we decided to split it up a bit. The new powertrain, style, and interior cabin of the EV6 already has a lot going for it, but the technology really sends this electric vehicle into a new age.
Standard and Available Tech Features
Starting with the dashboard, the driver has a panoramic dual integrated 12-inch TFT center cluster displaying vehicle diagnostics, and the infotainment screens form a wide, curved display that extends across the length of the instrument panel. An Augmented Reality (AR) Head-Up Display (HUD) is available, and makes viewing this information easier, including speed and Advanced Driver Assistance System (ADAS) alerts, vehicle information, lane guidance and turn-by-turn navigation instructions.
Consumers can expect some of the industry standards to appear, such as Bluetooth functionality, wireless smartphone charging, and a Premium Audio system, this time from Meridian. The Kia EV6 comes available with a 14-speaker sound system with titanium dome for an immersive and rich audio experience, most likely on the GT trim. Has anyone else noticed how some old audio systems used to make the music louder the faster the car was driving? The EV6 now does this intentionally with Intelli Q technology corrects audio volume/sound quality according to vehicle speed change.
UVO Link
UVO Link has been steadily advancing and growing for Kia Motors vehicles. Getting better with every model year, Kia Corp is taking over the system soon and integrating UVO into its "Hello Kia" or another virtual assistant. For now, UVO link keeps consumers connected to their vehicles and enjoy a variety of features. Many automakers are offering consumers new ways to get merch or accessories for vehicles with in-car commerce experiences and transactions. Kia Pay lets consumers do this from inside the vehicle with a growing number of merchants and outlets being added to the collection.
Using technology to its advantage, the Kia EV6 comes with available Add-On customer convenience Map and Infotainment Over-The-Air (OTA) capability, a Wi-Fi Hotspot, connected weather for up to date weather in more than 25,000 cities, an app that works with smartwatches to provide select information, enhanced voice assist for voice commands in the cabin, and even smart speaker integration that allows consumers to connect their Amazon-Alexa or Google-Assistant to their vehicle.
Making GPS navigation more convenient, Connected Routing is also available, using a Kia cloud to provide the driver with real-time maps, predicted traffic info based on historical information, and AI to learn the preferred routes of its users. Kia Motors recently released Last Mile Navigation, a feature that we'll all love, a system that provides walking directions to the driver's actual destination, not when the car is in the general vicinity of the location. Also convenient for those of us who forget where we park, on-demand Find My Car with Surround View Monitor can send images to the user's smartphone of the surrounding area.
In need of assistance, 911 Connect and Roadside Assistance provides assistance with a built-in modem if an airbag deploys by dialing 911. For non-emergencies, like a flat tire, the 24/7 roadside assistance Is still helpful, and able to share the vehicle's location, no more guessing where you are on Alligator Alley. On the same note, stolen vehicle recovery is an available feature and can help assist law enforcement agencies recover a stolen vehicle.
As always, Kia is all about safety. Starting with something simple like blue light-filtered screens to reduce eye strain and fatigue, the EV6 comes with all kinds of available and advanced safety features. These include a Surround View Monitor (SVM), Parking Collision-Avoidance Assist-Reverse (PCA-R), Rear Occupant Alert (ROA, Remote Smart Parking Assist (RSPA), Safe Exit Assist (SEA). There are also 21 standard active Advanced Driver Assistance Systems (ADAS), such as Blind-Spot Avoidance Assist (BCA), Driver Attention Warning (DAW); and a suite of Forward Collision-Avoidance Assist (FCA) with FCA-Ped (Pedestrian), FCA-LS (Land-Change Side), FCA-LO (Lane-Change Oncoming), FCA-JC (Junction Crossing), and FCA-JT (Junction Turning). Highway Driving Assist II (HDA 2), ISLA (Intelligent Speed Limit Assist), Navigation Based Smart Cruise Control-Curve (NSCC-C), and Rear Cross-Traffic Collision Avoidance Assist (RCCA) can also be found in the EV6.
The electric vehicle is surely a technological revolution for Kia Corp. Coming straight to America, you can find your new Kia EV6 very soon at Miami Lakes Automall Kia .
Photo Source/Copyright: Kia Media
Previous Post Kia Corp Reveals Specs of Kia EV6 Next Post Kia America Announces EV6 First Edition Features