All-New 2021 Kia Sorento Tech Highlights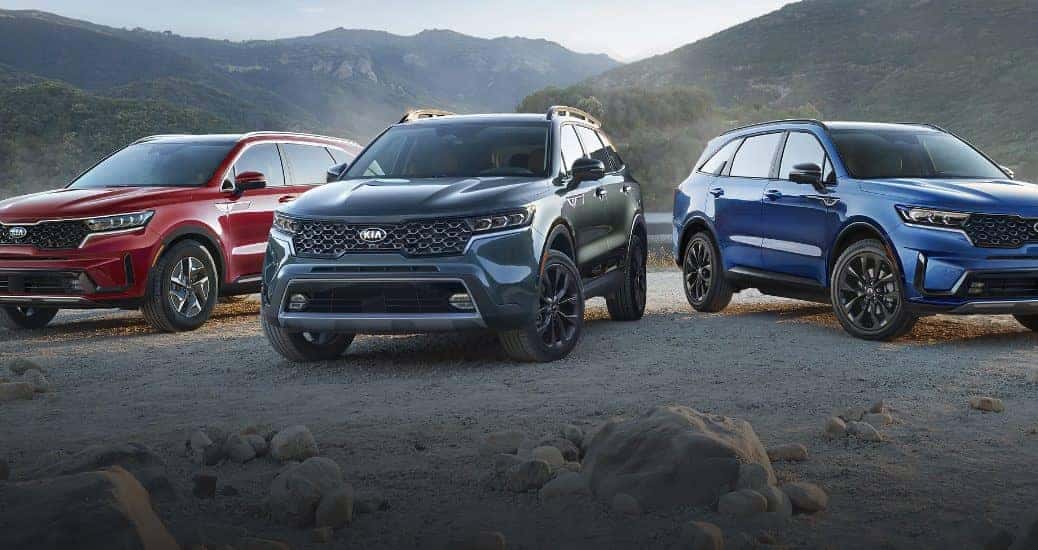 Wow, when Kia Motors wants to get the word out about a new shiny vehicle, it just doesn't stop. Every week is a new highlights reel on what the new generation of the Kia Sorento has to offer. With a hybrid option in the mix, Kia talked about the new powertrain options of the 2021 Kia Sorento , threw in a ton of safety features with Kia Drive Wise , and packed it with all-new technologies to make this Sorento a one-of-a-kind – although in mass production. Every trim has a little something special, and UVO brings it all home.
Trim Differences
The 2021 Kia Sorento has eight trims in total: LX, S, S Hybrid, EX, EX Hybrid, SX, SX-Prestige, and X-Line SX Prestige. Each trim has some differences between it to give a different feel to each cabin. For instance, all trims up to the EX Hybrid come with an 8-inch touch screen color display for interacting with the infotainment system and supporting wireless Apple CarPlay® and Android Auto™. Once connected via Bluetooth, the consumer can use voice recognition to give commands. All trims beside the LX also come with SiriusXM® Satellite Radio and UVO link for remote services. All trims up to the SX come with a new 4.2-inch Thin-Film Transistor (TFT) color LCD to give the driver a clear view of vehicle diagnostics at all times.
Past the EX HEV (Hybrid) trim, the SX, SX-Prestige, and X-Line Prestige are the high-tier trims of the new 2021 Kia Sorento. Set up with a 10.25-inch Thin-Film Transistor (TFT) touch screen display with three-way split screen functionality and navigation, it's the powerhouse of the lineup. It of course comes with UVO link capabilities. Just like the other trims, the SX-Prestige and X-Line SX-Prestige come with an all-new customizable instrument panel with a 12.3-inch Thin-Film Transistor (TFT) color LCD screen for viewing vehicle diagnostics and keeping what's important to the driver always visible. Plus, the interface changes its look based on Drive Mode – Kia is always playing with mood settings in its vehicles.
UVO Link and New Tech
There are many different types of UVO systems in Kia Motors vehicles , and the Sorento is no different. The new Sorento comes with more than remote features for locking/unlocking doors and voice commands for controlling cabin features, although those are always a nice plus with UVO Link. All-new, Kia pulls out all the stops with the 2021 Kia Sorento, adding smart speaker integration that allows consumers to also use voice-commands with smart devices like Amazon Alexa and Google Home to do the above.
If forgetful about parking, find your car with the all-new Find My Car with Surround View Monitor feature. Speaking of getting lost, we all hate it when navigation systems stop navigating a couple hundred feet in the middle of a shopping plaza, but the Kia Sorento Last Mile Navigation keeps going until you make contact with your destination on foot. 911 Connect emergency notifications are always a nice plus if in an incident, and with that in mind, Navigation with Connected Routing is like any other Real-Time Traffic service, reviewing routes and traffic in real-time and suggesting better routes. This UVO system also alerts the driver to weather conditions in more than 25,000 cities and speed limits to keep off of cops' radar – Kia ain't no snitch!
And let's not forget, a Kia-first, a Bose Premium Audio system will be playing the tunes this time around, set up with twelve speakers and rich surround sound.
Looking for the next best vehicle to come from Kia Motors? Look for the all-new 2021 Kia Sorento at Miami Lakes Automall .
Photo Source/Copyright: Kia.com
Previous Post Kia Motors Boasts New Safety Features on 2021 Kia Sorento Next Post Kia and Hyundai Join IONITY to Expand EV Charging Network