2022 Kia Carnival MPV named AutoGuide's 2022 'Family Vehicle Of The Year'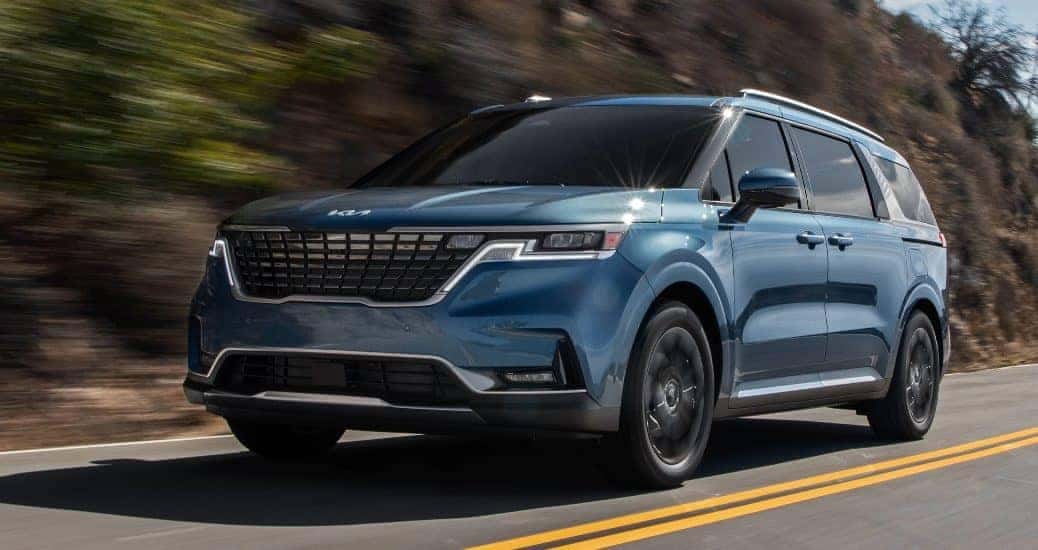 The 2022 Kia Carnival MPV , otherwise known as a "multipurpose vehicle", has been a winner since its debut. Kia Corp's entry into the luxury vehicle segment, the automaker has already topped the charts when it comes to the mass market. The Kia Niro EV being the highest ranked electric vehicle in the mass auto market during the 2022 J.D. Power EVX Study is plenty proof of that. Not only does the Kia Carnival MPV come equipped with luxurious features and upscale tech, but the Carnival is also making its way to the winners' circle of many automotive publications. Recently, in early March 2022, the 2022 Kia Carnival MPV won the 2022 Autotrader Best New Car Award . The newest award is being named "Family Vehicle of the Year" by AutoGuide.
"The Kia Carnival MPV is truly a multi-purpose vehicle and breaks the mold of what many perceive a vehicle like this should be…We're proud to receive AutoGuides' family vehicle award, celebrating the Carnival MPV's premium design and abundant safety technology. This award further validates the Carnival MPV's wide-reaching appeal, which resulted in our popular MPV capturing 9.3 percent market share in its segment in 2021." – Steven Center, COO and EVP, Kia America
A win like this is always another feather in the cap for an automaker. Like many other automotive publications out there, AutoGuide reviews cars, writes about new and used cars, reports on news in the automotive industry, and yes, puts together "Best of" lists. AutoGuide came to their decision about the 2022 Kia Carnival MPV after a panel of seven editors and reporters drove hundreds of vehicles across North America, measuring vehicles based on value, user-friendliness, space, safety, and more. The group of vehicles were cars, trucks, and utility vehicles. There were 40 finalists, and the Carnival MPV made the final list of only eight vehicles.
Curious about what makes this vehicle a winner? Entering the luxury auto market, the MPV interior starts things off with a VIP lounge with raised power footrests in the second row. In the future, the vehicle should come with Level 4 autonomous car technology, allowing the driver and front passenger to swivel around and enjoy the same comfort. Now that's a real lounge, where's the minibar (don't drink and drive)? Also starting strong, the interior comes with customizable leather seats that can recline with comfortable headrests, two rows of heated and ventilated seats, and a panoramic sunroof. The leather seating is offered as Tuscan Umber and off-black two-tone leather, off-black leather, off-black cloth, off-black SynTex, and Saddle Brown & off-black two-tone SynTex. For the animal lovers who are anti-leather but still want that comfort, SynTex is the synthetic leather used by Kia Corp for this option.
The technology in the Kia Carnival is another huge plus. With two dual 12.3-inch displays that stretch across the dashboard for the driver and front passenger, convenient apps like Apple CarPlay and Android Auto are of course standard. Also available, a 12-speaker Bose stereo system and a rear entertainment system that mirrors what's on screen for the center console infotainment system. Just…be sure to look into parental controls for that one.
Like always, all new Kia vehicles include a 10 year/100,000-mile limited powertrain warranty, a 5 year/60,000-mile limited basic warranty, a 5 year/100,000-mile limited anti-perforation warranty, and a 5 year/60,000-mile roadside assistance plan. They're some of the best in the industry. That's how much Kia Corp believes in their vehicles. Are you ready to become a believer? Come to Miami Lakes Automall for a new Kia vehicle today.
Photo Source/Copyright: Kia Media
Previous Post Kia Telluride Named a Best Family Car by KBB 2022 Next Post Hyundai Starts New Joint Venture for e-Fuel