2019 Kia Forte Debuts at 2018 Detroit Auto Show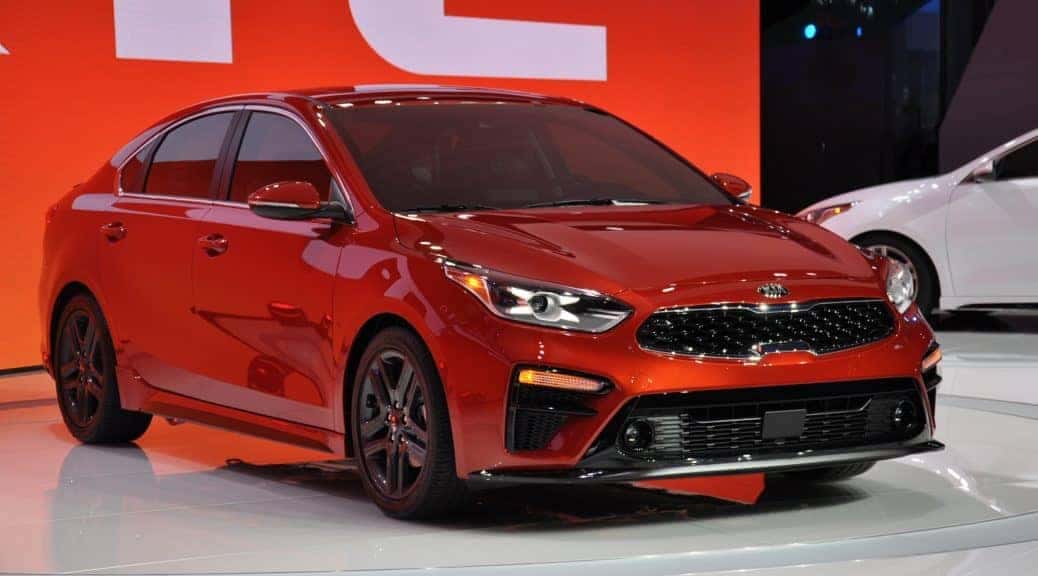 Kia Motors is definitely changing their game up. It all first started with the long-awaited 2018 Kia Stinger . The automaker said they're going to put more focus on cars that drive as good as they look, and the Stinger was definitely the starting point of that endeavor. Well, just recently at the 2018 Detroit Auto Show, Kia debuted the new 2019 Kia Forte. Taking some cues from the Kia Stinger, the Forte has more style, a spacious cabin, and steps up its game with a new in-house powertrain.
Power and Driving
So first off, the powertrain is a little different than previous Kia Forte models. Although the engine lineup hasn't been changed, there is a new transmission that improves fuel economy. The 2018 Forte engine option is still a 2.0-liter DOHC Inline-4 engine, and it was available with or without Atkinson Cycle tech. The Atkinson cycle is a process that has been found to benefit hybrid vehicles, having been first used in the 1997 Toyota Prius. Today, it is known as a combustion cycle for improving fuel efficiency.
Like other motor companies that make their own in-house engine technologies, Kia Motors introduced a new in-house continuously variable transmission (CVT) for the 2019 model year. Named "Intelligent Variable Transmission" or "IVT" for short, consumers can expect to see this transmission option popping up in future Kia vehicles. The transmission maximizes fuel efficiency and works in tandem with the 147-horsepower I4 engine, offering the 2019 Kia Forte a combined fuel economy estimated at 35 mpg.
The new 2019 Kia Forte is also said to be a mixture of pony car and elegance, and it has borrowed some aesthetics from the Kia Stinger, such as the headlights, lower valance, grille, and long fastback-like hood. To continue with the sporty look, Kia engineers also improved the suspension of the Kia Forte, along with its steering and chassis. All-in-all, the new changes and improvements have led to an agile, sporty sedan that handles well and has a quiet cabin.
Inside the 2019 Kia Forte
Like we said, the 2019 Kia Forte is taking plenty of cues from the 2018 Kia Stinger. The interior of the 2019 Kia Forte is a little roomier and has a very intuitive design for a compact center console. The touchscreen mounted at the top of the dashboard is just high enough not to distract drivers from the road, and the horizontal design of the dashboard offers plenty of space for the driver and front passenger.
Standard for 2019, the Kia Forte comes with an 8-inch infotainment system, most likely supporting UVO eServices found on past Kia models. Android Auto and Apple CarPlay capability also come standard, increasing the level of connectivity Kia offers its consumers. Going a little further, consumers no longer have to worry about carrying a phone charger wherever they go – the Kia Forte comes with an available wireless charging dock (for supported smartphones).
Other available features consist of a premium sound system by Harman Kardon. This sound system can be found as an upgrade on all three trim levels of the 2019 Kia Forte. Quite a surprise since the last Kia Forte didn't even go near a premium sound system. Bluetooth wireless technology with hands-free connectivity still comes as a lineup standard, of course.
Safety
If safety is the make or break deal for you, don't worry. The 2019 Kia Forte comes with Kia's Advanced Driver Assistance Systems suite, offering Lane-Keeping Assist and Blind-Spot Collision Warning as a standard. To go a little further, consumers will also have the option to add on forward collision-avoidance and smart (adaptive) cruise control. Just some of the things that make driving a Kia vehicle a little better.
* The 2019 Kia Forte is quickly shaping up to be another winner, and we're just hoping we won't have to wait all year like we did for the 2018 Kia Stinger. What do you think? Did Kia get their mojo back with the Kia Stinger and the Kia Forte? Let us know on Miami Lakes Automall social media , or check out the Kia Stinger for yourself. *
* Photo Source/Copyright: Driving.ca *
Previous Post Kia Offering Artificial Intelligence in 2019 Next Post New Kia Stinger Named 2018 Shift Vehicle of the Year