You Decide, Jeep Wrangler 6X6 or Dodge Power Wagon 6×6?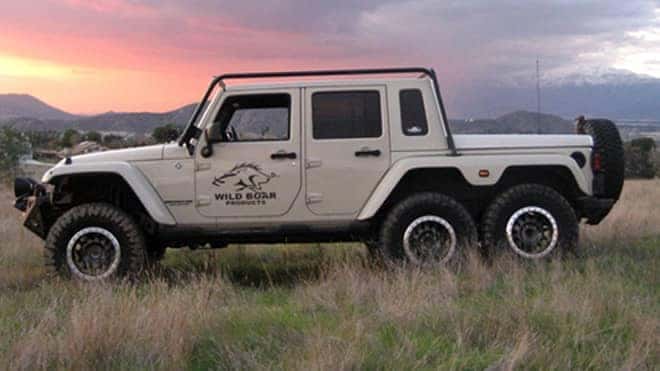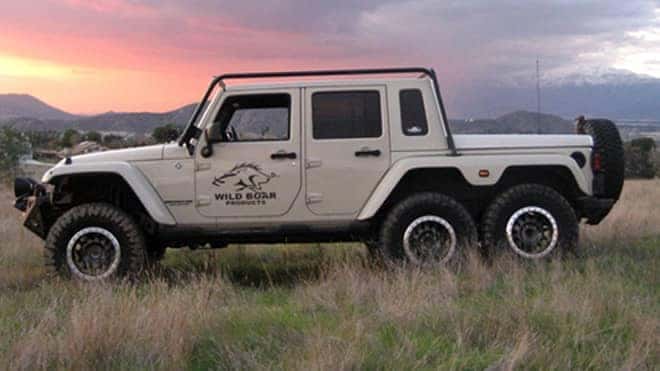 A Jeep Wrangler 6X6 sounds like a dream. With a higher towing capacity and even more off-roading badness than before, what could be better? Maybe a Dodge Power Wagon 6X6? Read the specs below and you decide.
Jeep Wrangler 6×6
The Jeep Wrangler 6X6 made by the Chinese company, G. Patton, might be one of the coolest Jeep Wranglers that we have seen. The vehicle debuted at the Chengdu Auto Show sporting the name, the Jeep Wrangler Tomahawk.
Basically, G. Patton created the Tomahawk by taking the four door Unlimited, and cutting it at the c-pillar. From here, they added a truck bed with a cover. This added truck bed created the extra space so four wheels can sit in the back, and two in the front. To make sure the extra weight can be supported by the engine, the unique Wrangler is powered by a supercharged version of Jeep's 3.6-liter V6 engine.
Dodge Power Wagon 6×6
So unlike the Jeep Wrangler 6×6, the Dodge Power Wagon 6×6 was mass produced at one time. For those of you who don't know what the Dodge Power Wagon is, it was used in the World War II days for combat purposes.
A company that restores vintage vehicles recently made a perfect replica of a 1947 Dodge Power Wagon 6X6 and it looked like a beautiful beast. The steering wheel is wooden like the original, and even the radio is classic style (don't worry it has a pop-out touch screen). Really, the biggest difference between this truck and the old one is the engine. Originally, the truck only produced 96 horsepower, but the engine in this replica is a Cummins Turbo Diesel, which is both powerful and long-lasting.
If the Jeep Wrangler 6 X6 is ever released in the United States, I am sure it will be a huge hit among Jeepers and off-roaders. On the other hand, a Ram Power Wagon is returning to the Ram truck lineup this fall, but it's not the 6×6 version. Stay tuned and we'll let you know when we have it available at Miami Lakes Automall.
* So what 6×6 vehicle do you want? New or classic? Dodge or Jeep? If you prefer four wheels instead of six, you can check out our Jeep Wrangler inventory here and our selection of Ram trucks here . *
photo source: jeepz.com
Previous Post A Few of Our Favorite Picks from #myjeepstory Next Post Jeep Brand and Jeep Wrangler Continue to Expand Worldwide