A Few of Our Favorite Picks from #myjeepstory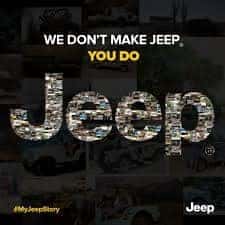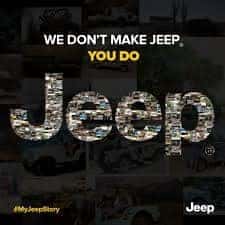 In March 2016, the Jeep brand started a special campaign as a way of celebrating the brand's 75th anniversary. The campaign is called #myjeepstory and it is a year-long marketing campaign that uses stories submitted by Jeep owners and drivers. Throughout the year, Jeep will highlight entries each month that focus on certain themes, like the annual Jeep event, the Moab Easter Safari, military appreciation and summer fun and exploration.
The first story to kick off the #myjeepstory campaign was from the popular musician, Ciara. In her story, she talks about how she grew up in a Jeep family, and how her Dad drove a Jeep in Iraq during the first Gulf War, Desert Storm.
Since the campaign began, there have been hundreds of entries submitted. Some are tearjerkers, others are funny, but they are all personal and unique. Below, are three particular stories that stood out to us.
Noah Galloway's story is a touching one. He comes from a military family, and after 9/11 he joined the military himself. On his second deployment he was badly injured (watch the video to find out how). This was for obvious reasons very hard on him, and the worst thing he had ever had to deal with. He was struggling to get through life, until his Jeep helped save him. We don't want to give away any details, but without his Jeep he may have never survived. This is a must see!
Jim Repp **
Jim's story is a cool one. He grew up loving Jeep vehicles and owned a couple himself. Repp became a mechanical engineer and naturally, he pursued a career working for his favorite car brand. He is the engineer behind the off-road monster, the Jeep Wrangler Rubicon. Watch the story to find out how he did it.
Ben Knight is a 91 year old, who still loves to off-road in his Jeep — impressive! Knight owns an awesome Jeep CJ-7 and uses it to ride through trails in Utah. In the '80s, he and his wife joined a Jeep club and they began doing the annual Jeep Safaris together. Learn more by watching the video, it is certainly a great story.
Come down to Kendall Dodge Chrysler Jeep Ram and find a Jeep to create and post your own story. You can upload your own #myjeepstory by visiting http://www.jeep.com/en/mobile/my-jeep-story/ and clicking the share a story button.
Photo credit: Jeep
Previous Post New 2017 Jeep Model Highlights Next Post You Decide, Jeep Wrangler 6X6 or Dodge Power Wagon 6×6?