Apple CarPlay – The Ultimate Copilot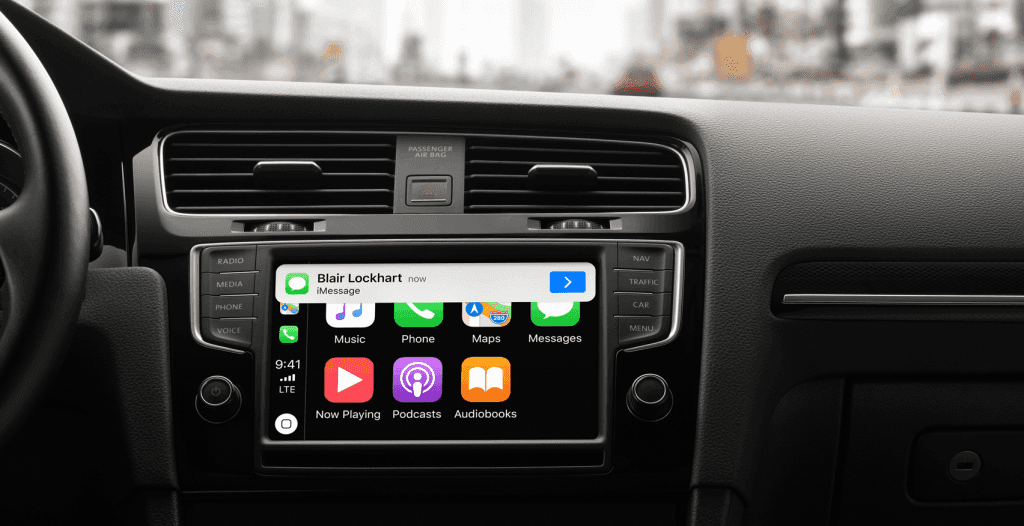 Consumers often find that their car's infotainment systems are quickly becoming outdated, something we can attribute to the fact that cars themselves receive updates to their design every few years. Apple has found the remedy to this by introducing Apple CarPlay – one of the must-have infotainment features for iPhone owners who are in the market for a new car. Available from iPhone 5 onward, CarPlay, a part of the iPhone's iOS system, enables users to have access to the latest features including up-to-date maps, contacts, and apps. Consumers are free to update their phones when required without having to make any hardware changes to their vehicle.
How does it work?
Seamlessly integrated into your infotainment center, Apple CarPlay offers a way to safely use the phone's convenient features while driving. In simple terms, Apple CarPlay takes the user interface of the iPhone and places a simplified version on the screen of your infotainment system. In tune with Apple's style of simplicity, CarPlay is easy to use – all it takes is connecting the phone to one of the car's USB ports via a Lightning cable and answering a prompt to enable the use of CarPlay. A growing number of vehicles already allow for a wireless connection via Bluetooth as well.
Once connected, the infotainment display will change into iPhone-style icons that can be controlled via the car's touchscreen, knobs, and dials. The voice command buttons in many cars are subsequently replaced by Siri when operated, allowing for easy voice-command access to most functions. Not every app is displayed on the infotainment system as a safety precaution, and things like imessages are read out loud by Siri instead of being displayed to aid with the goal of reducing driver distractions.
What can you do with it?
CarPlay makes it easy to answer and send text messages – when a message is received it is read by Siri, and voice-to-text helps drivers to compose replies and new messages. Answering and making phone calls is also a breeze, just like when using the Bluetooth connection, CarPlay allows for drivers to press the car's pickup button or the answer button on the infotainment screen. If a driver needs to make a call he or she will only need to dictate the command to Siri and CarPlay will handle making the connection.
Arguably the best feature of Apple CarPlay is the ability to use the maps app while driving, the ultimate copilot. Not all vehicles come equipped with a built-in GPS system, but that's not a problem when drivers have access to CarPlay. The Apple maps system is far better than any built-in GPS system – its constant updates and abilities to reflect real-time driving conditions remain unmatched for any static GPS system. Not to mention that when built-in GPS systems need an update, drivers will have to make time for a trip to the service department.
CarPlay also makes it unbelievably easy to stream music and other content by accessing iTunes or other third-party streaming apps that have been enabled such as Pandora, Spotify, or Amazon Music. The list of accessible apps only increases as app developers continue updating their apps to mimic the simple interface provided by Apple CarPlay.
Availability in Jeep Vehicles
CarPlay is available on Jeep vehicles via the standard Uconnect infotainment system. However, if you've got a car that is an older model or just incompatible with CarPlay, you still have the option to enjoy CarPlay – by replacing your current infotainment system thanks to aftermarket audio systems provided by the likes of Sony, Pioneer, Alpine etc.
Still have questions about Apple CarPlay? Come by Miami Lakes Auto Mall and have our friendly and knowledgeable staff help you. We can explain all of the features and will gladly invite you for a test drive as well. Not in the market for a new car yet? Our service department will be more than happy to help you upgrade your infotainment system to include Apple CarPlay. We should mention that our service department for Chrysler, Jeep, Dodge, and Ram is open on Sundays for your convenience!
Photo Source/Copyright: Apple.com
Previous Post Why Adventure Comes Easy In a Jeep Next Post Grand Wagoneer Trackhawk? Yes, please!