Which High-End Dodge Challenger Trim Should A Driver Choose? – Miami Lakes Automall Dodge Which High-End Dodge Challenger Trim Should A Driver Choose?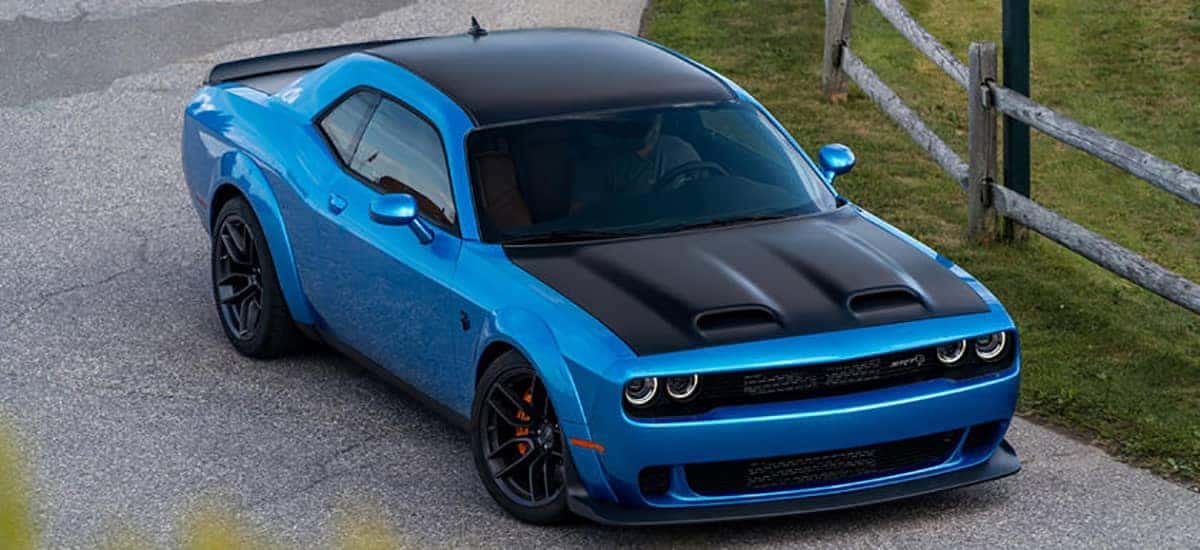 Photo Credit: Carbuzz
The landscape of Dodge muscle cars runs deep and offers more choices than most would suspect. The 2020 Dodge Challenger offers a multitude of packages for customers to decide on. For those that want to spend extra money to get all the perks afforded with some of the higher trims, a smart choice would be the Scat Pack trim or Hellcat trim. What would be the major differences between the R/T Scat Pack and the SRT Hellcat? Allow us to share some news of the upcoming features and standard options when it comes to the 2020 Dodge Challenger.
Breaking Down the 2020 SRT Hellcat
The highest trim for the Challenger is found in the SRT Hellcat Redeye, however, this is a vehicle that while it remains the fastest production muscle car made by Dodge, few can handle its immense power. For those willing to consider the high-end SRT Hellcat Redeye , we recommend reading more about it. However, let's get back to two vehicles that are closer in price and performance. The 2020 Dodge Challenger SRT Hellcat offers an impressive 6.2-Liter supercharged engine with an impressive 717 horsepower and 650 lb-ft of torque. The power of the Challenger is felt by drivers and passengers alike. Not to mention, the high-end technology being added to the Challenger with the addition of the Uconnect 5 system .
In-Depth Look Into the R/T Scat Pack
The 2020 Dodge Challenger R/T Scat Pack has the best-in-class horsepower for any vehicle under $40,00. The Scat Pack offers high-octane premium performance that has built a following of Dodge muscle car enthusiasts around the world. Starting with its hunky HEMI V8 engine that produces 485 horsepower and 475 lb-ft of torque and offers a quarter-time of 11.70 seconds at a top speed of 115 mph. The price of the R/T Scat Pack starts at $39,995 MSRP and is available for the Widebody option. The R/T Scat Pack Widebody is considered another trim, just as the SRT Hellcat Widebody. For those that expect to take their Dodge muscle car for drag racing on a course, we can see the intrigue to add the Widebody version for either trim. The Widebody adds greater grip due to its wider tires, but we will focus on the non-Widebody entries for this article. Don't forget, Dodge added the R/T Scat Pack as one of the options to gain the Daytona Special Edition earlier this year.
Why Opt For A Challenger?
The best part of driving any Dodge Challenger is feeling the extremely fast jump the vehicle provides from 0-60 and how smooth the vehicle rides. Dodge has earned many drivers over the competition in recent years, surpassing the Chevrolet Camaro in 2019 thanks to its many perks, trim options, and excitement offered for each owner. We love the sound of a new Dodge Challenger driving by and we're sure the sound of owning one will sound great to many of our readers. For more information, check with us at Miami Lakes Automall to get started with the easy process we begin to make this dream a reality!
Rush To Us To Drive the Dodge Challenger Today
At Miami Lakes Automall , we're more than happy to help our customers every day. We're thrilled to show off the new 2020 Dodge Challenger . Looking for a new option to buy or lease? Take a look at our new vehicle inventory or our quality pre-owned vehicle inventory . We can help sell your current vehicle or bring it back to life like new with an online service appointment to our service center. Allow our professional techs to get started on all repairs or maintenance work.
We're here to help with any financial help, needs or suggestions to help make paying for a vehicle easier. We look forward to being your one-stop-shop for all things automotive at Miami Lakes Automall . Stop by today!
Previous Post Dodge Muscle Owners Are Youngest In Muscle Car Segment Next Post Is It October Yet? 2021 Dodge Durango SRT Hellcat Nears Debut