Where The Dodge Challenger Began To Present Day – Miami Lakes Automall Dodge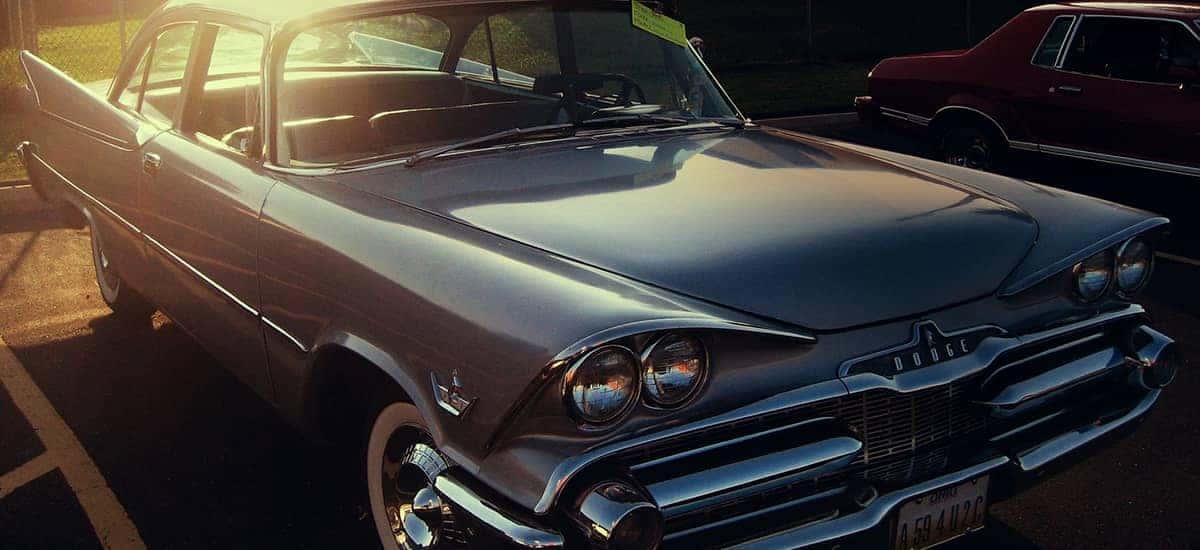 Photo credit: Dodge
The Dodge Challenger is recognized for making the most of the Dodge muscle car expertise. Beginning with the original 135 horsepower 1959 Dodge Coronet, named the Dodge Silver Challenger (pictured above). The "Silver Challenger" is a special edition two-door coupe that was also available with a 255 horsepower Red Ram V8 engine. The original Challenger vehicle was a coupe with a powerful engine and that trend continues today. What's been upgraded over the years? For many, the Challenger really got started with the Dodge pony cars from 1970 through 1974.
Today, Challengers reflect a refined design that has only become more respected and revered. Rich upgrades are very evident with the newest incarnation of the Dodge Challenger. No vehicles made today have the style and noticeable appearance like the 2019 Dodge Challenger. The dual-snorkel hood look on the 2019 Dodge Challenger was inspired by the 1970s Dart Stinger pictured below (which carried a turbine engine with an inline-six or V8 powertrain) and the wicked 2018 Dodge Challenger SRT Demon.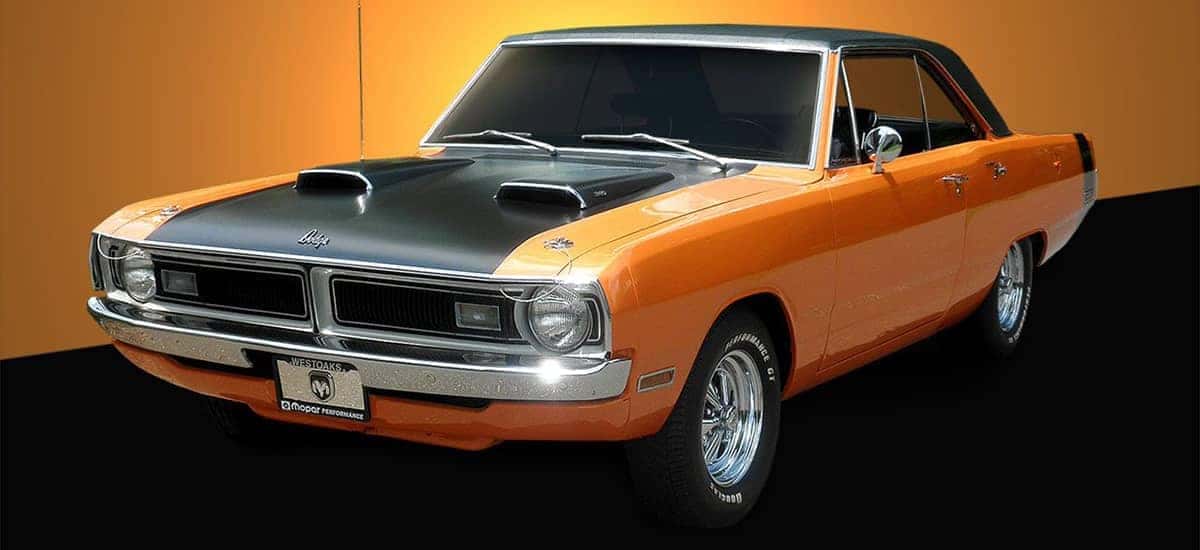 The history of the Dodge Challenger will make others take notice, honk or wave at the sight of one. This is due to the enduring legacy Dodge has earned with its pedigree of thriving muscle cars like the legendary Challenger. This has never been more evident than in the latest version of the Dodge Challenger. Matching an inspiration of high-performance and iconic design, the latest entry into the Dodge lineup is quite impressive.
The 2019 Dodge Challenger Is A Powerhouse
The 2019 Dodge Challenger provides many options, from the base trim to the full-throttle action of the Dodge Challenger SRT Hellcat Redeye, which carries a 797 horsepower 6.2-Liter supercharged V8 engine. Not just quick and fitted for high-performance driving, the available 8.4-inch Uconnect system is the latest infotainment system that makes accessing a smartphone simpler and gives that critical aspect of allowing drivers more time to concentrate on the path rather than their phone. Apple CarPlay and Android Auto, Bluetooth capabilities and navigation options are available for Owners with the latest Uconnect infotainment system. Dodge Challengers provide an experience unlike any other vehicle and are celebrated for their driving ability and swift acceleration. The beast among all the trims is the SRT Hellcat Redeye (pictured below).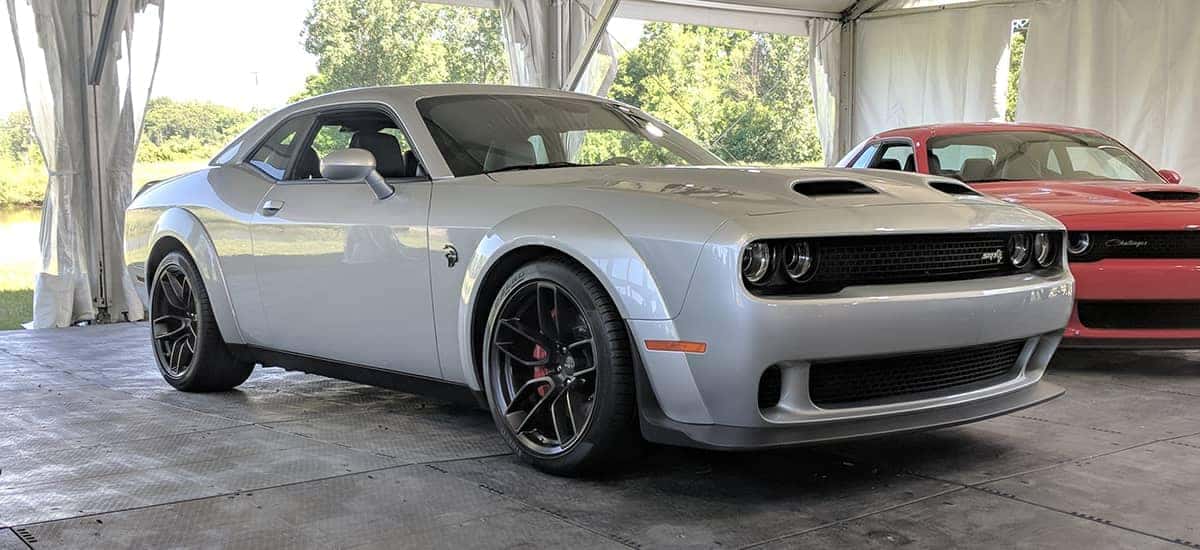 2019 Dodge Challenger SRT Hellcat Redeye carries new badging, including a sinister red eye highlighted on the Hellcat fender badges, instrument panel, key fobs, and supercharger housing. Inside, the performance interior features a new 220-mph red speedometer and Redeye logo splash screen. The future of the Challenger is here, more powerful than any other Dodge muscle car available today.
Are you an ultimate Fan of Dodge Muscle?
Dodge has introduced an all-new 1320 Club perfect for Dodge fanatics to embrace. For those that love quarter-mile drag racing and championing their very own Dodge muscle cars, members of the 1320 Club will have the opportunity to show off their official drag strip feats with satisfaction. Owners of any 2008-present Dodge Challenger or 2006-present Dodge Charger can join the pool of other members and try to exceed prior drag results and gain a place on the Stock or Modified 1320 Club Leaderboard. The 1320 Club operates closely with the Dodge Garage, the brand's digital content center for racing and car enthusiasts, which also serves as a conduit to supply additional parts to improve performance and make any Dodge vehicle that much quicker.
Driver's will also be able to showcase physical achievement badges on their Dodge vehicles. Achievement badges and decals will be prepared in gray for Stock or red for Modified. Stock or Modified badges can be earned by placing a quarter mile time between 8 seconds and 13.9 seconds, hitting a 0-60 ft time between 1.4 to 2 seconds or reaching a top speed between 105 and 170 mph. Sign up at DodgeGarage.com to create an account and if all that's left for a requirement to join is owning a Dodge Challenger or Charger, let us help make that a reality today!
Find and Drive Dodge Muscle Cars Ready To Go
We have the newest 2019 Dodge Charger and 2019 Dodge Challengers available right now at Miami Lakes Automall. If you're looking for pricing options to allow you to buy what you want, our financing team can support you for any buying or leasing needs. Let our professional sales team guide you through our entire line-up.
Come view our latest new vehicles with over 400 pre-owned vehicles that you might not believe are actually pre-owned. Miami Lakes Automall has everything you'd hope for in a dealership. We look forward to providing you that wonderful car buying experience
Previous Post The Fastest SRT Dodge Challenger of 2019 Is Unreal Next Post 2019 Dodge Charger and Jeep® Wrangler Win 2019 ALG Residual Value Awards