2019 Dodge Charger and Jeep® Wrangler Win 2019 ALG Residual Value Awards – Miami Lakes Automall Dodge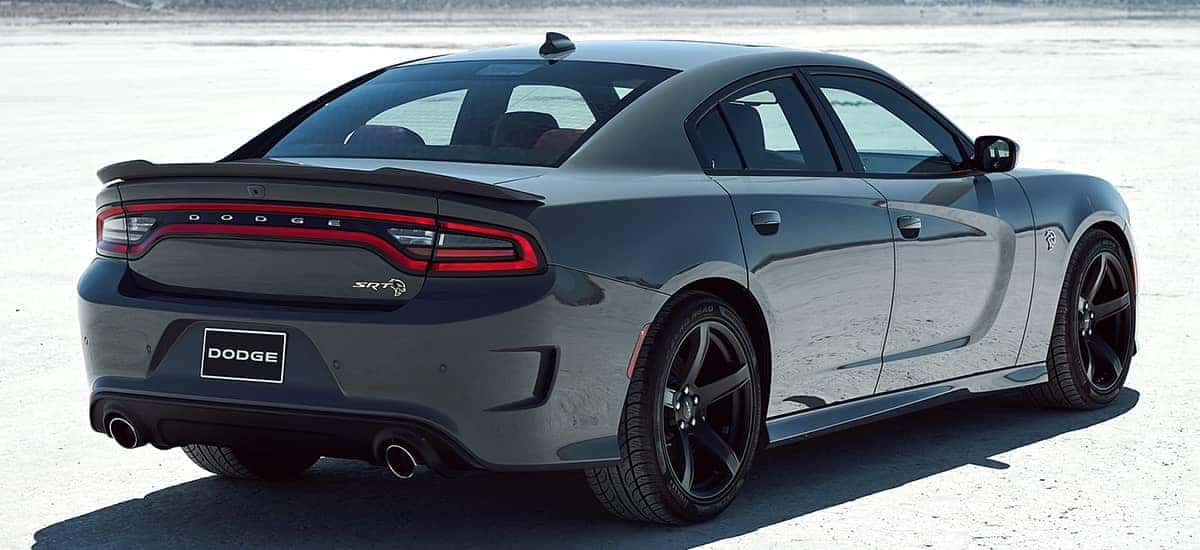 Photo credit: Dodge
The award season is in full swing and one of the most prized vehicles this year is none other than the 2019 Jeep® Wrangler, winning the ALG Residual Value, for the second year in a row. The 2019 Dodge Charger also won the award, taking it home for the fifth year in a row. It's the only four-door muscle car to win in the ALG Residual Value in the Full-size Car segment. The 2019 Jeep Wrangler also took home Motor Trend's 2019 SUV of the Year as well. The reasons these two Fiat Chrysler Automobiles (FCA) products won are plentiful as they both represent the best in their respective categories for a reason.
New 2019 Jeep Wrangler, A Natural Choice For Adventure
Considered the most distinguished vehicle in the world, the 2019 Jeep Wrangler earns a back-to-back win in the ALG Off-Road Utility segment thanks to its all-new design and uncompromising innovation. Jeep worked hard towards creating an even more accessible and easier to use Wrangler. Removing the doors, window and hard or soft top has never been simpler. ALG Residual Value Awards distinguish vehicles and brands that stand out from the rest of the market by designing quality, long-term dependability and influential desirability. ALG is considered one of the industry benchmarks for continuing values and depreciation data.
Step Into the 2019 Dodge Charger
More than a leader in terms of sales, the latest Dodge Charger has won in the Full-size Car segment for half a decade thanks to an enduring focus on improving every aspect of the vehicle. The 2019 Dodge Charger is no exception to innovation and the Charger SRT Hellcat trim is an example of remarkable high-performance excellence with a remarkable 707 horsepower in the 6.2-Liter supercharged V8 powertrain. Across every trim, owners will have an impressive muscle car with tremendous horsepower.
"As a niche player in the segment, the Dodge Charger offers the best of both worlds with the comfort of a full-size sedan and the power of a muscle car. High performance offered at an affordable price-point leads Charger to sweep the full-size segment and take home its fifth consecutive Residual Value Award," said Eric Lyman, senior vice president of ALG.
More on the 2019 Wrangler
The praise for the all-new 2019 Jeep Wrangler JL was commented on as well. For any person looking for the perfect off-road vehicle that embraces technology and innovation with a wonderful track record of resale value, there are few better options than a 2019 Jeep Wrangler.
"Jeep has a long and successful history in off-road utilities and the Wrangler combines function and comfort, adding new technology and powertrain offerings. This strong value proposition makes it no surprise to see the Wrangler win the Residual Value Award in the Off-Road Utility segment for the second year in a row," Lyman said.
Find Both Vehicles At Miami Lakes Automall
Want to take a 2019 Jeep Wrangler or 2019 Dodge Charger for a spin? We have both available today. If you're looking for pricing options that allow you to buy what you want, our automotive finance team can help make things easier.
Hoping to fix any issues you have with your current vehicles? Allow our friendly automotive service team to help – they're highly trained and capable of handling nearly any job. Located at 16600 NW 57th Ave in Miami Lakes, Florida our Chrysler, Dodge, Jeep, and Ram sales and service departments are open seven days a week to better serve you. Miami Lakes Automall is your one-stop shop for all things automotive!
Previous Post Where The Dodge Challenger Began To Present Day Next Post Mopar Is Stocked With The Perfect Holiday Gifts