The Most Impressive Dodge Challenger Debuts Soon – Miami Lakes Automall Dodge The Most Impressive Dodge Challenger Debuts Soon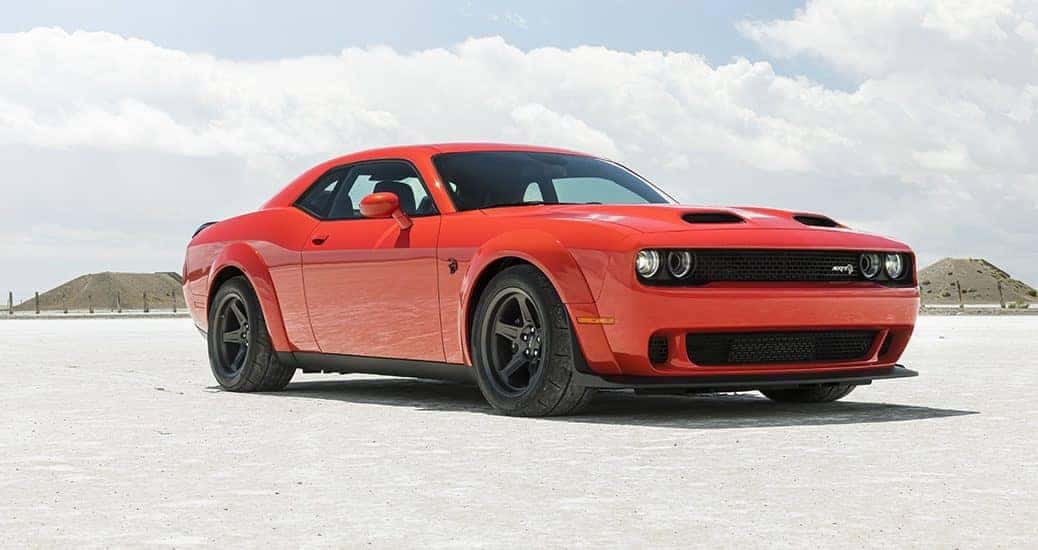 Photo credit: Dodge
Dodge is ready to offer a new champion of the muscle car segment. Dodge has produced a yearly successor since the 2018 Dodge Challenger SRT Demon debuted. The follow-up to the SRT Demon was the following year's SRT Hellcat Redeye, which was under 800 horsepower. Dodge decided to bring back that over 800 horsepower with the new SRT Super Stock. Dodge had been named to the number one spot earlier this year with J.D. Power's APEAL study, so Dodge is having a banner year. Dodge viewed the overwhelming response of Dodge owners for a new entry to live up to the SRT Demon, and this might be that vehicle.
The Prize of Dodge Muscle
We all love a vehicle that makes an impression. The Dodge Challenger has that capacity in spades with the all-new 2021 Dodge Challenger SRT Super Stock. The new prize muscle car will make its debut in the fall of 2020. We can thank the Dodge engineering team for its caffeinated approach to horsepower at its 807 rating and 707 lb-ft of torque. Owners gain the famed 6.2-Liter V8 turbocharged engine. Regarding the new Muscle entry, an interview with Tim Kuniskis, the current Dodge president, added some revealing details. Dodge went to extreme lengths to create the newest champion of all production muscle cars.
Welcome the SRT Super Stock
While we won't have the 2021 Dodge Challenger SRT Super Stock till the fall, we know it's the right mix of both the SRT Demon with the same brakes, wheels, plus its drag radicals to provide drivers with a vehicle ready to race on a drag-strip without any modifications required. The narrow-body (non-Widebody) is an option for customers if they want to opt for it. This move should bring a lower cost of about $6,000. Keep in mind, the SRT Super Stock isn't for those who aren't able to handle the massive power this muscle brings. As the new top-tier Challenger, the starting price is estimated to be about $79,000 MSRP. Slightly over the SRT Hellcat Redeye price of $78,295 MSRP, but less than the $80,000 MSRP price of the SRT Demon. These are the vehicles that are built for racing and set wildly quick times (under 10 seconds) during a quarter-mile race.
"Nobody ever saw Super Stock coming. For the people who are into it, it's significant. We didn't want to lose our claim as having the quickest, fastest, most powerful muscle car in the industry. We went to our customers and we surveyed them on road courses, drag racing, just regular cruising, what kind of stuff were they interested in. So what we found out was, it was a 7-to-1-ratio of people that said they identified with drag racing over road course." -Tim Kuniskis, Dodge President
Unlocking the Secret of What Customers Want
Dodge researched and did their part by asking the Dodge owner community to learn about what they want to see. Of course, Dodge has said they wouldn't create another Dodge Challenger SRT Demon, but that didn't mean owners wouldn't gain a new beast. Customers were hoping to see an original attempt that will be able to offer a drag race-ready vehicle. In doing their research and due diligence, Dodge learned customers want a high-end type of vehicle that will also finish ahead of the competition. That's how Dodge built the the new quickest and most powerful muscle car that was made into the production car it is today. Welcome to the reign of the 2021 Dodge Challenger SRT Super Stock.
"We listen very, very carefully because these are the people who are going to buy these cars. If they tell us there's something that they want, and it's possible, we listen very, very closely to them. If I had to categorize it, I would say the Super Stock is nothing like the Demon, and it's more like the Redeye, just re-tuned for the wheel and tire package. 80 percent Redeye and 20 percent Demon." -Tim Kuniskis, Dodge President
Drive the Newest Dodge Muscle Cars With Our Help
Check out our new Dodge Challenger muscle cars we have ready to go. We have them as well as a wide variety of quality pre-owned vehicles . If you're looking for pricing options to take home what you want, our auto financing team is here to help. If you want to sell or trade-in your current vehicle, we're here to help with those needs as well.
Even if you didn't buy with us, we can fix up your current ride with a simple online service appointment to see our knowledgeable service team. Miami Lakes Automall is located at 16600 NW 57th Ave in Miami Lakes, Florida. We're open seven days a week across our sales, service, and parts departments to help out with any of your automotive needs. Rush over today!
Previous Post Criminals Lookout! 2021 Dodge Pursuit Lineup Orders Start Next Month Next Post Dodge Has Revealed A Shocking Detail About the All-New Durango SRT Hellcat Trim