Dodge Has Revealed A Shocking Detail About the All-New Durango SRT Hellcat Trim – Miami Lakes Automall Dodge Dodge Has Revealed A Shocking Detail About the All-New Durango SRT Hellcat Trim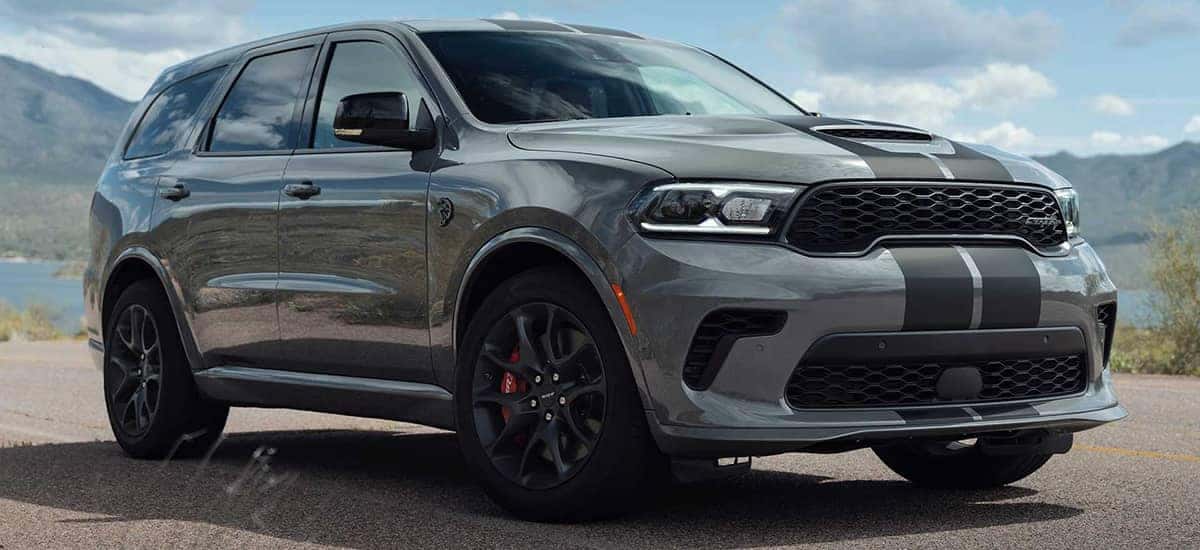 Photo credit: Dodge
Dodge energized its base when it first announced its intention to add the SRT Hellcat trim to the upcoming 2021 Dodge Durango. Many were shocked that the three-row SUV could even handle the turbocharged 6.2-Liter V8 HEMI powertrain. The 2020 Durango currently offers its highest-tier trim, the SRT. What made the SRT trim special was its providing owners the stout 6.4-Liter HEMI V8 that would hit 475 horsepower and 470 lb-ft of torque. However, the addition of the SRT Hellcat famed engine means the horsepower will climb over 235 horsepower! The official numbers released have the Durango SRT Hellcat at 710 horsepower with 645 lb-ft of torque. The world's most powerful SUV is also the fastest, but Dodge revealed more news about this upcoming beast of an SUV.
Keep This In Mind, There's A Limited Time
There's just one catch that Dodge announced regarding the forthcoming 2021 Dodge Durango SRT Hellcat; it won't be produced for very long. Exactly six months of production is all that is expected for the new trim and powertrain added to the already world's fastest three-row SUV. Naturally, this may not be a surprise as Dodge has a tendency to end its fastest production models within a year or less. We were still mourning the end of the 2018 Dodge Challenger SRT Demon run; until we learned all about the all-new 2021 Dodge Challenger SRT Super Stock . Dodge is building a line-up that is made for the drag racing scene, but owners can enjoy the remarkable performance on everyday roads and remove the word "boring" from any future driving trips, that's for sure.
Rush To Get the Durango SRT Hellcat Fast
Dodge has kept its fans on their toes and kept the speed and excitement of driving a Dodge vehicle intact. This is just a reminder for all those customers that there will be a limited amount of time to snatch up the upcoming 2021 Dodge Durango SRT Hellcat. This vehicle will be expected to start around $77,000 MSRP (Plus destination fee). For lovers of speed, this is a price that all SRT owners can relate to. The 2020 Dodge Challenger SRT Hellcat Redeye is similar in price at $79,000 MSRP (Plus destination fee). The debut of the 2021 Dodge Durango is expected in the fall of 2020 and will offer wicked fast speeds of 0 to 60 mph in under four seconds!
Drive Brand New Dodge Vehicles With Our Help
Are you thrilled about getting a new ride? So are we! At Miami Lakes Automall, we're more than excited to help our customers, we're thrilled. Looking for the 2020 Dodge Durango or any of the latest Dodge Challenger muscle cars ? Don't be afraid to browse through our newest vehicle inventory or browse through our quality pre-owned vehicles . We can help sell your current vehicle or bring it back to life like new with an online service appointment to our service center. Allow our professional techs to get started on all repairs or maintenance work.
We're here to help with any financial help , needs, or suggestions to help make paying for a vehicle easier. Miami Lakes Automall is located at 16600 NW 57th Ave in Miami Lakes, Florida. We're open seven days a week across our sales, service, and parts departments to help out with any of your automotive needs. Whether you want to buy online or in person, we can assist our customers quickly and efficiently. We hope to provide you with service soon!
Previous Post The Most Impressive Dodge Challenger Debuts Soon Next Post Dodge Brand Is Rebounding Its Muscle Car Sales Quickly