The Mopar Hellephante Crate Is Officially Sold Out! – Miami Lakes Automall Dodge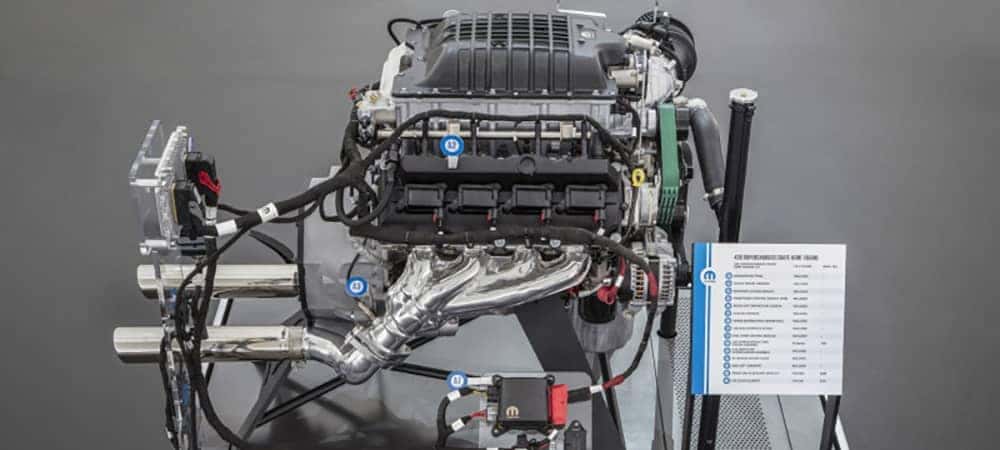 Photo credit: Mopar
Owners of classic muscle cars take pride in their prized possessions and rightfully so. While hearing the word "classic" might sound old and obsolete, don't judge a book by its cover. Old school Dodge muscle cars could have the all-new Mopar Hellephante crate engine installed in their classic ride. Mopar announced all of their Hellephante crates have sold out! The monstrous 1,000 horsepower, 950 lb-ft of torque crate engine was sold out in less than two weeks time. For owners of Dodge muscle cars that desired a colossal upgrade, there isn't an alternative that would allow for greater horsepower and strength. This is the kind of powertrain that will be embraced the world over from drag racers and street muscle car fanatics alike. Easily the most dominant crate motor made by an OEM (original equipment manufacturer). So, what does the Hellephante crate provide?
A Special Engine For a Reason
The origins of the Hellephante crate go back to a previous generation powertrain made by Mopar. Named the Gen III HEMI V8, Mopar has created 426 cubic inches of the new Hellephante with a 4.0-inch bore that affords plenty of cylinder wall depth joined with a 4.125 crankshaft. With an aluminum block, forged pistons and value covers right out of the SRT Hellcat Redeye, owners of the Hellephante will enjoy a unique engine that adds an enhanced supercharger over the current Hellcat. Mopar also throws together a kit to assist buyers to add the engine smoothly, including wiring, a throttle pedal, O2 sensors, and an ECU that is tuned and able to go. The Hellephante crate also comprises of front-end accessory drive kit that joins the alternator and power steering pump with the required pulleys and belt. The entire package is ready to go and is probably stocked already in many muscle cars on drag strips around the world.
Everyone Wants a Hellephante Crate
A lot of people were looking to add this mega-powerful engine due to its incredible high-performance power and 1,000 horsepower. Now, the only drawback from owning a piece of this fantastic engine is the cost. The price for this massive powertrain is $29,995 MSRP. We hope our readers keep in mind how this engine immediately enhances any vehicle to a wild amount of horsepower and torque. In fact, the original 426 HEMI with only 425 horsepower was forbidden by NASCAR. The Hellephante crate is an elite item and quite rare since only 1,000 customers were lucky enough to add one. The announcement of this crate came on National HEMI Day, April 26th, 2019. It's not a surprise that before two weeks could pass, this one came and went.
What Vehicles Can Drive With the Hellephante?
Driving with a high-powered engine like the one included in the Hellephante is sure to bring attention and joy for those lucky owners who were able to purchase one. Although, we want our readers to know this crate is for any pre-1976 Dodge muscle car and could not be added to newer Dodge muscle cars.
Come to Miami Lakes Automall For Your Automotive Needs
Looking to drive a new Dodge vehicle ? We have plenty for owners to choose from. We help customers every day with their buying, leasing and trade-in needs. Looking to add the remarkable Hellephante engine? Should you want to fix up your classic ride, we have a dedicated service center for your current vehicle for all maintenance and repair work.
Make a service appointment so we can help with all your repair requirements. We'll provide any maintenance required down the road. Helping your vehicle maintain top performance, safety and driving ability is our goal along with your satisfaction. Find all that and more at Miami Lakes Automall today!
Previous Post Dodge Challenger Outselling Chevy Camaro For the First Time Next Post Head of Dodge Brand, Steve Beahm, Retires