New 2022 Dodge Durango Gains R/T Plus Trim – Miami Lakes Automall Dodge New 2022 Dodge Durango Gains R/T Plus Trim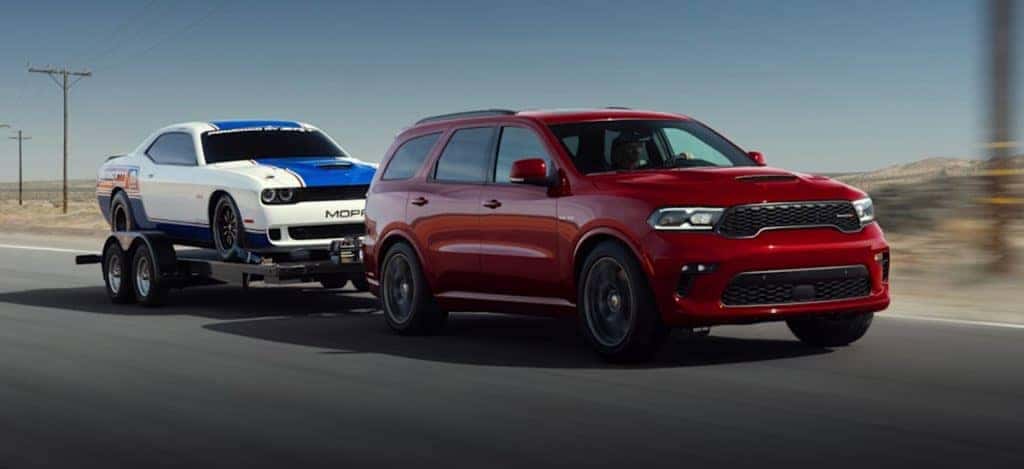 Dodge is no stranger to offering customers exactly what they want most. The Dodge brand has been in the news making waves and all sorts of noise to a positive response with its EV muscle car set to debut in less than two years . We can be assured the Dodge brand is set to offer a slew of outstanding vehicles that are electrified and awesome , but for now, the latest news is focused on what we have today. The current Dodge vehicle that is receiving some attention is the famed, tried-and-true Dodge Durango SUV. The 2022 Dodge Durango will add an R/T Plus trim that is going to gain much of the luxury options that make the cut for the higher trims.
What Comes with the R/T Plus?
Drivers looking to opt in to a vehicle that supplies luxurious features, but don't want to go to the highest trim sets can look no further than the R/T Plus when the Durango SUV arrives for the 2022 model year. The equipment added to the Technology Group includes the adaptive cruise control feature, safety features like forward collision warning, advanced brake assist support, lane departure warning and makes the drive of a Durango that much more enjoyable. However, this is a group add-on, as features can be opted for or not, as owners can also decide on the Premium Interior Group that adds an upgraded instrument panel for owners. A suede headliner is also included with perks that make life easier to safely drive like Safety and Security Systems' blind-spot detection. The power sunroof makes for a stunning appearance feature that is one of the many perks afforded with the Premium Interior Group. Owners have luxurious add-ons that include the 19-speaker, 825-watt Harman Kardon audio system, plus the Nappa leather seating and among the sharper looking SUV interiors on the market.
An SUV Fit For A King
When opting for the Durango, a massive-interior is provided that includes seating for seven comfortably, with space for more. We are not sure if there will be a return for large second-row captain's chairs for the R/T Plus, but the option is a feature for the higher trims. For the rear-wheel-drive version of the 2022 Dodge Durango R/T Plus, the price is set at $53,820 MSRP (Plus destination fees). For those that want to get started on driving a new Dodge Durango, speak with us at Miami Lakes Automall today to get the holiday season started off in a marvelous way. While we await for the 2022 model year vehicles, like the exciting 2022 Dodge Challenger muscle car , we have plenty of options for our customers to get the right fit for what they want today.
Shop During the Holidays With Miami Lakes Automall!
Come drive a new Dodge Durango , check with us at Miami Lakes Auto. We have an inventory that includes the newest Dodge products, count on us at Miami Lakes Automall to share the news. Our professional team is here to make your muscle car dream a reality. Our sales staff is ready to help with any leasing, buying, or trade-in options.
Are you experiencing some vehicle issues with your current ride? Not sure how to handle the repairs? If your vehicle isn't running properly, let us help keep it going. We're here to help with a simple online reservation and a trip to our service center. We're open every day to assist our customers to find everything they need. We hope to help you today at Miami Lakes Automall !
Previous Post NASCAR Removed Dodge's Fastest Car Once Half A Century Ago Next Post Dodge Spending Billions To Improve Software & Technology