Latest Charger Revealed at SEMA Show – Miami Lakes Automall Dodge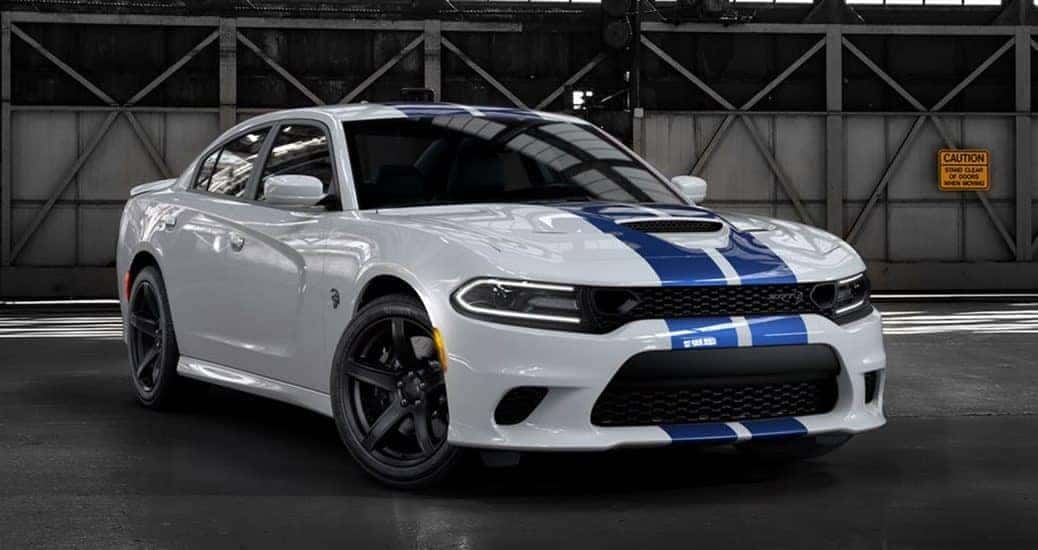 Photo credit: Dodge
The 2019 SEMA (Specialty Equipment Market Association) show is an annual event in Las Vegas that draws massive attention due to all the wild, large, and innovative vehicles being shown off to the world. For 2019, Fiat Chrysler presented their Charger sedan series with new technology that premiered in their 2018 Dodge Challenger SRT Demon. FCA is continuing to nurture what is now practically the only 4-door muscle car in North America by giving it some brand new exterior aesthetic options from the SRT Hellcat and R/T models.
"The Dodge Charger continues its run as the sales leader in the large car segment for the fifth year in a row. And as the aftermarket customization business continues to balloon, these new stripe options give Charger buyers the opportunity to make what is already the only four-door muscle car in the market even more unique, and to do it straight from the factory," said Steve Beahm, head of passenger cars at FCA North America.
SEMA Show Featuring the Newest Dodge Charger
During the 2018 SEMA Show, Dodge is commencing with three new Charger SRT Hellcat models, each with three new dual-center stripe colors (Red, Blue, and Silver) that run down the center of the car and over both fascias, from the hood and across the roof. The blue stripes run especially great with a white body-painted Charger, while the silver-on-black combo is a fun look for owners to enjoy. The red-on-black style has a tremendous and sharp look that screams Hellcat. The Dodge Charger R/T Scat Pack will also add stripes that were previously only on other trims – Dual-Carbon stripes are available for non-supercharged Chargers at the low price of $995. This has never before been offered on non-supercharged Charger trims.
Fiat Chrysler Automobiles (FCA) is excited to share upgrades for higher-end Charger muscle cars with parts right out of the famed 2018 Dodge Challenger SRT Demon. Line-lock and launch assist aides to give a perfect start at the drag strip, and thanks to new dual air inlets, this Charger sounds like the Demon and provides that extra purr that sounds so nice. Torque Reserve and an after-run chiller were also added for this Hellcat trim, and both the R/T and R/T Scat Pack trims will gain a launch-control switch. Get ready to move quickly when driving this new Dodge muscle car.
More Surprises From Mopar
Mopar introduced a 426 HEMI engine to be a part of the Hellephant 426 Supercharged Crate HEMI crate box. This crate will include a 1000 horsepower engine that can also generate 950 lb-ft of torque. The engine will be increased from 6.2 to 7.0 liters. Come to think of it, this new Hellephant engine is getting a lot of changes, making it a hybrid of the most powerful Dodge engines to date.
Equipped with an improved supercharger, a high-efficiency rotor has been mounted onto the engine block, with the engine block itself made out of aluminum to cut some weight. The Hellephant engine borrows valve covers from the Dodge Challenger SRT Hellcat Redeye valve train; valves, locks and retainers from the Dodge Challenger SRT Demon; comes with a special high-lift cam and custom-forged pistons. For complete assembly, the Hellephant also requires a water pump, flywheel, front sump oil pan, supercharger with throttle body, fuel injectors, and coil packs.
The coolest thing about the new Hellephant crate is the plan to offer a "Front End Accessory Drive" kit that will be able to be inserted into any pre-1976 Dodge muscle car with an alternator, power steering pump and all the belts and pulleys needed to get the job done. Dodge is pulling out all the stops for the new wave of new vehicles and the place to find them will be Miami Lakes Automall.
Find the Newest Chrysler, Dodge, Jeep and Ram Vehicles All at One Place
Our friendly staff is ready to help you buy, lease, sell or trade-in your vehicle and receive an excellent deal on it. We have the newest Dodge Charger vehicles available right now. If you're looking for pricing options to allow you to buy what you want, our financing team can support you for any buying or leasing needs
From everything to the latest new vehicles to over 400 pre-owned vehicles that you might not believe are actually pre-owned, Miami Lakes Automall has everything you'd hope for in a dealership. We look forward to providing you that wonderful car buying experience you're hoping for!
Previous Post J.D. Power Awards Praise the Resale Value of Multiple FCA Vehicles Next Post 2019 Dodge Challenger SRT Hellcat Redeye Rolls Off Assembly Line