Hamburger House Party 2018
After surveying burgers for the Hamburger House Party 2017 , I just had to go check out this year's event. The party took place on March 10, and oh man, was I stuffed. My name is Jordan, and I'm the same guy that played the part of food critic for burgers by reviewing several burger joints that were available at last year's Hamburger House Party. Here's a little recap from this year's event.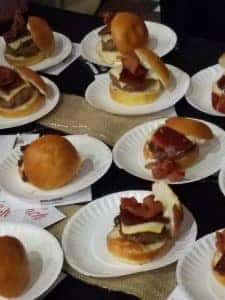 The Party
Alright, so at the 2018 Hamburger House Party, there were 19 burger joints showing off their best burger. That's a whole lot of burgers, but they were all miniature sliders, like the picture to the right. They definitely weren't anything like the one below: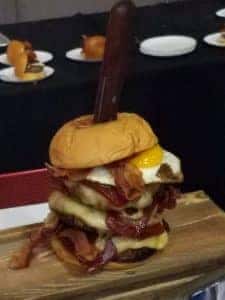 That behemoth would put someone into a coma by the second burger patty. No, they were all small, and I prepared by fasting for 24 hours, so I was good to go. Now, I couldn't try all 19. With unlimited beer and wine samples, I couldn't do more than try nine burgers before I turned to dessert to wrap up the night. The sole dessert I tried was "Sweet Fix," a brûlée cake with rum creme and mango butter, by the "Bottoms Up" GastroPub and Tap House. They didn't win, however – some empanada did.
The Burgers
Okay, so I had nine burgers and a couple of things to say about each with a bottle of water on hand. Can't just shove them into my mouth, let's do it right, yeah? With beers and wine in mind, we'll start with something similar.
– Toasted – Booze Burger – Made with 100% beef and topped with blue cheese, candied bacon, and pinot caramelized onions. This burger was my first try by suggestion, and it was definitely a great start to an evening of burgers. The creamy blue cheese gave this burger a savory taste while the candied bacon made it stand out with a sweetness not usually found with a burger. Personally, I always add a little brown sugar to the beef when grilling myself, so it was nice to see it's not as crazy as some would think.
– Bird & Bone Burger – A double angus beef patty, bacon, onion, Florida cheddar cheese, house-made pickles, & comeback sauce on Zak the Baker Brioche bread. I take it the last ingredient is a brand-name bun used. They say it was pickles, but these were more like cucumbers. They were crunchy, and a little crunch in a burger is always great. Usually it's from bacon, but if looking for a healthy alternative, I'd say cucumbers aren't a bad idea after this.
– Chefs on the Run – Mofongo Burger – 80/20 blend of Angus churrasco burger topped with Chef Jodrick's Mofongo, applewood smoked bacon, kerrygold dubliner white cheddar cheese, chimichurri aioli, pickled red onions, rugged sauce, and smoked churrasco. I gotta be honest, this was an amazing burger, and I thought it would be one of the winners. Look at all those fancy ingredients, the best-of-the-best. WHAT IS MOFONGO?!
– Luz, Câmera, Burger! – The Samba Burger – A beef patty topped with Brazilian cheese, beef jerky cooked with sugar cane brandy, and mixed with crispy fried kale. The guys at this booth knew how to party, and maybe that's what they should stick to. Some of the patrons around me commented on the beef jerky being a little chewy, and to me, the kale was overpowering. Kale doesn't belong on a burger- EVER.
– Orange Bear Grill – The Basic "B" – Custom burger blend topped with bacon habanero jam, white cheddar cheese, garlic aioli, housemade pickles, all on a Martin's potato roll. Okay, I really wonder what the burger blend is, because this burger also stood out well. The habanero jam gave the perfect zing to the flavor of the burger overall. Not overpowering, maybe even a little timid.
– Boss Burger & Brew – El Tumbe – Blend of chuck, brisket, and short rib meat, topped with muenster cheese, guava paste, herb cream cheese, and bacon. Can that kind of blend be called a burger? Eh, whatever, it was delicious and sweet and crunchy. The guava made it very different from other burgers, and that's always the point of going to the Hamburger House Party, so it was well worth a try.
– Bottoms Up Gastropub – The Hemingway – Bourbon infused burger patty topped with red wine sauteed spinach and mushrooms, pickled onions, apple bourbon bacon jam, blue cheese butter, and balsamic aioli. This is what we call a "try hard" burger. All these fancy ingredients, and not a single one stood out. The sole taste that set this burger a part was the bourbon after taste.
The Winners
Alright, there are technically two well deserved winners. There's the burger chosen by the judges, and then the People's Choice winner. I tried both and so here's my impression of each.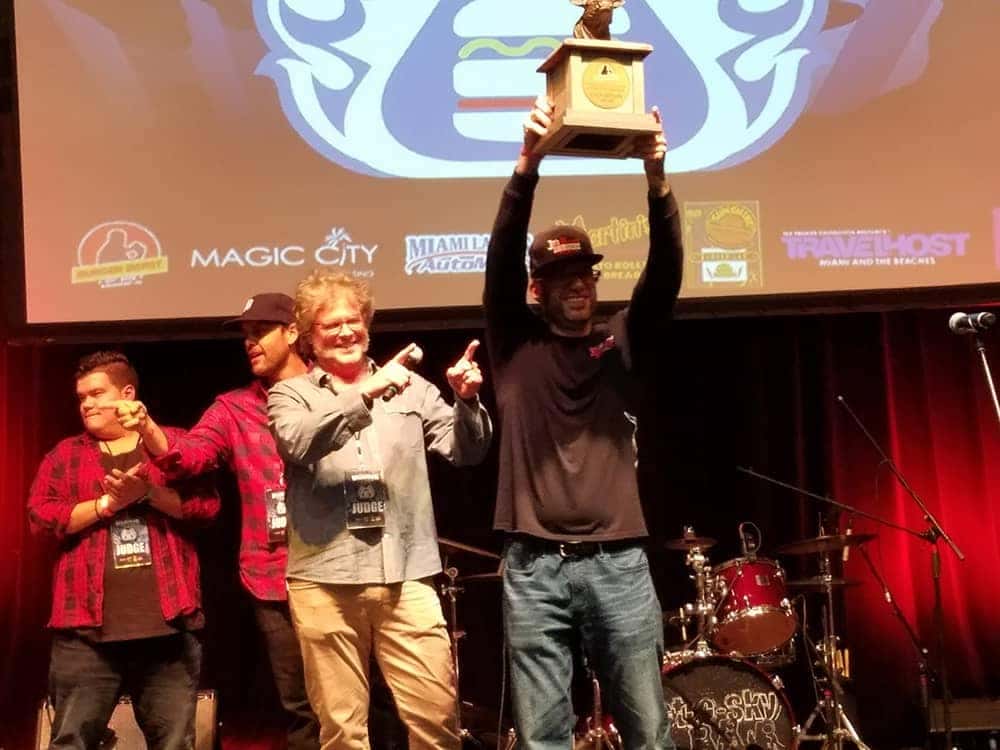 Judge's Pick – Jrs. Gourmet Burgers
Jrs. Gourmet Burgers – Burger and the Beast – Do you guys remember this place from my last review? Oh man, Jrs. Burgers are always a treat, and it was so simple! Jrs signature burger meat topped with grilled onions, american cheese, and pink sauce. WHAT IS THE PINK SAUCE?! OMG it's always so inviting and just reels your taste buds in. I really hope they add this one to the menu if not already, I need a half-pound version, like yesterday.
*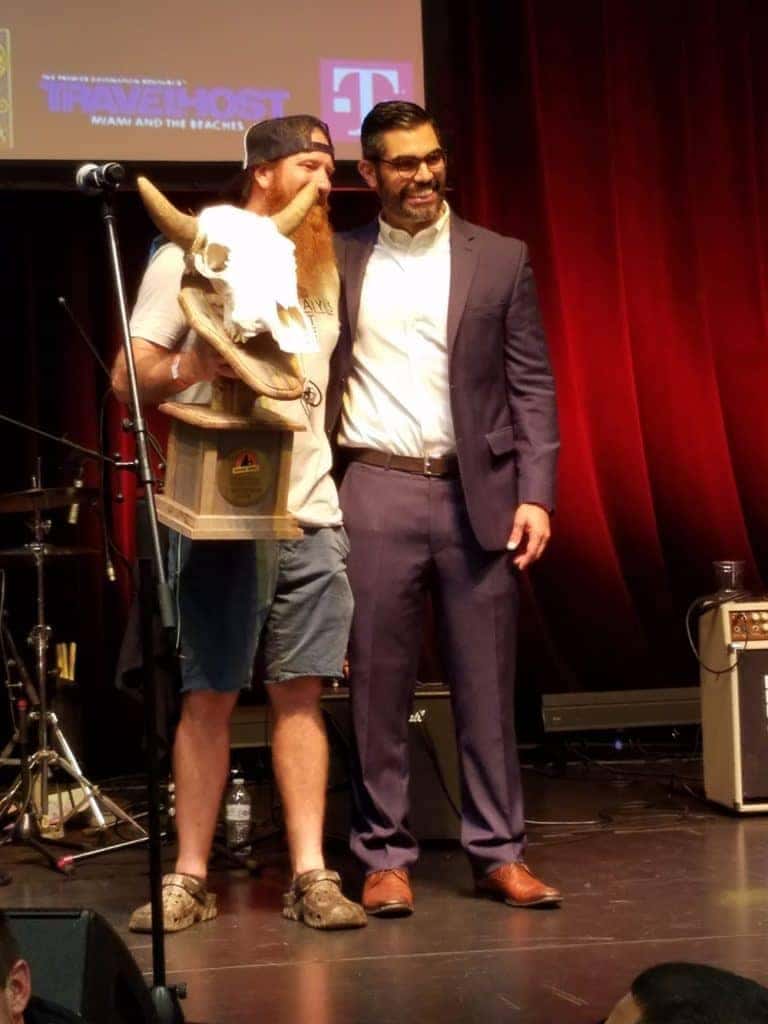 People's Choice – I Hate Mondays Tavern *
I Hate Mondays Tavern – Mondays Remedy Burger – Made of a brisket Angus beef blend, topped with smoked pork belly bacon, onion, and smoked gouda jalapeno cheese, all on a sweet rub bun. I need this burger in my life. Liken to the "Basic 'B'" and the "Booze Burger", this Mondays Remedy Burger brings sweetness and spiciness to one burger, and it was delicious. Definitely deserving of the "People's Choice" award.
* That wraps up the recap of Hamburger House Party 2018. If you missed it, that's okay. There's nine burger places for you to check out. If you went, let us know what burgers you tried and which you voted for on Miami Lakes Dodge . *
* Photo Source/Copyright: Jordan Anthony Rodriguez *
Previous Post Want to Start Racing? We Have Some Pointers for Beginners Next Post Dodge Expands HIP Colors, Adds New Shakedown Package + New Stripes