Dodge Switches Up Splitter Guard Color With A Dramatic Change – Miami Lakes Automall Dodge Dodge Switches Up Splitter Guard Color With A Dramatic Change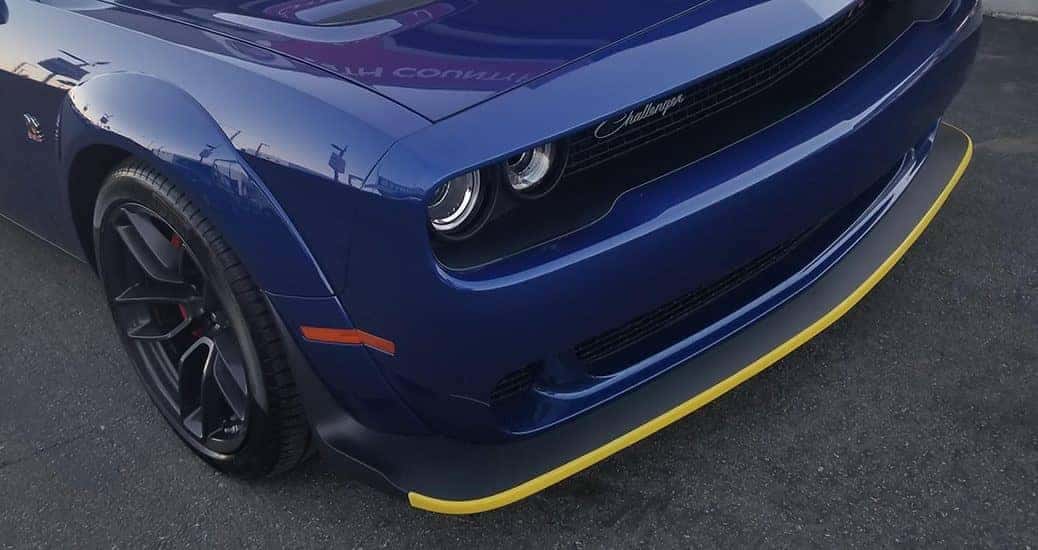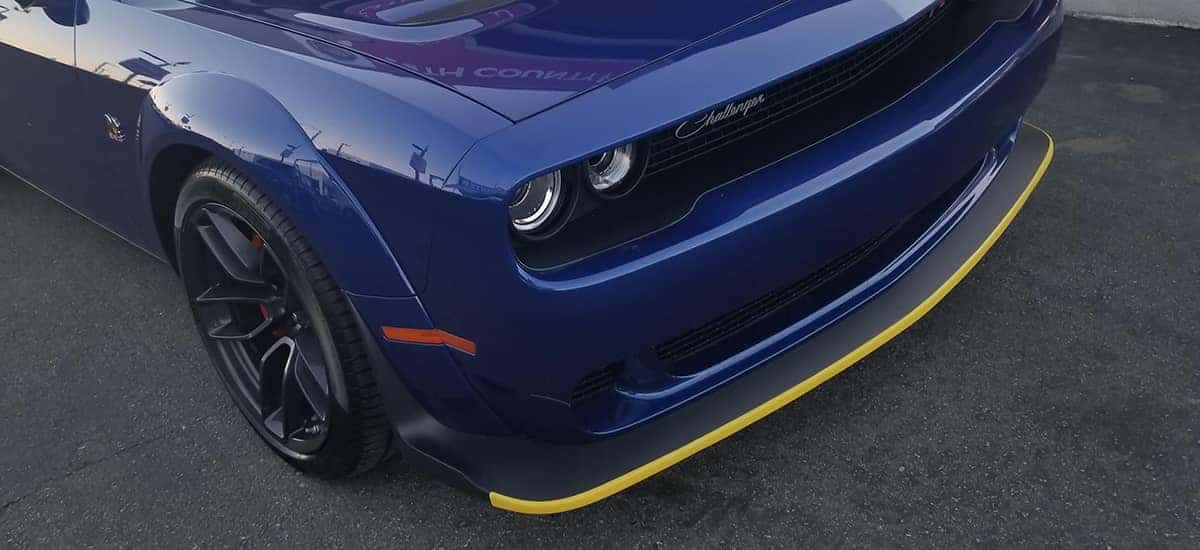 Photo credit: Dodge
Dodge and FCA have developed a very ingenious plan to better preserve their top muscle car paint jobs and ensure they remain protected. In the last half-decade, many owners have managed to retain their splitter guards on their Dodge muscle cars. This was not the original intention by Dodge when the vehicles were designed. If these splitter guards are not taken off, they could potentially harm the body's paint. Splitter guards are used as a shield for the splitter should any object come in contact with it during transportation or when moving during the off-load process at a dealership. Fiat Chrysler Automobiles (FCA), the parent company of Dodge, has supervised the choice to use these plastic guards, beginning in 2015 when they originally commenced the splitter guards existing. Over the past five years, a community has embraced and kept these plastic splitter guards on their Dodge muscle cars. This is somewhat of a polarizing topic as even a Facebook group of splitter guard fans has over 12,000 members, but FCA has made a choice to change the formerly yellow-colored guards to change to a new hot-pink color.
Here Comes the Hot Pink Flare
Enter the new hot-pink brightness attached with the splitter guards. Luckily, one group of customers might enjoy this change more so than any other place in the country. That would be Dade Country, with our Miami Heat Vice City fans. However, customers at large might not welcome the change. Luckily, there is a genuine reason these splitter guards were changed. They were first intended to be separated by dealerships, but many of them have decided to leave the choice to the customer after a purchase. Having a splitter guard taken off the vehicle is one way to ensure the vehicle maintains its brand new look. Some customers believe the splitter guard looks new. Keep in mind, several other ways are more reliable to find out how new a vehicle is. Checking the title, checking a carfax, or fastest is the odometer. Since the odometer is less prominent than a splitter guard, some first-time customers are instantly attracted to the plastic splitter guard. That might change when the pink ones start to roll out.
Guard The Paint Job With No Splitter Guards
Many people look forward to driving off the lot with the splitter guard on. Nevertheless, the current head designer of the Dodge and SRT had this to say about those owners and he has been outspoken that he isn't a fan of the splitter guard. Keeping the paint safe for the vehicle is what FCA and drivers ultimately want most. With the splitter guards on, the paint fades over time, seemingly because the plastic can move somewhat and produce irritation that removes the paint faster. The addition of the splitter guard wasn't "part of the original design" for FCA and Dodge. While this new trend that has been staying around and grew out of popularity for the wrong reasons, we still allow the choice to be up to the customer. Currently, the splitter guards are made with yellow and that is expected to change eventually in 2020 to pink. Have more questions? Feel free to ask us at Miami Lakes Automall.
Drive New Dodge Muscle With Us Today
Are you thrilled about getting a new car? So are we! At Miami Lakes Automall , we're more than excited to help our customers, we're thrilled. Looking for the latest Dodge Challenger muscle cars ? Don't be afraid to browse through our newest vehicles or our quality pre-owned vehicles . We can help sell your current vehicle or bring it back to life like new with an online service appointment to our service center. Allow our professional techs to get started on all repairs or maintenance work.
We're here to help with any financial help , needs or suggestions to help make paying for a vehicle easier. Miami Lakes Automall is located at 16600 NW 57th Ave in Miami Lakes, Florida. We're open seven days a week across our sales, service and parts departments to help out with any of your automotive needs.
Previous Post Dodge Confirms 2021 Dodge Durango Will Have SRT Hellcat Trim Next Post Will There Be A Dodge Barracuda And When Will It Appear?