Dodge SpeedKore Creation Shows Up In Fast and the Furious 9 – Miami Lakes Automall Dodge Dodge SpeedKore Creation Shows Up In Fast and the Furious 9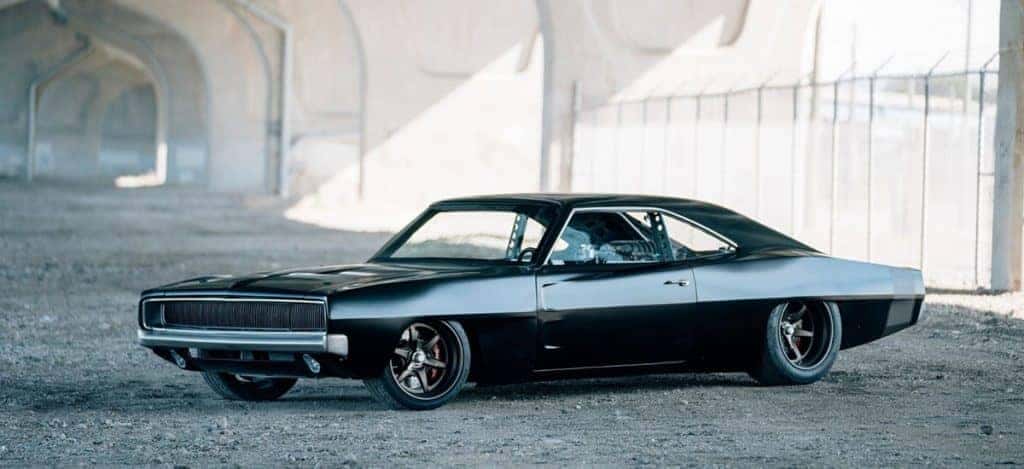 The SpeedKore variant of the Dodge Charger is a renovated 1968 model year with an appended supercharged 707-horsepower Dodge Hellcat 6.2-Liter V8 powertrain. The custom Dodge muscle car includes a MagnaFlow exhaust and gated-manual Graziano transaxle from the newest Lamborghini Gallardo offers high-performance intercoolers, front-mount Saldana performance radiator, and an amped-up experience for the movie versions driven in the Fast and the Furious 9. The ninth installment of the former street racing movie franchise will showcase this extraordinary SpeedKore Charger on full show. This preposterous muscle car is a Dodge fan-favorite and we acquired quite a lot of news about this piece of modern movie history.
1968 Dodge Charger Revised For Fast and the Furious 9
Designed with a full carbon fiber body with a Hellacious custom wide-body approach with Sean Smith Designs. The Brembo brakes afford a top-of-the-line braking system for users to experience. This project was a welcomed sight for the creators and fans of the Fast and the Furious franchise alike. When talking on account of the upgraded 1968 Dodge muscle car, this is what was shared about the behind-the-scenes manner and thought that went into producing this unique movie vehicle.
"This Charger is one of our most extreme builds to date. After commissioning renowned designer Sean Smith to design the car and working with F9 's picture vehicle coordinator Dennis McCarthy to build the nine chassis and vehicle bodies for the film, we wanted to bring the movie magic of F9 to life," president and owner of SpeedKore Jim Kacmarcik said in a release.
We've Learned Dodge Is Going To Build Six All-Electric Vehicles
Dodge is not just looking to promote fast and furious vehicles, but also in the near future, we expect Dodge to be electric-powered. Dodge is rumored to have as many as "six all-electric vehicles currently in the styling studio in Auburn Hills, Michigan." There is also news that "at least one, but apparently several plug-in hybrids" are stated to be built. Whether this is concept vehicles or the beginning of a new era for the Dodge brand, the report from The Detroit Bureau has Dodge securing widespread EV changes. While this news is nothing new, we now have some more information for customers about what is truly expected to change for the brand forever. After the first quarter of sales showed up in a big way for Dodge , we know the success this summer is going to be even more impressive. For more information on any of the newest Dodge products, count on us at Miami Lakes Automall to share the news. Come in for a test-drive to experience Dodge muscle today!
Try Flexing Some Muscle At Miami Lakes Automall
This summer, get ready to make heads turn with our strong muscle line-up of new Dodge Charger and Dodge Challenger models. Come to Miami Lakes Automall to get started where our professional team is here to make your muscle car dream a reality. Our sales staff is ready to help with any leasing, buying or trade-in options. Looking for a new option to buy or lease? Take a look at our new vehicle inventory or our quality pre-owned vehicles .
Dealing with some vehicle issues? If your vehicle isn't running properly, let us help keep it going. We're here to help with a simple online reservation and a trip to our service center. We're open every day to assist our customers to find everything they need.
Photo Credit: SpeedKore
Previous Post Dodge Prepares To Build Multiple Electric Vehicles And More Plans Revealed Next Post Dodge Teases New Electric Muscle Car