Dodge Reserves Reveal For Final "Last Call" Muscle Car – Miami Lakes Automall Dodge Dodge Reserves Reveal For Final "Last Call" Muscle Car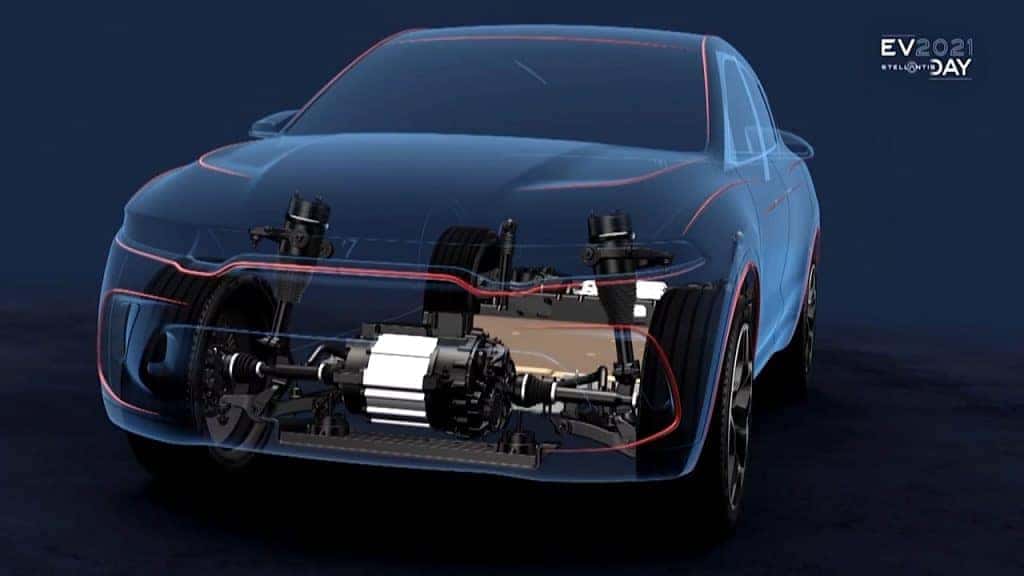 Could this be the all-new Dodge Hornet hidden in the EV Day 2021 Presentation? (Stellantis).
Earlier this year, an intriguing report noted the potential of the final Dodge Challenger being assembled. Conceivably that's exactly the reason Dodge is taking their moment and stretching out from their final reveal for their "Last Call" farewell tour. The first appearance for the long-awaiting crowd pleaser is on hold. The SEMA showcase in early November prove to be a little too early as some stockpile issues have delayed the operation. However, we believe this was decided on with the future in mind. Rather than have a last run with all the upcoming vehicles displayed back-to-back-to-back-to-back-to- back-to-backs weeks as they have accomplished. Now, Dodge looks like they are holding this final Dodge entry to be shown off as a stand-alone ride at some point later in 2022 or possibly in 2023.
Enjoy the Fast and the Few
Suppose those who can't get their hands on the new and finite entries, as few as 200 or 300 vehicles are being made for those unique final current generation Charger and Challenger vehicles. The definitive Last Call effort is anticipated to offer a tremendous 900 horsepower engine stock when using the suggested E85 fuel. No other details have been cast thus far. Keep in mind, Dodge CEO Tim Kuniskis added a 1FAST29 license plate on the back of this conclusive Last Call muscle car. This special edition holds a candle to any new special edition released, including the King Daytona Charger .
know the future of the brand involves promoting the electric vehicle mark with Dodge EV capabilities . So with all the perks that will come with these modern and currently new built vehicles, why would Dodge venture to deliver one last outlandish Dodge muscle car with the 909 horsepower? Well, to offer their loyal customers one last chance to enjoy the perks of V8 HEMI power thanks to its E85 gasoline required perks set to be offered for the 2023 Dodge Challenger.
Breaking Down the E85 Fuel
This use of E85 fuel is known as "flex fuel" as its a mixture of both ethanol and gasoline, alas with a higher concentration of ethanol than the typical gasoline offered with regular fuel. The Dodge muscle car lineup requires this kind of juice to move as its thermal efficiency and fuel consumption require a more powerful burst. There's exactly 69 more horsepower offered than its SRT Demon relative made nearly five years ago.
When we think of the near present day of Dodge vehicles, we know the wait to drive a Dodge EV is close. For now, we are still all about how powerful they evolve to be in this decade. We don't have to wait now for the most suitable for those who have held out for the end of the line with Dodge muscle. The threshold for street-legal vehicles offering this level of horsepower and torque was grown by Dodge and won't get any more elevated from gasoline-powered muscle cars. This is because of combustion engines being replaced for more fuel efficient rides. The way the gas pedal pushes down and the feeling of owning a gasoline-powered Dodge muscle car is striving to change for the first time soon as Dodge readies up for its EV takeoff. Now is the time to buy Dodge , and we're ready to help make any and all Dodge dreams a reality at Miami Lakes Automall.
Feel the Love of Driving Dodge Vehicles Today!
Come on over to see the collection of new Dodge vehicles with our friendly and helpful staff waiting at Miami Lakes Automall. We want to help our customers get ready to drive off in brand new Dodge Charger and Dodge Challenger muscle cars. Get started where our professional team is here to make your muscle car dream a reality. Our sales staff is ready to help with any leasing, buying, or trade-in options.
Are you experiencing some vehicle issues with your current ride? Not sure how to handle the repairs? If your vehicle isn't running properly, let us help keep it going. We're here to help with a simple online reservation and a trip to our service center. We're open every day to assist our customers to find everything they need. We hope to help you this fall at Miami Lakes Automall !
Previous Post Dodge Plans One More Charger Surprise Next Post 2022 3rd Quarter Shows 22% Rise In Dodge Sales