Dodge Plans To Finish 2021 Dodge Durango SRT Hellcat Orders – Miami Lakes Automall Dodge Dodge Plans To Finish 2021 Dodge Durango SRT Hellcat Orders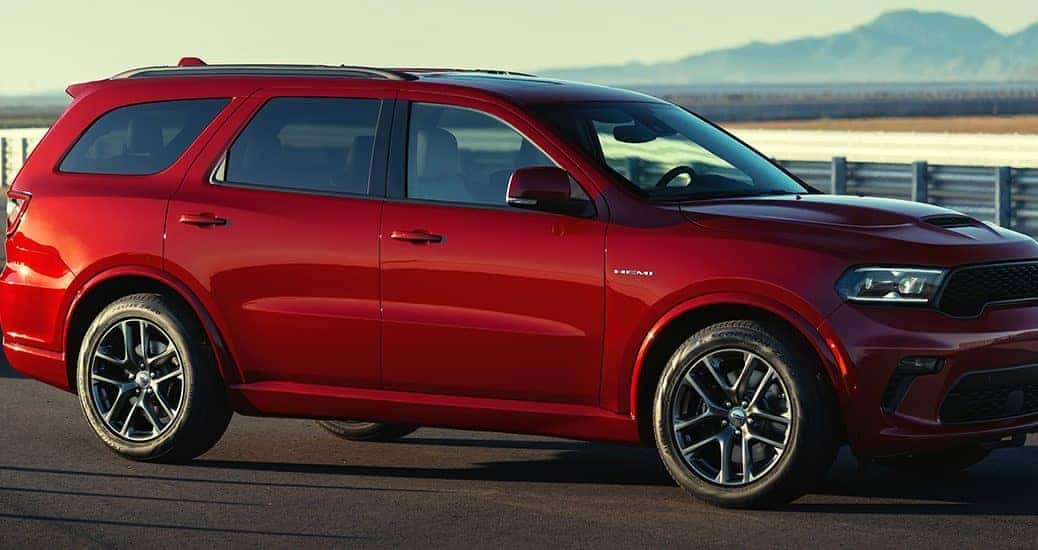 Photo credit: Dodge
Normally when a brand says they won't add more vehicles to a rare vehicle, they won't change, but sometimes the landscape of the automotive world is altered quicker than expected. The Dodge brand had come out and reported the SRT Hellcat trim would only last for one year, but the orders were sold out way faster than the brand imagined they would. So, now what started as only an order of 2,000 units of the 710-horsepower Durango SRT Hellcat it plans to build; the SRT Hellcat moved every last model in only one quarter. Speaking of solid sales, the first-quarter was quite impressive for the Dodge brand and the Durango is one reason why.
2021 Durango Is A Highly Sought After Vehicle
Upon its debut, the 2021 Dodge Durango SRT Hellcat was an astonishing surprise. Sales for it reflected its popularity as it sold as speedy as the pace the Dodge SUV drives. Recollect the 2021 Durango has an impressive acceleration of 0 to 60 MPG with its 3.5-second mark. With the market outpacing supply, Dodge has chosen to proceed to manufacture further Dodge Durango SRT Hellcat vehicles for the foreseeable future to complete the order list that was made, but not achieved. While we don't know how long this stock run will go on, but as long as the SRT Hellcat trim is available, we know many upcoming Dodge owners will be happy to learn this interest in the vehicle turned into a real purchase. Dodge is aiming to complete this plan and note the interest of customers seeking a future SRT Hellcat. Perhaps by that time, there will be more vehicles outside its muscle car lineup; just like when Dodge created with the Durango originally. An important thing to note is why the Durango SRT Hellcat run was rare.
Why the 2021 Durango SRT Hellcat Run Is Limited
Dodge company director Bob Broderdorf has said Dodge had more sold orders than build slots in the system. Rather than forcing dealerships to drop sales, they opted to avoid a hand-selection and instead fill each request the brand has gained so far. This move won't initiate the process or re-start the register, but those who had previously asked for the chance to purchase one Durango SRT Hellcat will get their request filled. Developing additional SRT Hellcats is not as easy as it appears. Dodge said it can only produce the model for around a half year because the Jefferson North assembly plant on the outskirts of Detroit, Michigan, is set to convert its operation to build the next-generation Jeep Grand Cherokee.
"As we finalized the production plan for this amazing SUV, we found a way to move some 6.2-liter Hemi Hellcat V8 engines from other vehicles to ensure every sold order in our systems will get built," added Broderdorf in an interview with _ Dodge Garage _ , the official publication of Stellantis.
When To Expect the Orders Completion
As of note, the Hellcat-powered Durango doesn't mesh with the emissions statutes listed to come into effect nationally for the 2022 model year. This move eased Dodge to set the SUV for another limited Durango SRT Hellcat push. Dodge shifted its parts supply channels to send extra Hellcat parts to the Durango assembly line. These new SRT Hellcat Durango vehicles are set to maintain manufacturing this summer in June 2021.
Dodge revealed nothing else concerning the production arriving soon for the next group of 2021 Dodge Durango SRT Hellcat vehicles. We're expecting Dodge will announce a final number when production starts to know how exclusive the vehicle will be. To learn extra details about the newest Dodge products, count on us at Miami Lakes Automall to share the news. Come in for a test-drive to experience Dodge today!
Rush To Drive New Dodge Muscle With Our Help
We want to help our customers get ready to drive off in brand new Dodge Charger and Dodge Challenger muscle cars. Come to Miami Lakes Automall to get started where our professional team is here to make your muscle car dream a reality. Our sales staff is ready to help with any leasing, buying, or trade-in options.
Are you experiencing some vehicle issues with your current ride? Not sure how to handle the repairs? If your vehicle isn't running properly, let us help keep it going. We're here to help with a simple online reservation and a trip to our service center. We're open every day to assist our customers to find everything they need. We hope to help you today at Miami Lakes Automall !
Previous Post Dodge Sees Remarkable Growth In First-Quarter of 2021 Next Post Dodge Challenger Daytona, First Production Vehicle To Surpass 200 MPH, Goes On Sale