Dodge Challenger Daytona, First Production Vehicle To Surpass 200 MPH, Goes On Sale – Miami Lakes Automall Dodge Dodge Challenger Daytona, First Production Vehicle To Surpass 200 MPH, Goes On Sale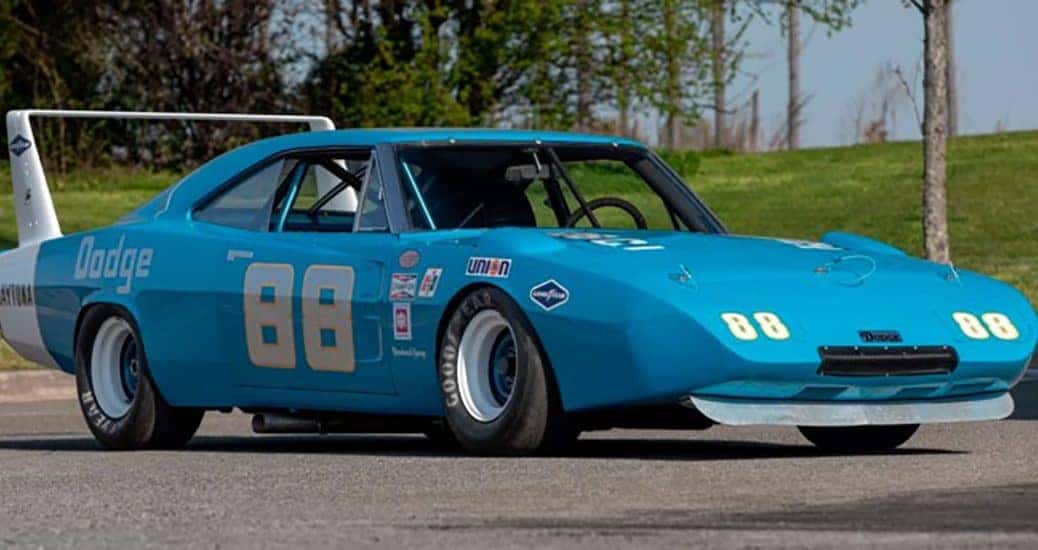 Photo credit: Mecum
Dodge has built plenty of vehicles that are worthy of recognition. Today, we highlight the news of one particular Dodge muscle car that took the world by storm years ago. The 1969 Dodge Challenger Daytona that produced a record-breaking 200 plus miles per hour speed. Back when this vehicle achieved this famous mark, becoming the first Dodge vehicle to do so, the world was a lot different. The role of NASCAR vehicles and racers helped spurt this growth in high-octane production at this time, but few vehicles will ever compete against something as unique and acclaimed. There's only one of these vehicles that can state their claim to being a piece of muscle car history.
The Unique Dodge Challenger Daytona
Though Dodge recently introduced a Special Edition Dodge Challenger Daytona for the 50th anniversary of the Challenger Daytona, this lone option is set to be sold at an auction. Fully restored and ready for a new owner, the price range is somewhere around the $750,000 to million dollar mark. The famed "Blue Car" as it was known to insiders at Dodge decades ago is known for its unique and distinctive exterior compete with its bright blue body color and large rear wings that are noticeable from a mile away. The first official lap of this vehicle saw a 200.447 mph mark back on March, 24th, 1970 when it was raced by Buddy Baker at Talladega. We have the unique privilege of seeing this iconic piece of history be sold and learn what will happen next. Perhaps a museum or private collector will take this vehicle into its collection.
The Rich Dodge Daytona History
Dodge is going the route few automakers are capable of; producing the fastest production muscle cars for its buyers, but we know this piece of history is unique. The 1969 Dodge Challenger Daytona hit was much as 575 horsepower all the way back then thanks to its 426 HEMI V8 engine and today, while there are higher trims in the Challenger catalog that offer that strength, the base engine found in the Dodge Challenger does not eclipse that output. Keep in mind, not only did this iconic Challenger back in 1970 surpass 200 mph, it was the only vehicle to do this ever at that point in time. That's why we should expect to see a price somewhere over a hundred times what the cost was when the vehicle debuted. For more information on any of the newest Dodge products, count on us at Miami Lakes Automall to share the news. Come in for a test-drive to experience Dodge muscle today!
Rush To Drive New Dodge Muscle With Our Help
We want to help our customers get ready to drive off in brand new Dodge Charger and Dodge Challenger muscle cars. Come to Miami Lakes Automall to get started where our professional team is here to make your muscle car dream a reality. Our sales staff is ready to help with any leasing, buying, or trade-in options.
Are you experiencing some vehicle issues with your current ride? Not sure how to handle the repairs? If your vehicle isn't running properly, let us help keep it going. We're here to help with a simple online reservation and a trip to our service center. We're open every day to assist our customers to find everything they need. We hope to help you today at Miami Lakes Automall !
Previous Post Dodge Plans To Finish 2021 Dodge Durango SRT Hellcat Orders Next Post Dodge Doesn't Need Any Additional EV Help From Tesla