2021 Dodge Challenger Will Offer New Muscle With the 807 Horsepower Super Stock – Miami Lakes Automall Dodge 2021 Dodge Challenger Will Offer New Muscle With the 807 Horsepower Super Stock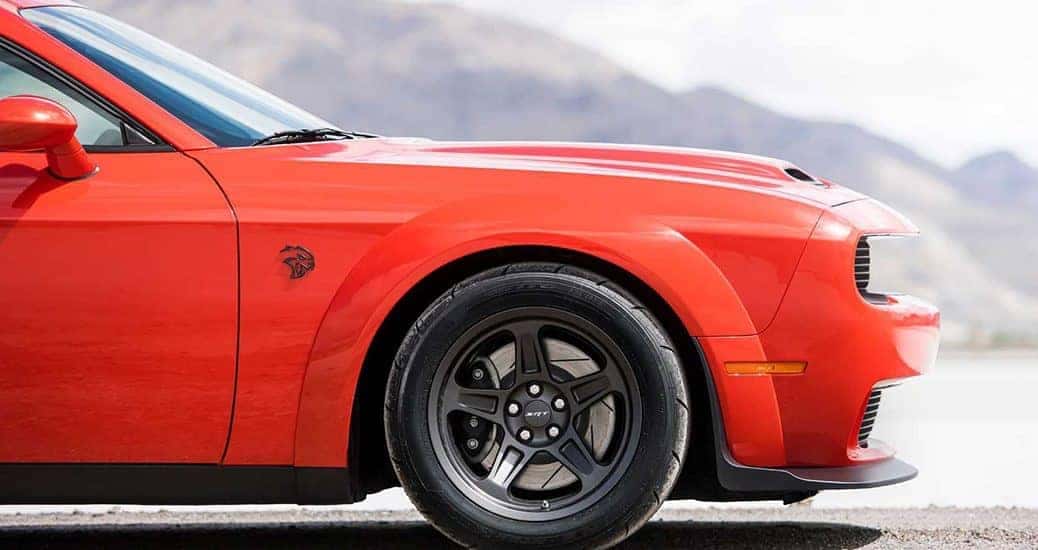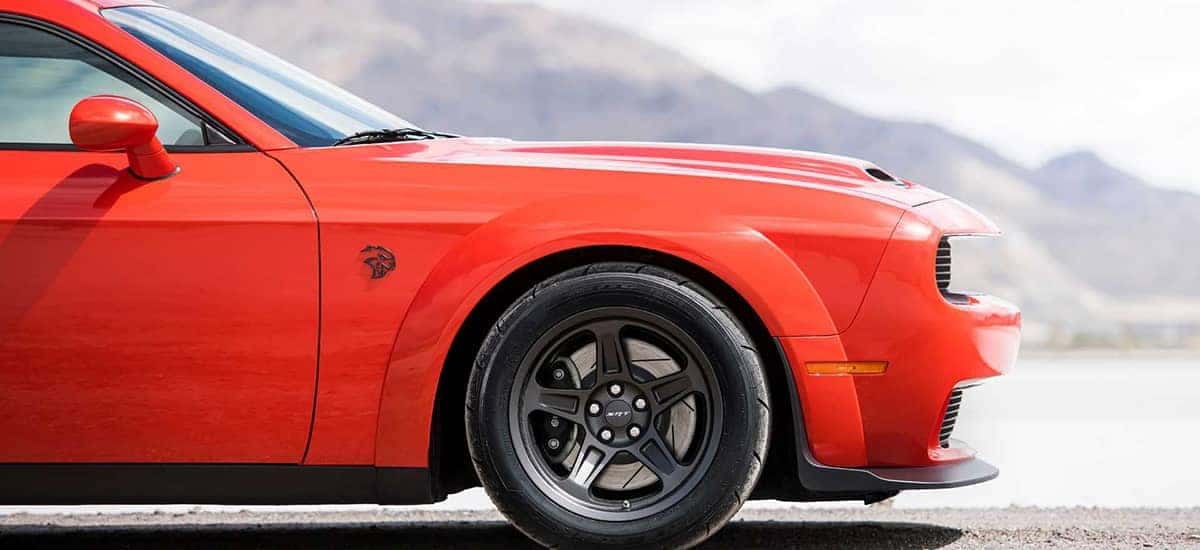 Photo credit: Dodge
Among the fastest production vehicles in the industry, few are capable of hanging with the muscle car power offered to customers in the Dodge Challenger lineup. The Dodge Challenger SRT Hellcat first came out several years ago and the response of owners was pure enthusiasm for the muscle car. Dodge added more SRT Hellcat variants with the Charger and its coming to the Dodge Durango as well. However, there was a need for more speed. Dodge added the SRT Hellcat Redeye to up the ante with the 2019 Dodge Challenger model year. However, Dodge could not settle with offering the 797 horsepower SRT Hellcat Redeye; they had to push the envelope even further with the newest entry in the Dodge muscle car family.
Introducing the Super Stock
Dodge has now brought a new Challenger, known as the Super Stock. The Super Stock has an SRT Hellcat Redeye build but has pushed the engine up to 807 horsepower. The world of muscle cars will gain a new champion when the full-scale drag worthy Challenger debuts complete with its lightweight 18-inch wheels, fast-stopping Brembo brakes with four-piston calipers and 14.2-inch rotors up in front. The same set-up of driving modes is present in the SRT Hellcat Redeye. A vehicle that gains speed as fast as buckshot from a shotgun, the Super Stock catapults from 0 to 60 mph in just 3.3 seconds. In a drag race, which is a quarter-mile length, the Super Stock hits 131 mph with a wicked fast time of 10.5 seconds. The focus of Dodge muscle cars has only been the high-performance abilities and speed offered, but no production vehicle carries as much speed for the price as the new Dodge Challenger trim.
No Other Brand Can Compete With This Muscle
Think the competition can compete with the newest Dodge muscle entry? Nope. The 2021 Dodge Challenger SRT Super Stock with its momentum and attitude puts rivals to shame off the line. Even Ford's declared 10.7-second quarter-mile time produced by the Shelby GT500 isn't quick enough to better the new Dodge product. The Dodge Challenger SRT Super Stock can contribute some of its power thanks to the parts that were built in the 2018 Dodge Challenger SRT Demon, including the exact same Nitto drag radials and widebody kit. Dodge is preparing its fanbase for something exceptional and has produced yet again. Tim Kuniskis of Fiat Chrysler Automobiles (FCA) acknowledged what customers relate to most regarding the new Super Stock, this is what he said.
"What our customers want and the reason we went into the drag racing space is seven times the amount of customers 'identify' with drag racing, compared to road course racing … It doesn't mean they've ever been to a drag strip in their life. And it's not because they've even been in a fast car. It's because they've all been at a stoplight, and all tried to race their buddy next to them. I want you to mistake a $30,000 Challenger for a $90,000 Redeye…you have a Challenger. You are part of this team," Kuniskis, Head of FCA Passenger Cars.
The Dodge Challenger Is Here At Miami Lakes Automall
Looking for new Dodge vehicles ? We have plenty of quality pre-owned vehicle inventory as well for customers. If you're looking for pricing options to take home what you want, our auto financing team is here to help. If you want to sell or trade-in your current vehicle, we're here to help with those needs as well.
Have a vehicle that isn't running like it used to? Make an online service appointment and we will do our part to get your vehicle on the road. We're happy to offer our help with car maintenance and repairs. Find all that and more at Miami Lakes Automall today. We hope to create a wonderful automotive experience, whether you buy from us or not. We hope to see you soon!
Previous Post Dodge Adds SRT Hellcat Redeye To Charger Model Next Post Dodge Earns Top Spot On J.D. Power's 2020 APEAL Study