Dodge Adds SRT Hellcat Redeye To Charger Model – Miami Lakes Automall Dodge Dodge Adds SRT Hellcat Redeye To Charger Model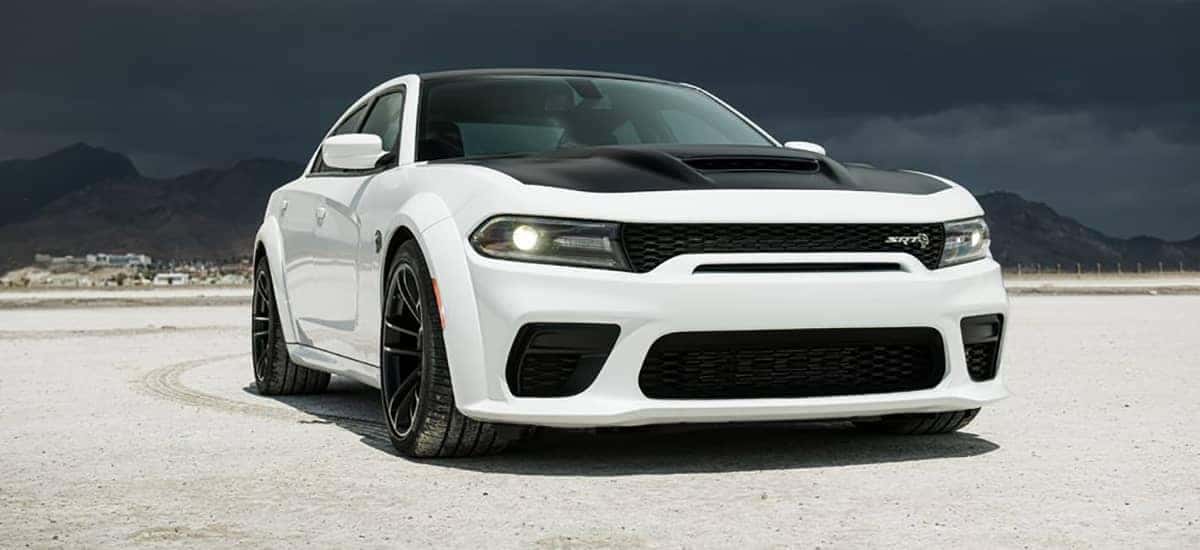 Photo credit: Dodge
Dodge strives to advance and push the limits of the world's only four-door muscle car, introducing the new 797-horsepower 2021 Dodge Charger SRT Hellcat Redeye. This will be the most powerful sedan and fastest mass-produced sedan in the world. Dodge added a widebody exterior with united fender flares that add on 3.5 inches of body width, new 20-inch-by-11-inch Lightweight Carbon Black wheels, and a newly designed, functional performance hood. Both Charger SRT Hellcat models provide this four-door sedan an even more compelling appearance.
"The magic of the Dodge Charger is that it delivers all the performance of a true American muscle car while also being able to deliver a family of four or five, day in and day out. The Charger is a big, comfortable, five-passenger sedan that can run the quarter-mile in the mid-10s, 0-60 in the mid 3s and reach a top speed of 203 mph, _ and _ be your daily driver," said Tim Kuniskis, Global Head of Alfa Romeo and Head of Passenger Cars – Dodge, SRT, Chrysler and FIAT, FCA – North America.
The Charger SRT Hellcat Redeye is 1.2 seconds faster than the Charger SRT Hellcat on a 2.1-mile road course, equivalent to about 7 car lengths after one lap. Dealer orders open for 2021 Dodge Charger models this fall, including the new SRT Hellcat Redeye. These new Dodge muscle cars will start production later in 2020 and deliveries are expected to start heading to dealerships by the beginning of 2021.
New 2021 Dodge Charger Hellcat Redeye Carries Demon Parts
Everyday muscle fans and Dodge enthusiasts will love the SRT Hellcat Redeye, the first time ever built in a Charger. By adding greater power and better performance, the heart of the new 2021 Dodge Charger SRT Hellcat Redeye comes from the limited-production 2018 Dodge Challenger SRT Demon. The supercharged 6.2-Liter HEMI® high-output V8 possesses 797 horsepower and 707 lb-ft. of torque and is paired to a TorqueFlite 8HP90 eight-speed automatic transmission. Internal changes to the transmission in the Charger SRT Hellcat Redeye include an upgraded torque converter. The Charger Redeye's torque converter delivers an 18 percent increase in torque multiplication when compared with the standard Charger SRT Hellcat.
What Does the SRT Hellcat Redeye Offer Over the Hellcat?
What will an owner gain with the standard Charger SRT Hellcat engine versus the new SRT Hellcat Redeye? The largest factory supercharger of any production car ever built. The engine size of 2.7-Liters versus 2.4-Liters with a heightened boost pressure of 14.5 psi versus 11.6 psi. Dodge included a raised rpm limit of 6,500 rpm over 6,200 rpm. Additional features include two dual-stage fuel pumps instead of one. Despite the rise of production, at full-throttle, the Charger maintains the same mpg. Owners of the Dodge Charger SRT Hellcat Redeye will be able to appreciate the added perks without suffering a gas mileage drop off. For those who want to see a vehicle rundown that stars the 2021 Dodge Charger SRT Hellcat Redeye, check out the video produced by Dodge.
Find New Dodge With Our Help
Want to go on a test-drive today? From our new vehicles to our pre-owned vehicles , there's a wide selection ready to go at Miami Lakes Automall. Searching for the newest Dodge Charger muscle cars ? If you're looking for pricing options, our auto financing team can support you for any buying or leasing needs.
Come visit us today at Miami Lakes Automall , we're located at 16600 NW 57th Ave in Miami Lakes, Florida. We welcome you to our business with the hope to make you leave happy. Located at 16600 NW 57th Ave in Miami Lakes, Florida. We're open seven days a week across our sales, service, and parts departments to help out with any of your automotive needs!
Previous Post Dodge Finishes First In J.D. Power's Initial Quality Study, FCA Finishes Fourth Overall Next Post 2021 Dodge Challenger Will Offer New Muscle With the 807 Horsepower Super Stock