The 2021 Chrysler Pacifica Shows Off – Miami Lakes Automall Chrysler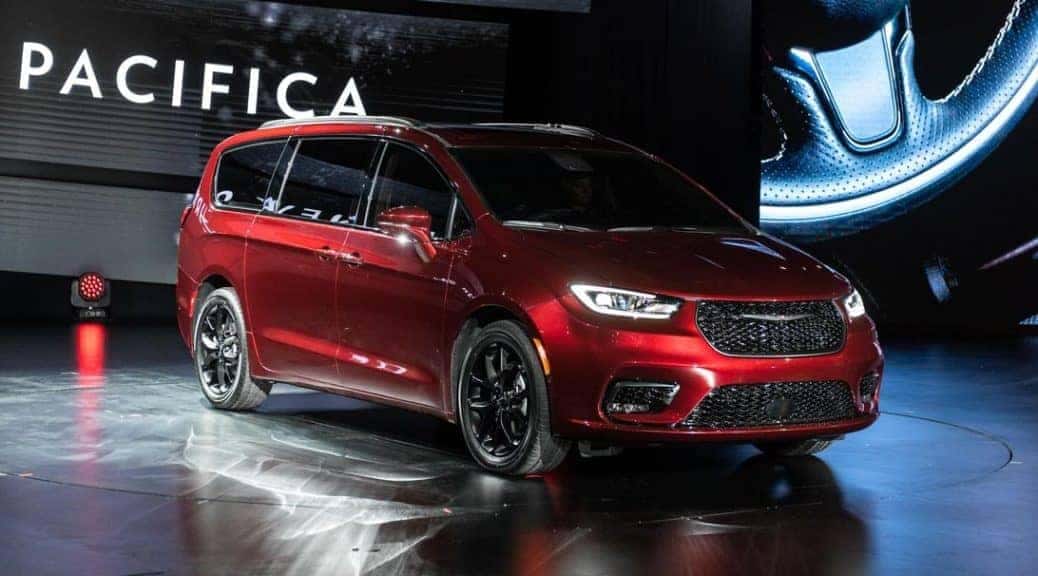 FCA Showcase
The 2021 Chrysler Pacifica is known for being a family-friendly vehicle but it's so much more than that, its advanced technology is also quite a show-stopper, especially when it comes to Fiat Chrysler Automobiles.
With most car companies, new features first are set to appear on top of the lineup in luxury vehicles but FCA rebelled against that movement by giving growing families the opportunity to use an assortment of gadgets throughout its minivan platform.
FCA previously used the Pacifica to present increased electrification effectiveness as the industry's first plug-in hybrid minivan, while simultaneously becoming a testing area for self-driving systems with its collaboration with Waymo.
Next year's Pacifica, expected to release in the second quarter, will be packed with driver-assist technologies and will also serve as the springboard for FCA's 5th generation Uconnect information platform. It's really stepped its game up in terms of safety by offering what FCA describes as an "industry-leading" 97 standard features.
FCA's strong push for innovation in its minivan may stem from a feeling of influence that the automaker feels when it paved the way for other vehicles when it came out with the Dodge Caravan and Plymouth Voyager in the early '80s.
"For the last 37 years, we have been innovating in that segment," said Tim Kuniskis, FCA's head of passenger cars, during a media preview of the Pacifica for last month's Chicago auto show.
The company has had "116 firsts — 116 innovations — that we came up within that 37 years," Kuniskis said, "which helped us sell 15 million minivans during that time period. We have a pretty decent idea [of] what this customer is looking for. But also, after selling 15 million, we've got a nice tool chest of all kinds of content to help these people make their lives easier."
The FCA believes that with Pacifica it can draw around 700,000 people who make the switch from cars to utility vehicles last year for the "perception of more safety" that expands in size and capability
"They can make more of that segment because they know that there is not necessarily 20 competitors that they're competing with," Jessica Caldwell, executive director of insights for Edmunds, told Automotive News. "So if they do a really good job in execution, they could capture a bigger part of the market — and I imagine that the heritage that they have in the segment is also important to them."
A New Type of Convenience
Chrysler is certainly responsible for turning minivans into homes on wheels, but over time their particular division has had a regression. Contrary to this, according to Karl Brauer, executive publisher of Kelley Blue Book and Autotrader, their popularity could rebound as the autonomous era takes hold. "The vans are going to get more important as time goes forward and we get more and more interested in autonomous, and [there's] more and more interest in moving people around in urban areas in comfort [with] potentially less personal car ownership," Brauer said.
Waymo has equipped hybrid Pacificas with its autonomous-tech and released them in various programs. As an example, in Phoenix, Arizona, Waymo has been operating a shuttle service and also announced delivery programs for AutoNation and UPS.
As for the collaboration with UPS, in January, Waymo said that Pacificas will transport packages from UPS stores in the Phoenix area to a hub in Tempe.
In October, AutoNation revealed a course of action with a Toyota dealership that it runs in Tempe. An employee will be able to request a Pacifica hybrid via an app and send parts to a repair shop in the minivan.
Making Corny Cool
Brauer says that this new phase of autonomous utility will eliminate one of the drawbacks of minivans, which is the image. "The main reason they don't sell better right now is because a lot of people don't want to be seen as a minivan person." said Brauer "But if someone doesn't own the vehicle and uses it as a tool, he said, that dynamic disappears. It "doesn't reflect on my personal coolness factor, if that's what you want to call it, at all to be seen in a minivan because this is just a functional way to move me around New York City."
Brauer continued to say that Chrysler is smart to continue to invest in the segment and promote its minivans as cutting-edge vehicles that feature forward-thinking technology because they are probably going to inherit a more important role once the autonomous technology and the autonomous world arrives.
Miami Lakes Automall
At Miami Lakes Automall , we sell plenty of cars that are family-friendly and have the latest features, more specifically the Chrysler Pacifica . Those who are interested in any of our models can check out our inventory on our dealership site and chat with an online representative for assistance.
Photo Source/Copyright: cnet
Previous Post DUMPED! The FCA Ditches Its 35 Year Romance With The Dodge Caravan For The Chrysler Pacifica Next Post Chrysler 300 Ups Its Game With New Package Options