Chrysler Pacifica Is Crowned Winner For AutoGuide's Family Vehicle of the Year for 2021 – Miami Lakes Automall Chrysler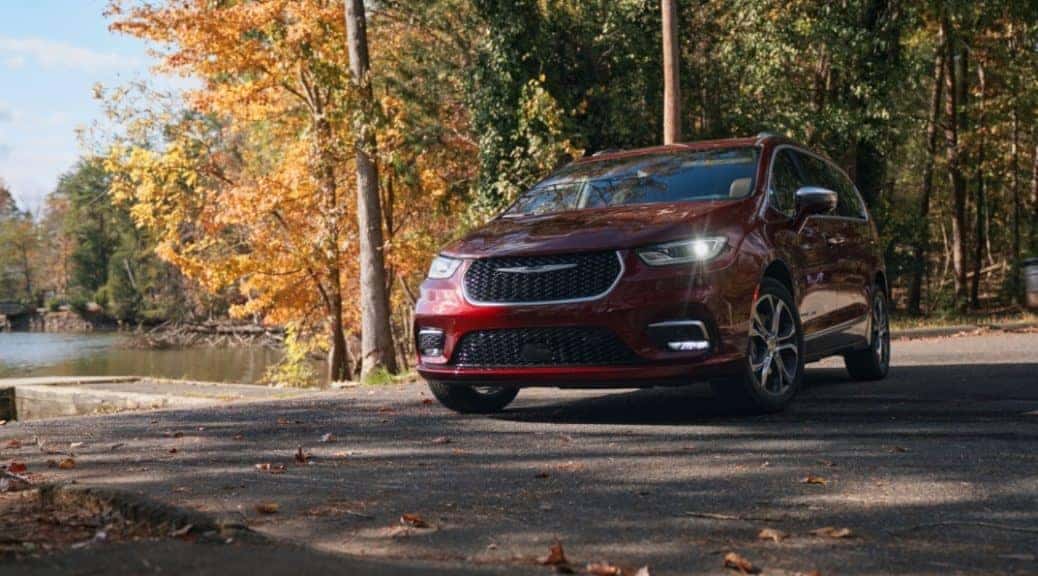 AutoGuide's 2021 Family Vehicle of The Year
Car reviewer site, AutoGuide, recently gave the Chrysler Pacifica the honor of naming it as its 2021 Family Vehicle of the Year. This award is just one of many that this minivan has received throughout its short reign on the automotive market and only helps to maintain its status as the most awarded vehicle in its segment over the last five years.
The team at AutoGuide tested over 100 new 2021 models and assessed 34 finalists in six categories based on various capabilities, value, inventiveness, practicality, technology, safety, and more. The main theme in their judging criteria was "fitness for purpose". The chosen vehicles didn't just shine in their particular category, they raised the game in terms of what should be expected in a vehicle far beyond their own segment.
Additionally, judges at AutoGuide proclaimed that the Pacifica's blend of practicality, safety, space, and style was unmatched, and edged it ahead of the other contenders.
"The Pacifica is the latest evolution of the origins of the species. This made-in-Canada people-mover carries the spirit of the original Caravan, loaded with practical, family-friendly features," remarked AutoGuide Editor Kyle Patrick.
Contributing writer Matthew Guy, added this: "It invented the segment and continues to do so by offering (features) like Stow 'N Go seating even on the all-wheel-drive model when its competitors can't even figure out how to make their middle row of seats disappear."
"All-wheel drive returned to the Pacifica menu this year, giving the Pacifica added foul-weather capability," said Patrick. "Chrysler also added a lux Pinnacle model this year, which dials up the interior ambiance with creamy caramel leather. This year's update also introduced a revised Uconnect 5 system. This 10.1-inch infotainment system builds on one of our favorite examples in the market, with crisper graphics, quicker responses, and the ability to create multiple user profiles."
The 2021 Chrysler Pacifica is has been and continues to be unbeatable with its number of family-oriented features and technologies that encompass:
The brand new FamCAM technology is an interior camera that makes it possible for parents to monitor and even zoom in on their child or children in the rear, without even having to turn around.
Uconnect Theatre has built-in games and available Wi-Fi to keep their children from asking the dreaded "Are We There Yet" question…Speaking of which, this technology happens to have a game of the same moniker, as well as others like Concentration, chess, Chrysler Says, and backgammon.
The latest Uconnect 5 system offers a highlighting 10.1-inch touchscreen, the largest standard touchscreen in its class, along with (many more) connected services and excitements.
New and unique to its segment are USB Type C ports that charge devices up to four times faster than standard USB outlets, ensuring that each and every family member stays connected.
This vehicle continues to have more standard and available safety features than any vehicle in the automotive universe.
The Pacifica has available new all-wheel drive (AWD) to help tackle various types of weather conditions. Then in-house, the car has the fan-favorite Stow 'n Go seat, which are second-row in-flow storage bins to aid in extra space for small items like toys, sports equipment, school supplies, and more.
Finally, the Stow 'n Vac is the perfect solution for dealing with messes from the tiny-tots, as this small vacuum easily picks up dirt and debris.
Miami Lakes Chrysler
Don't just take our word for it, come and see all that the 2021 Chrysler Pacifica has to offer. This rockstar minivan provides comfort and ease for both drivers and passengers alike.
Miami Lakes Automall has a long list of different Chrysler models to meet and your family's needs, so feel open to check out our new online car inventory and chat with an online representative for more assistance.
Photo Source/Copyright: Stellantis Media
Previous Post The 2021 Chrysler Pacifica Is Featured On KBB's Best Family Cars List Next Post 2021 Chrysler Pacifica Pinnacle Review