The New 2021 Chevrolet Silverado Can Tow More Than Any Other HD – Miami Lakes Automall Chevrolet The New 2021 Chevrolet Silverado Can Tow More Than Any Other HD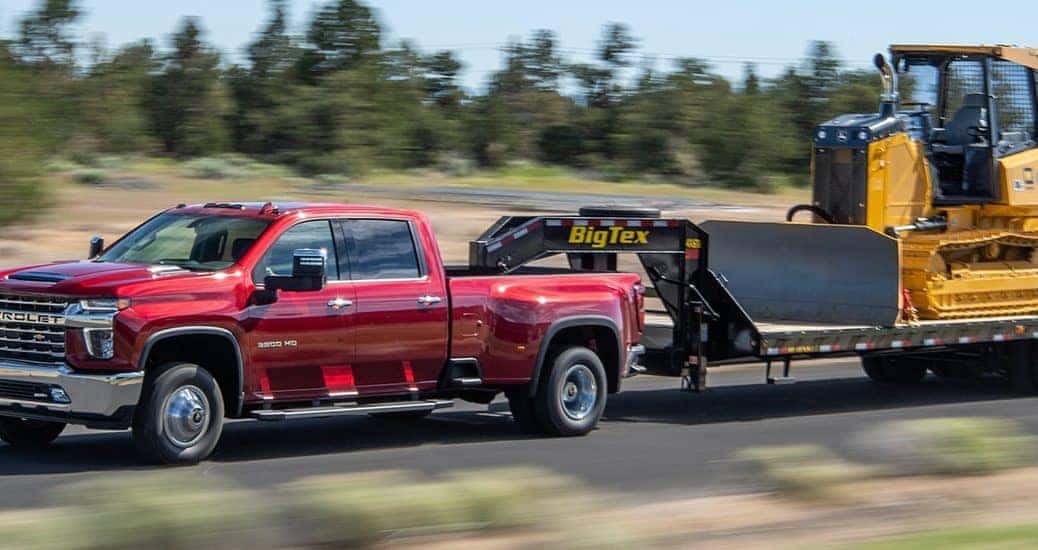 Photo Credit: Chevrolet
Customers today appreciate a good, solid workhorse pickup today more than at any point in time. The fastest-growing segment in the automotive industry belongs to the pickup truck market and the competition is fierce. Chevrolet has plans to win over more customers with its impressive power and strength for the upcoming 2021 model year. It's already been a great year for the Silverado and even more good news is coming. The new 2021 Chevrolet Silverado HD boasts the power of unmatched performance thanks to its 36,000-pound maximum towing rating. That remarkable rating was a major goal for the Chevy brand and we have more details as to all the improvements customers can expect for the forthcoming Silverado HD.
Stronger Than the Competition
No other pickup on the market can match this full-size pickup's sheer towing ability. Up 500 more pounds of towing capabilities from the previous year, Chevrolet and General Motors have worked on offering a standout, clear cut choice for customers. The 2021 Silverado 3500 HD is that vehicle that will push the envelope as Chevy hopes to inspire more customer confidence that in the brand. To make towing easier than ever, the Silverado HD carries a new towing-assistance system that will provide eight cameras that offer as many as 15 different unique views for drivers to monitor to ensure a precise experience.
More Perks of the 2021 Silverado HD
The price of the 2021 Chevrolet Silverado 3500 HD is $35,900 MSRP (Plus destination fee). Owners will be able to embrace its 6.6-Liter V8 engine or the diesel variation of the same powertrain. Customers can keep in mind the Chevrolet Silverado 3500 HD has better towing ratings than the Ram 3500 HD and Ford F-350 Super Duty. Options customers can enjoy the choices between a regular cab, double cab, and crew cab. The wheel sizes range from 17 inches up to 20 inches. Drivers will love the capacity to handle nearly any job and enjoy the comfort of the Silverado HD.
Don't forget, as with all Silverado pickups, the newest features including wireless Apple CarPlay and Android Auto are available. The future of Silverado will gain more features for the 2022 model year , but for today we can anticipate customers falling in love with the upcoming new 2021 Chevrolet Silverado lineup. To get a better look at the current Silverado lineup , rush over and shop with us at Miami Lakes Automall
Come Experience the Difference Chevrolet Provides
Chevrolet is leading the way with innovative features when you come for a test-drive with the new 2020 Chevrolet Silverado at Miami Lakes Automall . Our professional sales staff will help go over any of the questions you have before you make your choice. From our new vehicle inventory to our pre-owned vehicles , there's a wide selection to choose from.
If you're looking for pricing options to allow you to buy what you want, our auto financing department can help out with any buying or leasing needs. Our professional service team is here to help. We look forward to ensuring a fantastic customer experience for all things automotive. See you soon!
Previous Post 2021 Chevrolet Trailblazer Review: It May Be Small But It's Not Short Next Post Chevrolet Has Restarted the Production of the 2020 Corvette