The Goliath Has Arrived: This New Chevy Silverado Pickup Is Monstrous – Miami Lakes Automall Chevrolet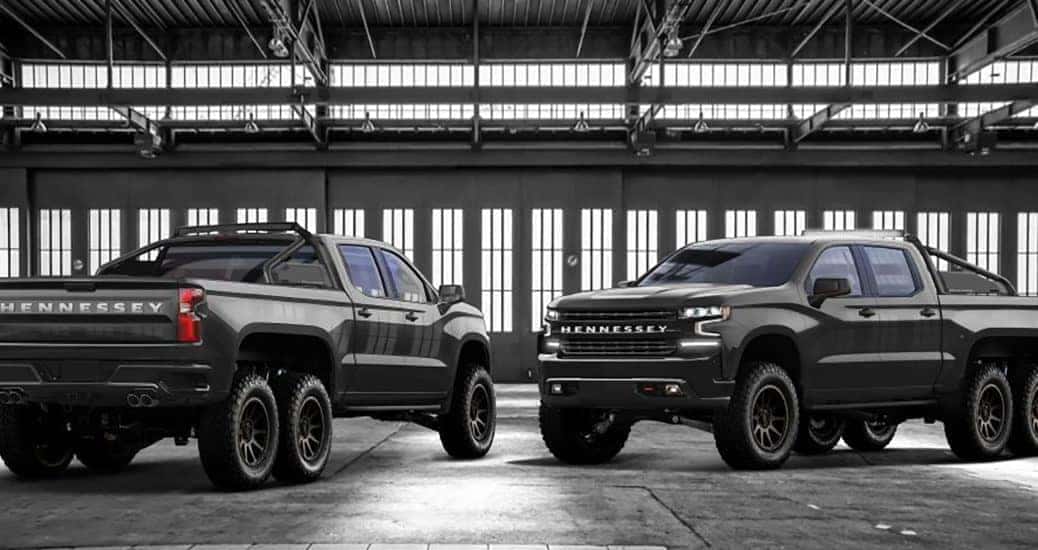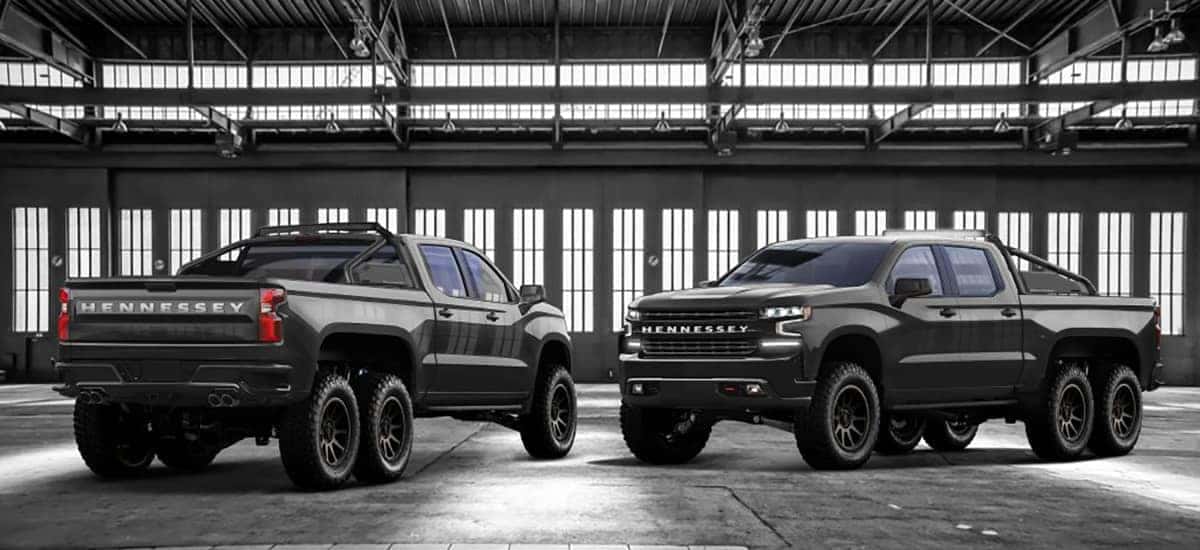 Photo credit: Silverado
Every so often a vehicle is produced that sends chills, provides goosebumps and invokes the image of a towing presence that is rarely matched. This unique feeling is magnified with the Hennessey Goliath 6X6, a special edition 2019 Chevy Silverado Trail Boss Z71. That's right, a 6X6 with a stunning presence and even more impressive off-road performance to match. The Hennessey, not to be confused with Hennessy the alcoholic drink, is a company responsible for helping with the latest Silverado model. The Goliath 6X6, as its known, took the Trail Boss Z71 model and gave it multiple doses of steroids with an overwhelming amount of new features and upgrades.
Stronger Than Strong
With the 6X6 conversion, an additional axle, wheels, tires and brakes were applied with an all-new rear suspension system to pair with the massive eight-inch lift kit. Most vehicles capable of going off-road are built with some features that still have to be added; not this pickup. Heavy-duty isn't quite the right word to describe the Goliath 6X6 either, even though that's the technical designation. The Hennessey team figured one of the ultimate engines offered by Fiat Chrysler Automobiles (FCA) wasn't good enough. The Hennessey team replaced the 6.2-Liter V8 HEMI engine with their very own HPE700 Supercharged engine. The 2.9-Liter supercharger system has a stainless steel exhaust with 705 horsepower and 675 lb-ft of torque. A vehicle like this shouldn't be able to move as quickly as it does, but that's part of what makes this one of the rarest trucks ever produced.
Everyone on the road will be able to stop the large HENNESSEY graphics and name plate on both the front and rear bumpers. The 2019 Goliath 6X6 includes a roll bar, LED lights, and is unlike any other vehicle on the road today. The strength of the vehicle is not just how powerful it is, but the flexibility to go anywhere.
Not Just Strong, Fast and Offroad Capable
Consider the 0-60 time of around four and a half seconds (the exact results aren't available just yet), and realize that this is a massive truck, not a muscle car. That speed alone is enough to provide a spooky feeling, but only for those who aren't inside the massive vehicle that handles any terrain it faces with ease thanks to large BF Goodrich 37-inch off-road tires, customer Hennessey 20-inch wheels and the top-notch engineering by Chevrolet and Hennessey combined that allow for traveling on roads less traveled. The base price of the 2019 Goliath 6X6 is $375,000 (MSRP) with the optional upgrade to a 808 horsepower stroker motor upgrade, Brembo brake system and custom interior upgrade. The amount of vehicles produced will be only 24 units, so this will be quite an exclusive vehicle.
Where To Drive The Latest Chevrolet Pickups
The latest Chevy pickups are available all in one place, including the 2019 Chevy Silverado LT Trail Boss . We welcome you to go on a test-drive to experience all the latest technology and comfort offered in the new Silverado. Our professional sales team is ready to assist you with any selling, buying, leasing or trade-in offers.
We hope to be your guide if you're in need of any maintenance work or repairs to your current vehicle. We'll happily help you out, even if you didn't buy with us. Our professional service team is ready to bring your vehicle back to life and keep it running smoothly. Stop by Miami Lakes Automall for all your automotive needs!
Previous Post The 2019 Chevy Camaro Has Many Powertrain Options Next Post Top Vehicles With the Highest Horsepower Under 100K