The Chevrolet Company Provides Two New Police Cruisers With The 2022 Bolt and Bolt EUV – Miami Lakes Automall Chevrolet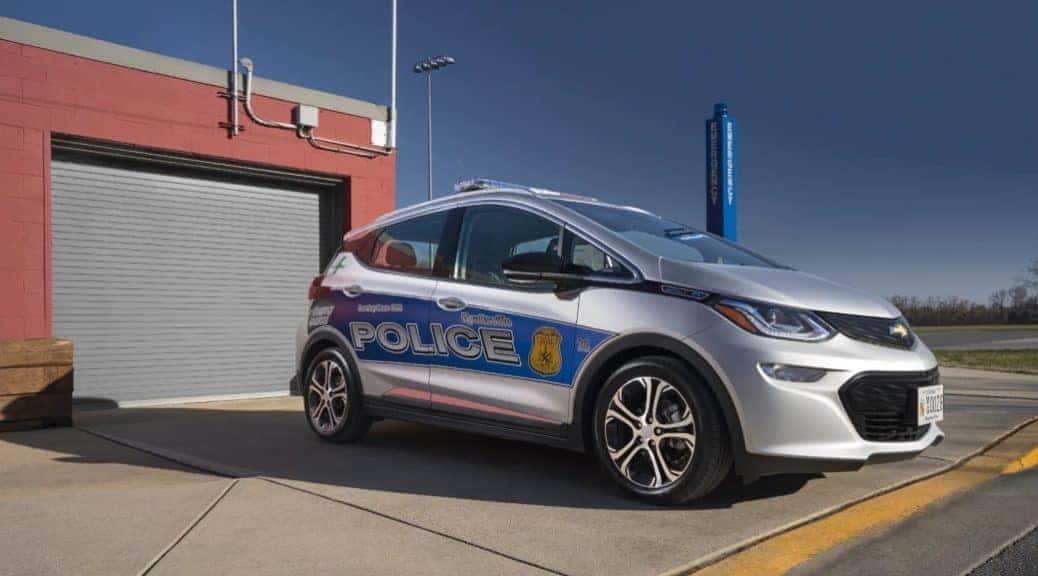 2022 Bolt and Bolt EUV Police Cruiser
The 2022 Chevrolet Bolt, as well as its SUV version, the Bolt EUV crossover, is offering a brand-new, factory-fixed Special Service Vehicle (SSV) package, making them a highly important feature for law enforcement offices that are trying to make the shift towards electric vehicles. Having said that, it's highly unlikely that you'll see these vehicles being used in high-speed chases. The parent company, General Motors (GM), tend to serve the agencies this technology for parking control and detective cars, however, Police Pursuit Vehicles (PPVs) are cop cars that are tougher and have more quickness to them.
The automaker didn't have to make a wealth of changes to ready the Bolt and Bolt EUV for public duty. As stated by car site, GM Authority, the SSV package involves two extra electrical circuits, one that measures 20 amps and the other with 30 amps, for things regarding strobe lights and police radios. The Bolt SSV group will also encompass a surveillance mode that turns off lights from the exterior and in the interior to maximize inconspicuousness during nighttime stakeouts.
With the shift to meter-mobile, the electrics don't lose anything in exchange for range. The Bolt SSV can travel up to 259 miles between charges, while the EUV SSV can reach 247 miles. Obviously meant for support undertakings, the non-pursuing law enforcement vehicles maximum speed of 93 miles per hour.
The SSV-equipped EVs are only attainable for orders having to do with fleet or government, somewhat geared to try and satisfy civilian oversight communities. For instance, 16-inch wheels are a standard feature, at the same time, SSV isn't offered with the Comfort, Driver Confidence, or Convenience packages (bundling features like leather, blind-spot monitoring, heated and ventilated seats, and other amenities). Regardless, the Bolt SSV involves a power driver's seat, complete with a four-way adjustable lumbar, so it has a bit of happiness during a rather serious event on the job.
As great as they are, the electric hatchback and SUV aren't the pioneering vehicles that have been offered to government agencies. Ford brought in the Police Responder sedan, which is a cop-fitted Fusion hybrid until sometime this year, and swapped it with the adventurous Police Interceptor Utility hybrid. Some municipalities also make use of the electrics such as the Nissan Leaf, as it's helpful for duties surrounding traffic control and parking. Yet and still, the Bolt and Bolt EUV just might be the first specifically geared all fully electric law enforcement vehicles.
Miami Lakes Chevrolet
As for the rest of us average citizens, the 2022 Bolt EV and Bolt EUV encompass a variety of gadgets and gizmos for us to take advantage of like the LED headlights and taillights, cruise control, a 10.2-inch touchscreen, and a configurable 8.0-inch color gauge cluster, cruise control, and a dual-level charging cord.
More specifically, the EUV has the brand's Super Cruise technology, which allows for hand-free driving about 200,000 miles on North American and Canadian highways. It's worth noting that you shouldn't take this as an opportunity to sleep, since the system will activate visible and audible alerts to notify the driver to take control of the larger Bolt.
When the time comes to purchase your new Bolt hatchback or SUV, be sure to do it at Miami Lakes Automall, We carry a wide range of Chevrolet models , both gasoline-powered and electric-powered. Simply view our online new car inventory and if you find something that feeds your fancy, chat with a representative for further assistance.
Photo Source/Copyright: Chevrolet
Previous Post The Diesel Chevrolet Tahoe and Suburban Show That They're Still Hot Stuff With Recent Sales Next Post North American Auto Sales Skyrocket For SUVs and EVs