The 2023 Chevy Bolt Takes The Cake As The Most Affordable EV – Miami Lakes Automall Chevrolet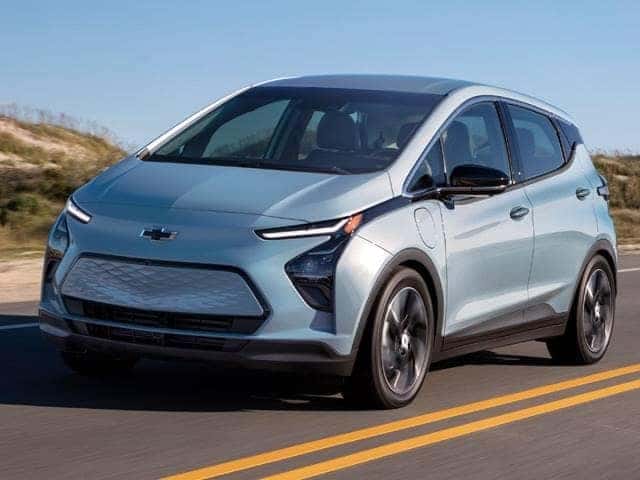 The Affordable Chevy Bolt
The 2023 Chevrolet Bolt will soon serve as the most inexpensive electric vehicle that can be bought in North America.
Recently, the parent company, General Motors (GM) released pricing for the upcoming 2023 model. The entry-level 1LT and better-supplied 2LT models are going for $26,595* and $29,795* respectively, which the company says is a price reduction of $5,900 per model as opposed to last year.
The larger Bolt EUV will get an even bigger cut, (nominally speaking), with $6,300.
The price for the regular Bolt EV model signifies a considerable price cut of 18.5% from a year ago, during a time when everything from components to labor costs are seeing a considerable rise in the country.
GM is even saying that with this large price cut, no features have been taken out or cut out compared to the 2021 model.
"Nothing has been removed," GM product specialist Shad Balch told the Detroit Free Press. "This reflects our ongoing desire to make sure Bolt EV/EUV is competitive in the marketplace. As we've said, affordability has always been a priority for these vehicles."
Pricing
While pricing for 2023 has not been announced yet, the upcoming Nissan Leaf, which was the most affordable EV offered in the States, has a starting price of $27,400, (plus destination fee). If you're not including the federal tax credit of $7,500 that Nissan still accounts for, ** but GM doesn't, the 2023 Bolt EV is the more affordable car in the States.
Technically speaking, the Bolt EV is the cheapest electric model in America when it goes on sale next year, not considering the federal tax credit (bringing the Nissan Leaf down to a considerable $19,900). The troubling ** news for Nissan is that its cumulative total U.S. sales for the Lead model are close to 175,000 units, and when it reaches 200,000, the threshold for the federal tax credit will be cut in half.
Another disadvantage for the Nissan Leaf is that it only has 149 miles of range (according to the EPA), whilst the cheapest Bolt EV has a brand-estimated 259 miles. Buyers would need to upgrade to the Nissan Leaf S Plus in order to even reach 226 miles of EPA-rated range, but that model has a starting price of $32,400, (plus destination fee).
The main idea here is that the company is making many moves to bring an affordable, mass-market EV option with a suitable electric range to the average consumer who wants to transition to an electric model. This is part of the market with a slew of options, with the Nissan Leaf S Plus acting as its only competitor. Alternatively, Fisker (FSR) may seem promising for its electric Ocean EV, which will start below $40,000, (plus destination fee) when it makes its way sometime in 2023.
If the White House ends up hitting its goal for the U.S. to achieve its sales of fully electric cars by 2030, North American buyers will need several more affordable electrified options.
Miami Lakes Chevrolet
When the time comes to purchase the 2023 Chevrolet Bolt be sure to do it at Miami Lakes Automall . We carry a wide range of vehicles from the brand ranging in various shapes and sizes, and at different prices.
Those who are interested in any of our vehicles can simply view our online new car inventory . Once you find something to your liking, feel free to chat with one of our representatives for further information and assistance.
Photo Source/Copyright: Kelley's Blue Book
*Plus destination fee
Previous Post 2022 Chevrolet Camaro: All The Latest Next Post 4 Reasons to Consider The 2022 Chevy Camaro