Future Chevy Truck Revealed In GM Sketches – Miami Lakes Automall Chevrolet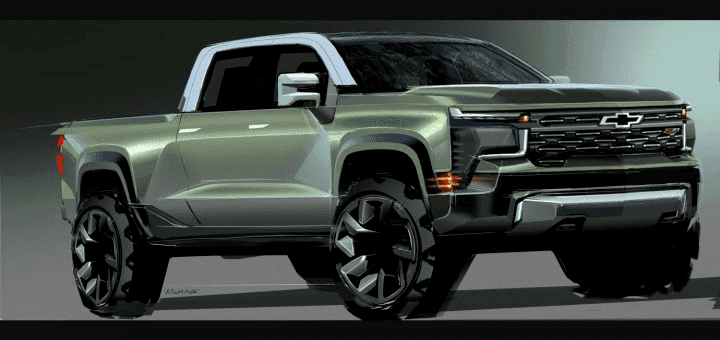 General Motors (GM) recently released several concept sketches that may be used for future Chevrolet trucks. The sketches portray possible designs that may be used with pickup trucks like the Silverado 1500 and Colorado . Lately, Chevrolet has been busy updating its lineup with performance upgrades and refreshes. These newly unveiled sketches help consumers get a better idea of what to expect from future refreshes. As for Chevy's electric trucks, specifically the Chevy Silverado EV and Colorado EV , these EVs will feature a different variation from the portrayed sketches. Still, despite the automaker's focus on EVs, it's good to see Chevy giving attention to its combustion engine lineup. For now, we'll look at the sketches and see what consumers can expect.
New Sketches Reveal Future Truck Design
General Motors (GM) recently posted several concept sketches to its social media account. Designed by GM creative designer Ben Wilkins, the sketches depict the future design of Chevrolet's pickup trucks. This includes the Chevy Silverado and Chevy Colorado. Both pickup trucks have received upgrades and refreshes for the 2023 model year. The Silverado received a new turbocharged 3.0L inline-six Duramax diesel engine, while the Colorado received a new exterior refresh. Looking at these new sketches, both pickup trucks could see new refreshes in the near future.
Looking at GM's social media posts, we can see two images. The first emphasizes the truck's front fascia, while the other portrays the truck at a front angle. The truck depicted features a large central front air intake with horizontal intake slats. At the center, an illuminated Chevy Bow badge brings everything together. We're still determining whether Chevy will use these concept designs for its future trucks. However, it does let us know that the automaker is continuously working on ways to update its lineup.
One other aspect included in the concept sketches was the lighting. A series of thin lighting signatures can be seen running around the outer edges of the concept truck's front fascia down toward its bumpers. They form an L-shape curve and are accentuated by amber lighting bits in the upper corners of the grille. The truck's bumper also features vertical lighting fixtures, which appear to be fog lights. The side-view mirrors also share similar lighting characteristics, while the truck's two-tone paint adds another aesthetic layer. These concept trucks showcase an exciting design and give us an idea of what future Chevy trucks may look like.
Come Test Drive a Brand-New Chevy at Miami Lakes Automall!
Are you excited about getting a new Chevy? So are we! At * Miami Lakes Automall *, we're more than excited to help our customers find what they're looking for. Check out our new vehicle inventory or browse our quality pre-owned vehicles . We offer suggestions like auto financing to help make paying for a vehicle easier.
If you're in need of service, schedule an online service appointment with our expert technicians. Allow our professional techs to get started on all repairs or maintenance work. Stop by today and see what we can do for you right now.
Photo Credit: Chevrolet
Previous Post The Fate Of The Chevrolet Malibu Next Post All The Dirt On The Upcoming 2024 Chevrolet E-Ray