Chevrolet Reveals All-New Lineup at the 2022 NAIAS – Miami Lakes Automall Chevrolet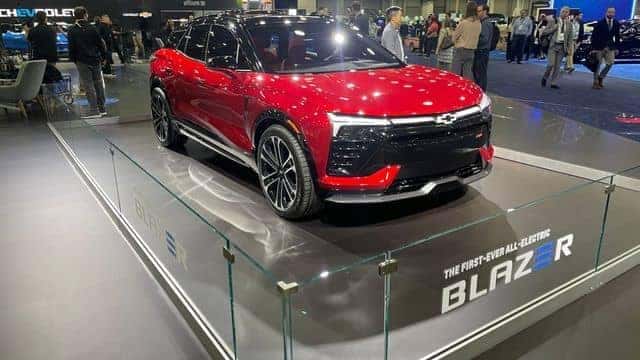 Chevrolet recently unveiled its upcoming lineup at the 2022 North American International Auto Show (NAIAS). The NAIAS was postponed the previous two years, but thankfully it was able to be held this year in Detroit, Michigan. There, many automakers got the chance to showcase their new vehicles and what's to come. For Chevrolet, the automaker got to show off several all-new vehicles, including the 2023 Chevy Colorado , 2023 Chevy Blazer, and 2024 Chevy Equinox EV . The automaker highlighted several trims, including the Silverado ZR2 and Chevy Tahoe RST. With so much to see, we'll dive in and look at all of Chevrolet's latest vehicles.
2023 Chevy Colorado
One of the first all-new vehicles revealed at the 2022 North American International Auto Show (NAIAS) was the 2023 Chevy Colorado. The 2023 Colorado will be the third generation of the mid-size pickup. It will feature a bolder look along with a more robust performance. The 2023 Colorado will come equipped with a turbocharged 2.7L engine. It will also have a wider stance, more modern styling, and a redesigned interior cabin. Consumers can also expect more selectable driver modes and an 11.3-inch touchscreen. A new Trail Boss and ZR2 Desert Boss trim will also be available.
2023 Chevy Silverado/ Chevy 2024 Silverado EV
The 2023 Chevy Silverado was revealed to have an all-new ZR2 trim. The heavy-duty pickup will receive increases in its performance and capability. Chevrolet also hinted at the all-new 2024 Chevy Silverado EV, slated to feature 400 miles of range. The all-electric pickup truck will be offered with a WT and RST trim. The WT trim will come equipped with a dual motor setup capable of 510 horsepower and 625lb-ft of torque. The RST trim will come equipped with a stronger dual motor setup that grants it 664 horsepower and 780lb-ft of torque.
2023 Chevrolet Tahoe RST
The next big reveal was a new RST trim for the 2023 Chevy Tahoe. This performance edition trim will equip the full-size SUV with a 6.2L V8 engine. The V8 engine will produce 433 horsepower and 467lb-ft torque, more than enough to provide high performance and capability. With this engine, the Tahoe will be able to hit a 0-60 mph time of 6 seconds. The new RST trim will also lower the ride height of the 2023 Chevy Tahoe and add a unique torch-red style.
*2024 Chevy Blazer EV & 2024 Chevy Equinox EV *
One of the most significant reveals was Chevrolet's EV lineup. The aforementioned Silverado EV, the all-new Blazer EV, and the Equinox EV were included. These electric vehicles will utilize General Motors' Ultium platform, which helps enable the highest level of performance and design. The 2024 Chevy Blazer and Chevy Equinox are two electric EVs with much to offer.
The Blazer will offer consumers 320 miles of range and come with a 0-60 mph time of 4 seconds. The electric SUV will also offer the option between forward-wheel drive, all-wheel drive, and rear-wheel drive. As for the Chevy Equinox EV, it will start at an MSRP of $30,000 (plus destination fee) and will offer 300 miles of range. Both EVs will feature Chevy Safety Assist and Chevy Super Cruise. They will also come standard with a free EV charger installation.
Come Test Drive a Brand-New Chevy at Miami Lakes Automall!
Are you excited about getting a new Chevy? So are we! At * Miami Lakes Automall *, we're more than excited to help our customers find what they're looking for. Check out our new vehicle inventory or browse our quality pre-owned vehicles . We offer suggestions like auto financing to help make paying for a vehicle easier.
If you're in need of service, schedule an online service appointment with our expert technicians. Allow our professional techs to get started on all repairs or maintenance work. Stop by today and see what we can do for you right now.
Photo Credit: Mike Home
Previous Post 5 The Reasons Why The 2023 Chevrolet Corvette Z06 Is A Sports Car Enthusiast's Dream Next Post The 2024 Chevy Equinox EV Provides A Satisfying Round Off To GM's Portfolio