Chevy Corvette Sees Impressive Q3 Sales, Ranks First Among Premium Sports Cars – Miami Lakes Automall Chevrolet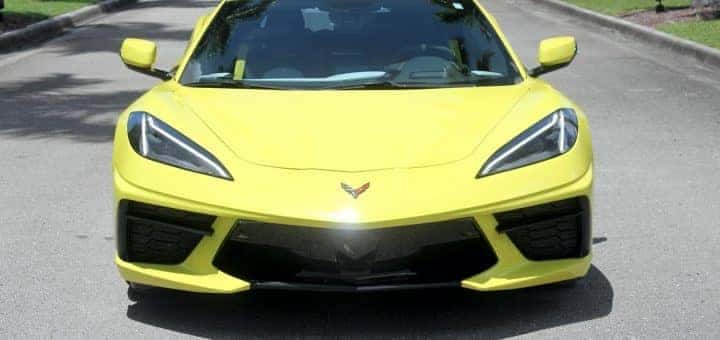 The Chevy Corvette recently enjoyed impressive third quarter (Q3) sales in the United States. The luxury sports car managed to surpass its previous Q3 sales by about 60 percent. Chevrolet is certainly enjoying the increased popularity as its Corvette model ranked higher than competitors by huge margins. The automaker has been turning its focus on electric vehicles lately, a move many other automakers have seemed to attempt. Chevrolet has teased its all-new all-electric Chevy Silverado and they have also hinted at a potential new electric sedan that may or may not replace the Camaro . It's always a positive when an automaker can capitalize on its current lineup while continuing to meet consumers' demands and interests. Electric vehicles have become a hot topic as of late given the climate crisis, but as seen with the Corvette's sales numbers, it seems some folks are still looking to drive high-performance sports cars.
Chevy Corvette Sees Increased Sales Overall
The Chevy Corvette saw delivery numbers totaling 10,166 units in Q3 of 2021. This was an increase of 59.97 percent compared to the 6,355 units sold in Q3 of 2020. As for the entire year, the premium sports car saw sales increase about 96 percent to 24,748, compared to 12,634 the previous year. This increase was seen mainly in the first nine months of the year. These numbers allowed the Corvette to become the best-selling model in its class. Following the Corvette was the Porsche 911, then the Porsche 718, and after that came the Mercedes-Benz AMG GT in fourth. Overall, the Corvette managed to outsell all its rivals.
Corvette sales for the year included all Corvette body styles, variants, trim levels, and packages. In each quarter of 2021, the Corvette managed to post strong numbers. During each of its quarters, the Corvette accounted for at least 51 percent of the segment share. It should be noted that many competitors in the segment cost significantly more than the Corvette (the C8 starts at a base price of $58,900 [plus destination fee]). This may explain why rival sales numbers were as low as they were. Still, the Corvette managed to solidify its status as a desirable sports car.
Given the strong sales numbers, it's clear the Corvette C8 line has more room for growth. Higher-performance variants are still on the way. Some of these include the C8 ZO6, C8 E-Ray, C8 ZR1, and the C9 Zora. The C8 Z06 will be the first variant to launch for the 2023 Corvette model year. As these variants continue to release, it's expected that Chevy will see even greater sales numbers for its sports car. As long as production at the GM Bowling Green plant and the GM Tonawanda Engine plant continues without pause, Chevy should continue to see its Corvette reign at the top of the sports cars sales list.
Come Test Drive a Brand-New Chevy at Miami Lakes Automall!
Are you excited about getting a new Chevy? So are we! At * Miami Lakes Automall *, we're more than excited to help our customers find what they're looking for. Check out our new vehicle inventory or browse our quality pre-owned vehicles . We offer suggestions like auto financing to help make paying for a vehicle easier.
If you're in need of service, schedule an online service appointment with our expert technicians. Allow our professional techs to get started on all repairs or maintenance work. Stop by today and see what we can do for you right now.
Photo Credit: Chevrolet
Previous Post Chevrolet Picks Up The Pace In The Electrified Race Next Post An Electrified Spotting! Spy Shots Capture The 2023 Corvette Corvette E-Ray