Chevrolet Will Build Its Own Off-Road Champion Pickup By 2022 – Miami Lakes Automall Chevrolet Chevrolet Will Build Its Own Off-Road Champion Pickup By 2022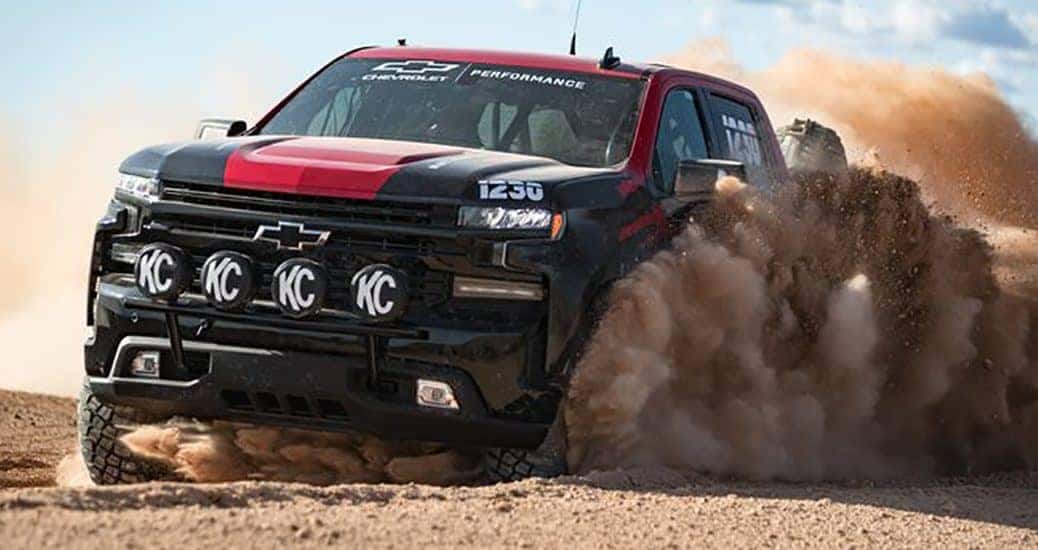 We have learned the Chevrolet brand is going to build its own off-road champion. The Chevy brand might be the last to the table for customers when offering a vehicle that rivals the Ford F-150 Raptor or the Ram Rebel TRX, but in a matter of time, customers will only care about which vehicle provides the most excitement for their money. The Chevrolet brand is going to ensure customers are fully satisfied with its pickup lineup. Allow us to inform and drive some interest in what to expect with the newest reports about what the Chevrolet brain trust has in store for customers.
No One Builds High-Level Engineering Like Chevrolet
The Silverado light and heavy-duty variety are only missing one vehicle compared to other brands, but not for long. The introduction of the Silverado ZR2 will be a welcomed sight. We first saw a glimpse of what the Silverado ZR2 could look like when a Silverado race truck was shown off last year at the SEMA show in 2019. With many shoppers clamoring for a vehicle that pushes the boundaries of speed and power in a pickup, Chevrolet is looking for a vehicle that provides that in spades. The new rumors and reports leaking about this vehicle have us wondering what the final product will look like, but so far a lot has come out about what might happen between now and 2022.
What the Reports Say About the Silverado ZR2
The folks at Muscle Cars and Trucks have unnamed sources, but have revealed the plans that are launched for Chevrolet include a new ZR2 version of the Chevrolet Silverado is a plan that is underway. The performance of the off-road truck segment is most important and General Motors is going to ensure they offer buyers a vehicle unlike any of the products that competitors present. To build this vehicle, Chevrolet and General Motors are likely to keep everything underwraps for now. The focus will be less on the engine and horsepower, which is rumored to be kept with its existing 6.2-Liter naturally-aspirated L87 V8 engine. This is the powertrain that offers 420 horsepower, so it will not lack sufficient power or strength for owners.
Upgrades and Expected Launch Date
The enhancements will be added to protecting the engine and vehicle as a whole for off-road travel. The addition of skid plates and off-road tires are expected, but the "next evolution of the DSSV off-road damper" is something to look forward to. The Silverado ZR2 is going to arrive by 2022, according to the report. This would mean the Chevrolet Silverado ZR2 will be part of the 2023 model year. This is going to be a pickup that is like the larger version of the Chevrolet Colorado . Early mentions regarding the price for the pickup to be kept somewhat lower than $60,000 MSRP; far less expensive than the Ram Rebel TRX. Looking for new options from Chevy? Find them with our help at Miami Lakes Automall.
Find the Newest Chevrolet Vehicles All at Miami Lakes Automall
We hope you visit us at Miami Lakes Automall , where we make it easy for customers to drive away with an amazing vehicle at an incredible price. Our friendly sales team is excited to show off our entire Chevrolet lineup . We're ready to assist with all sales and trade-in offers. From our new vehicle inventory to our pre-owned vehicle inventory , there's a fantastic selection to decide from.
If you're looking for pricing options to allow you to buy what you want, our trusted auto financing team can support you for any buying or leasing needs. For any repair or service needs, please make an online service appointment to see our knowledgeable service team. Come visit us today, we're located at 16600 NW 57th Ave in Miami Lakes, Florida. We can't wait to get started to help you.
Previous Post General Motors Gives Us An Electrifying Tease With The 2021 Chevy Bolt Next Post Chevrolet Raffles 1.75th Millionth Corvette For One Lucky Winner