Chevrolet Raffles 1.75th Millionth Corvette For One Lucky Winner – Miami Lakes Automall Chevrolet Chevrolet Raffles 1.75th Millionth Corvette For One Lucky Winner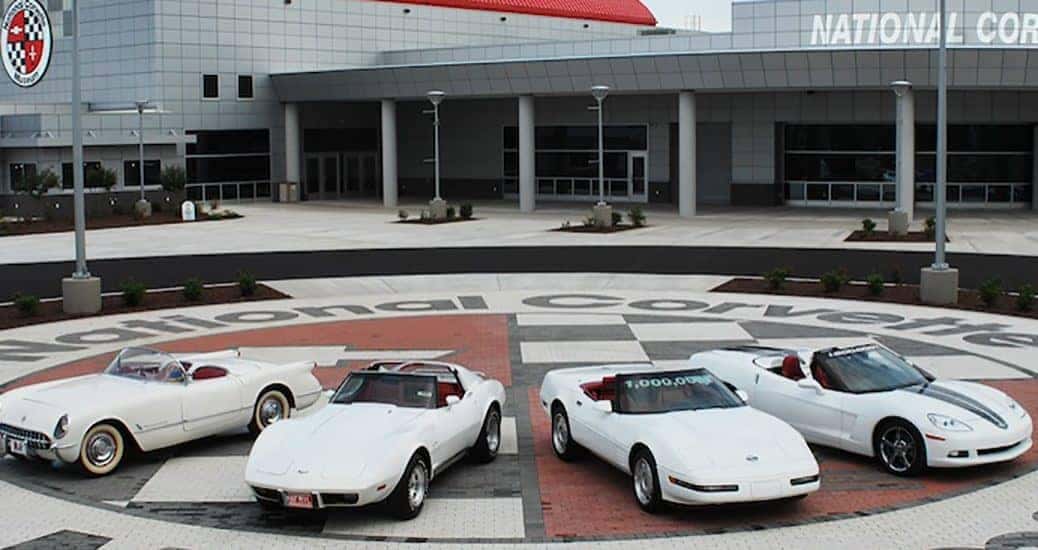 Four Corvettes from each 500,000 production milestone sit out front of the National Corvette Museum
Photo credit: Chevrolet
There aren't enough good new stories that have come out in 2020, but one recent story has shined some light on an impressive feat. Chevrolet has just produced its 1.75 millionth Corvette. The Corvette is now in its eighth-generation and the 1.75th millionth Corvette was raffled off by the National Corvette Museum. The perks of the 2020 Corvette can not be understated, the 2020 Corvette C8 is the first mid-engine Corvette and it was built to impress any buyer. This is why the raffle was a huge success for Corvette and the winner has just been announced.
The 1.75th Millionth Corvette Has Been Raffled
The raffle drew hundreds of hopefuls that wanted to win the prize. On September 4th, 2020, the winner, Don Creekmore from Wichita, Kansas took home the top prize. The drawing was streamed on social media. Don received a 2020 Chevrolet Corvette C8 Coupe that was finished in Arctic White paint with an Adrenaline Red interior and had never been driven before. The widely-popular Z51 Performance Package was included with its 3LT trim that offers the most Chevrolet has built for the Corvette. The color scheme of the Corvette is a throwback to the one-millionth Corvette that was produced in 1992. The 1.5 millionth Corvette was produced during the 2009 model year. The first Chevrolet Corvette ever made was created with a Polo White exterior and red interior.
Anyone Else Ready To Win a Corvette?
As far as the future holds, the Chevrolet brand will see more raffles ahead taken care of by the National Corvette Museum. The Build Your Own 2021 Corvette Coupe will have a raffle slated for September 24th, 2020. The tickets are priced at $250 a pop, but another raffle is coming next month on October 15th, 2020 that will only cost $100 for a raffle ticket. The October raffle will be for a 2021 Corvette Coupe model as well with a Silver Flare finish. The National Corvette Museum is located in Bowling Green, Kentucky. Just across the street is the GM Bowling Green production facility that is the sole producer of the Chevrolet Corvette since 1981.
Over 1,000 employees work at the production plant. The Cadillac XLR used to be made there as well, but now the sole focus is towards the Corvette. More lucky winners will be announced before the year is up to bring some delight and joy. To bring some excitement and joy into 2020, stop by Miami Lakes Automall to check our new Corvette collection.
Find the Newest Chevrolet Vehicles All at Miami Lakes Automall
We hope you visit us at Miami Lakes Automall , where we make it easy for customers to drive away with an amazing vehicle at an incredible price. Our friendly sales team is excited to show off our entire Chevrolet lineup . We're ready to assist with all sales and trade-in offers. From our new vehicle inventory to our pre-owned vehicle inventory , there's a fantastic selection to decide from.
If you're looking for pricing options to allow you to buy what you want, our trusted auto financing team can support you for any buying or leasing needs. For any repair or service needs, please make an online service appointment to see our knowledgeable service team. Come visit us today, we're located at 16600 NW 57th Ave in Miami Lakes, Florida. We can't wait to get started to help you!
Previous Post Chevrolet Will Build Its Own Off-Road Champion Pickup By 2022 Next Post The Chevrolet Suburban Is Shaking Things Up For Its 2021 Model