Chevrolet Unveils the Remarkable ZR2 Bison – Miami Lakes Automall Chevrolet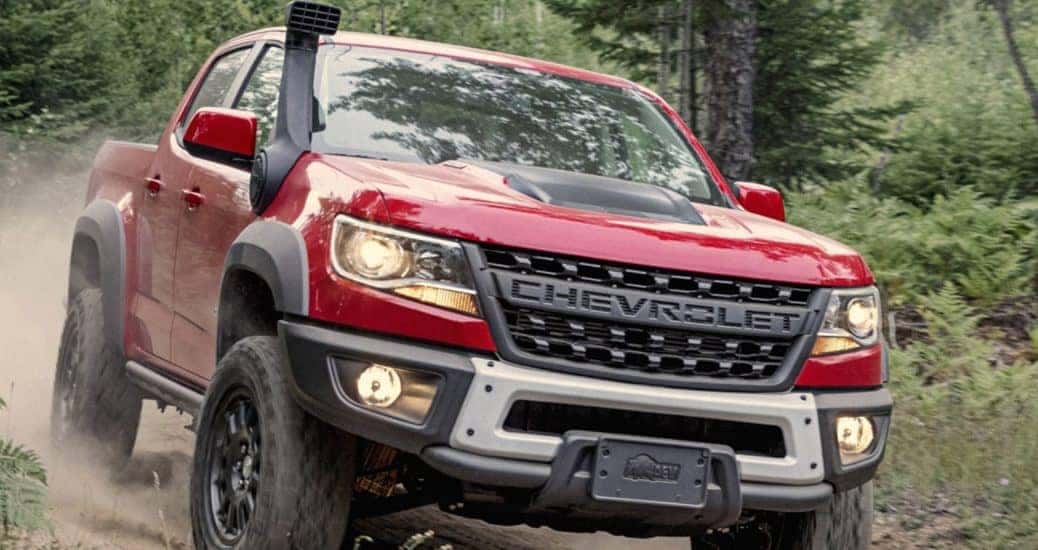 Photo credit: Chevrolet
Chevrolet is revamping their 2019 Chevy Colorado ZR2 with the new ZR2 Bison trim. This off-road version of the Colorado pickup is a rugged trim made possible with a partnership with American Expedition Vehicles. Chevy's newest mid-size truck option with unlimited off-road capabilities was first introduced at the 2017 Specialty Equipment Market Association show (SEMA) as a concept vehicle. The Colorado ZR2 Bison is not your average pickup as the undercarriage of the Bison carries high level protection with five skid plates. The skid plates are comprised of hot-stamped boron steel. With the mindset of making a fully protected truck capable of dealing with the harsh trails of expeditions, Chevrolet has succeeded with flying colors.
How Ready Is the Bison For Off-Road Travel?
The 2019 Chevrolet Colorado ZR2 Bison includes a 2.8-Liter, six-speed Duramax turbo-diesel engine that generates 186-horsepower and 369 lb-ft of torque. The Bison also drives on huge 31-inch Goodyear Wrangler Duratrac off-road tires. Customers can choose between either a crew or extended cab for the truck. There's also the addition of third-party add-ons like a snorkel from American Expedition Vehicles (AEV) that is fitted for all Colorado pickup trucks. While this is the first time AEV has worked with Chevy, they have pulled out all the stops to make this vehicle a success.
Drivers can feel secure going on the road less traveled knowing there's armor protecting the fuel tank, transfer case, locking differentials and oil pan. The protection is provided by AEV, who helped make the Jeep Wrangler Brute. There's no need to buy any extra protection or modifications for the new 2019 Chevy Colorado ZR2 Bison; it's ready to go off-road from the first day of purchase. AEV also provided its expertise to the ZR2 Bison's stamped steel front and rear bumpers. The front bumper includes fog lights which helps with nighttime visibility for drivers. The bumper also includes winch provisions.
Strong and Capable, This Bison Is Ready For Everyone To See
The Bison is decked out in Bison decals, all visible along the bed sides, and an AEV Bison logo (where the Bison gets its name) resides along the tailgate. The AEV logo is apart of the interior, embroidered on top of the floor liners and front head restraints. The Bison will not carry the Chevrolet bowtie on its grille however, replaced with the Chevrolet brand on the front end.
"More and more enthusiasts are discovering that Colorado is ideal for off-roading, especially overland travel. The Colorado Z71 offers a full suite of off-road equipment, the maneuverability of a midsize truck and the driving range of a class-exclusive diesel engine. The Colorado ZR2 offers even greater off-road capability with class-exclusive front and rear locking differentials. And now, Bison offers customers an even more extreme turnkey off-road truck ready to tackle your next adventure," said Sandor Piszar, Director of Chevy Marketing.
The Bison Is Ready to Roam
This vehicle is highly shielded, looks imposing from the start and matches customers expectations of being an engaged off-road vehicle. While there are a total of four options for the Colorado sold by Chevy, this is the extreme off-road option for customers. The diesel option, a V6 gas engine option, the ZR2 off-road and now the Bison trim make up the Colorado pickup lineup. Whichever one is desired, there's a place that has them ready to go.
Come To Miami Lakes Automall
Miami Lakes Automall makes it easy for customers to find what they want and our professional team is happy to show off our entire lineup, including the 2018 Chevy Colorado ZR2 . From our new to our pre-owned vehicles, there's a large selection. If you're looking for pricing options to allow you to buy what you want, our financing team can support you for any buying or leasing needs. Need to sell or trade-in your vehicle? Visit at Miami Lakes Automall.
Our team is ready to help make your summer more fun with these vehicles that provide an amazing experience. Just come in for a test-drive to see what you can end up with. From our professional sales team to our entire staff at Miami Lakes Automall , we welcome you to our business with pleasure. Located at 16600 NW 57th Ave in Miami Lakes, Florida. We're open seven days a week across our sales, service and parts departments to better serve you .
Previous Post Why the Chevy Traverse Is the Choice Among Three-Row SUVs Next Post Chevrolet Malibu and Malibu Hybrid Prove Chevy Sedans Are Staying Alive