Chevrolet Malibu and Malibu Hybrid Prove Chevy Sedans Are Staying Alive – Miami Lakes Automall Chevrolet Chevrolet Malibu and Malibu Hybrid Prove Chevy Sedans Are Staying Alive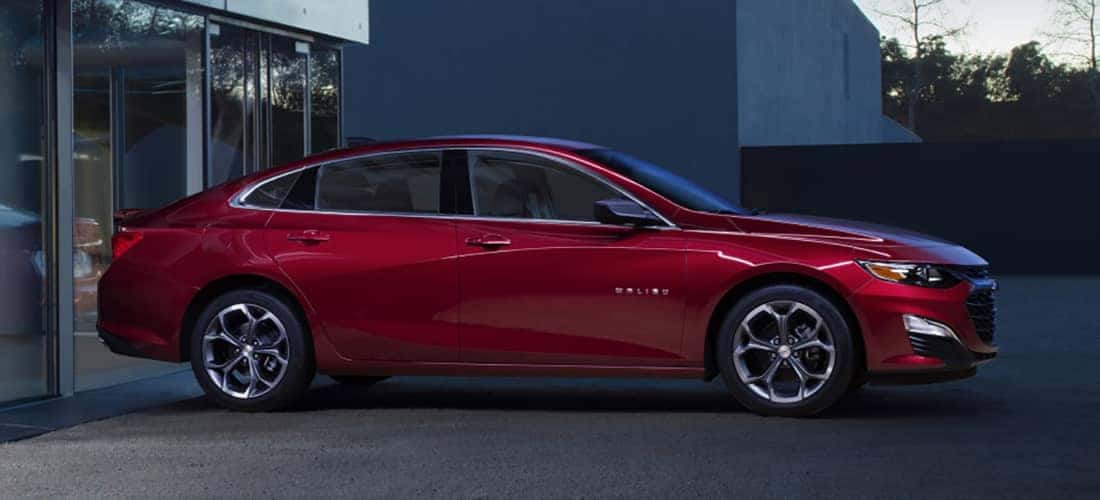 2019 Malibu Premier and 2019 Malibu RS: Updated styling across the lineup — led by the first-ever RS trim — introduces additional choices to the 2019 Chevrolet Malibu and improves its presence.
Photo credit: Chevy
Looking for a sedan? Chevy has six options for every kind of budget and expectation. While the rest of the market is moving away from the sedan experience and focussing on the crossover, SUV and pickup market, Chevy is doing the exact opposite. A large reason for their continued success with these vehicles begins with their cost-effective approach of offering new amenities in a vehicle that offers better gas mileage than most non-hybrid vehicles.
Brief Overview of the Six Sedans Offered By Chevy
All six models are available now,with the latest 2019 models arriving just in time for customers to get their hands on them. Staring with the new 2019 Chevrolet Sonic that has a new base engine, the MSRP begins at only $15,420 (plus destination fee), the new 2019 Chevy Cruze provides remarkable fuel economy benefits and starts at just $17,995 MSRP (plus destination fee), the new 2019 Chevy Malibu has a different look with interior upgrades and new color options, and this mid-size option begins at $21,680 MSRP (plus destination fee). The 2019 Chevy Impala is a wonderful full-size sedan that offers up to 305 horsepower and an impressive 30 highway mpg; it starts off at $27,895 MSRP (plus destination fee).
Closer Look at the Chevrolet Malibu and Malibu Hybrid
The top two tiers for the Chevrolet sedan vehicles are the new 2019 Chevy Malibu and new 2019 Chevy Malibu Hybrid. The 2019 Chevy Malibu comes with a new look and has been awarded by J.D. Power as the "Most Dependable Midsize Car" based on a survey of 2015 models. Drivers will love the Malibu Premier trim that offers a 250-horsepower 2.0-Liter turbocharged ECOTEC engine that is paired to a 9-speed automatic transmission. The 2019 Chevy Malibu comes standard across all trims with engines that are paired to a continuously variable transmission to help raise fuel efficiency.
The 2019 Chevy Malibu Hybrid also holds incredible gas mileage with the help of the 1.8-Liter hybrid engine that delivers an EPA estimated 49 city mpg. Being a 2017 IIHS Top Safety pick when equipped with the available driver confidence package, many drivers can feel safe and admire this Chevy sedan for many years to come.
"While the U.S. car market continues to shrink as buyers increasingly opt for SUVs and crossovers, it still represents more than 4 million customers and a chance to introduce consumers to GM with entry-level products. As other people are making noise about leaving the car business or thrifting back their portfolio, there's still business to be had there. It's just going about the business in a smart fashion. " says Steve Majoros, Chevrolet's marketing director for cars and crossovers.
Shifting Sedan Market
Ford is removing their once popular sedan vehicles, except for the Mustang and Focus models, and by 2020 will make 90% of their North American sales without the help of sedans (excluding the Mustang and Focus Active). GM believes in Chevy to keep their sales growing with the sedan market. Chevy has added a sporty Malibu RS trim as part of the midsize car's 2019 refresh.The 2019 Chevy Malibu RS will begin at $24,995 MSRP (plus destination fee) and lands between the Malibu's LS and LT trims. The RS is made complete with the front end that holds black accents and a black bow-tie logo, new 18-inch wheels, a rear spoiler with dual exhausts.
The Malibu RS is predicted to make up 1/5th of the U.S. sales of the Malibu, Majoros said, and will compete against Sport trims of competitors like the Honda Accord and Toyota Camry. While there are some companies leaving the sedan market, Chevrolet has customers covered with a wide range of different sedan choices. Though cars sales went down from 46 percent in 2014 to 32 percent of U.S. sales in 2018 according to Chevrolet.
"There's still volume to be had there," he said. "We've done a nice job about taking a responsible approach to the product. If other competitors are leaving, we're very happy to pick up that business, and we'll certainly do that," -Majoros remarked.
Can't Wait to Drive the Latest Chevy Sedans?
The place to find your new Chevy vehicles will always be Miami Lakes Automall. We're proud to offer you remarkable prices and a wide selection of new and nearly 100 quality pre-owned Chevrolet vehicles. From buying, leasing, trade-ins or selling; we are the dealership that can handle your requests.
If you're looking for servicing or repairs, we have a full-service team that will help you keep your vehicle running smoothly, whether you bought from us or not. Our professional team and friendly staff looks forward to helping you today!
Previous Post Chevrolet Unveils the Remarkable ZR2 Bison Next Post Chevrolet Releases Clever App To Curb Distracted Driving