7 Big Changes for 2016 Chevy Models | Chevrolet Miami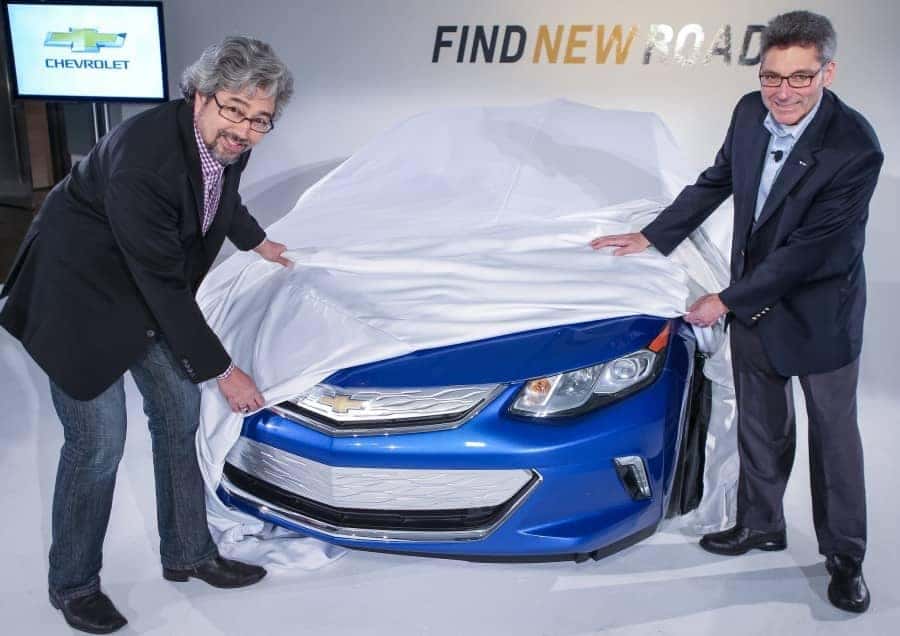 Now that it's officially 2015, what better way to start the new year than by checking out what Chevy is preparing to offer next? The company is working on some intense upgrades for 2016, with increased fuel efficiency at the forefront.
Whether you're a performance lover with your eye on a new Camaro or a devoted Volt fan who loves those electric miles, plan on being wowed by what you see at Chevrolet in Miami for 2016.
The Camaro is Lightening Up
Performance lovers are waiting with baited breath to see what the next gen Camaro has in store. It's arriving on the heels of a so-so redesign of Ford's Mustang, and Chevy fans are anxious to wipe the floor with the competition.
Though the Camaro will hang on to its classic muscle car looks, it's also sure to have some modern styling blended in when it hits the scene in 2016.
Speculations include a smaller overhang in the rear, less bulge on the hood, more slender head and taillights, and an overall sleeker appearance than previous generations.
Inside, it's going to receive an updated Alpha platform like the one used by the Cadillac ATS and CTS. That will help trim off some pounds and make the Camaro more agile.
It's also expected that Chevrolet will do some tweaking to offer up better fuel efficiency. The most popular theory on how that would be accomplished is with a 2.0-liter turbo four, but nothing has been confirmed to date.
Hang in there until the unveiling later this year when more specifics about the muscly favorite will become available.
An Enhanced Volt
This little car has created an unbelievable following over the last few years. There are entire websites dedicated to Volt forums, and people who drive this car tend to be a little fanatic about how far they can go on one charge.
Needless to say, it is one of Chevy's 2016 releases that's causing the most excitement among consumers because many can't wait to get their hands on the next gen model.
The anticipation is partially due to Chevy's strategy for executing the Volt's redesign. The company gathered data from thousands of owners, using the feedback as an outline of what changes needed to be made.
And from what's been revealed so far, Chevy certainly listened to what their customers had to say. The most requested enhancement was the ability to travel longer distances using only electricity, so Chevy has created the all-new Voltec Propulsion System.
The innovative system, which includes the Volt's battery, engine, drive unit, and electronics, gives the car a longer range and even better fuel efficiency.
The 2016 Volt will have a larger battery, so the fuel-sipper's fans will be able to squeeze out even more miles without ever using a drop of gas. But having the backup of fuel is still a perk; drivers never have to worry about how far they can go.
A slightly bigger 1.5-liter 4-cylinder engine will also be used in the 2016 model, making the car more capable and significantly quieter. The next gen Volt is said to get 20 percent better acceleration, an upgrade that will definitely please drivers.
The Cruze Makes Waves
Originally supposed to hit the scene in early 2015, the 2016 Cruze is now making its debut later in the year. And while many would have liked to get behind the wheel sooner, the wait will definitely be worth it.
The Cruze is about to change the game by becoming the only car in its class to offer a 7-speed dual clutch transmission (DCT). While there are a few other entries with DCTs, they only have six speeds.
Paired with new 4-cylinder Ecotec engines from Chevy, the Cruze's dual clutch will offer a great deal more efficiency. The changes for 2016 will also make the ride smoother and the cabin quieter.
In addition to its upgraded engineering, the Cruze is also going to get a slightly longer body to give more space for rear seat passengers and cargo storage.
The new exterior is polished and well-defined, and the car's bolder nose gives it a more distinctive look. A refreshed interior is also part of the package; it includes premium materials and the latest tech.
The Malibu Reinvented
Though Chevy's Malibu has held its own as the brand's midsize sedan, the company would like it to become more of a stand-out option for buyers.
They want to ensure that loyal customers who need something larger than the Cruze have an excellent vehicle to step up into.
So they've taken the Malibu in for a substantial redesign that will hopefully be revealed for 2016. So far, it has only been seen in testing and was almost entirely wrapped in camouflage to disguise its brand new appearance.
Though specifics aren't available, it's very clear that Chevy intends the new Malibu to be an aggressive contender in the market. Areas of focus are more refined looks and even stronger performance. Some are wondering if a hybrid version might become available as well.
Details are scarce up to this point; however, it's safe to say that the next gen Malibu will be ready to take the industry by storm when it arrives.
The Colorado Goes Diesel
Having already caused a lot of disruption with the introduction of a brand new mid-size pickup, Chevy is aiming to keep the momentum going.
Currently, you can get the Colorado with a 2.5-liter inline 4 or a 3.6-liter V6, but there's another option on the way. For 2016, the 2.8-liter Duramax Turbo-Diesel that so many people have been looking forward to will also be available.
The new diesel engine is going to add even more ruggedness to the Colorado, while enhancing its fuel efficiency at the same time.
In a truck that has already been recognized as best-in-class for fuel economy, opting for diesel will make fuel costs even lower.
A Makeover for the Equinox
The Equinox, Chevy's popular SUV has been an incredibly strong seller for the past six years. People love its spacious layout, premium look and feel, and super comfortable ride. And Chevy has avoided messing with a good thing.
However, they are going to give the Equinox some light, fresh touches for 2016 to tide it over until a later redesign.
Included in the minor alterations will be some new styling cues taken from other members of the lineup, like the Cruze. The Equinox is going to get a larger grille and a new front fascia. It's also probable that the interior will get some upgraded materials as well.
So don't worry, nothing too drastic is happening to this beloved SUV. Chevy's just sprucing it up continued years of success.
A Newly Capable Sonic?
The Sonic, which is currently offered as a sedan or a hatchback is a Chevy favorite. It provides plenty of room, gets 40 miles per gallon on the highway, and it has some of the highest safety ratings around.
The Sonic's turbocharged engine also makes it fun to get around in, and cutting-edge tech options, like Siri-Eyes Free and 4G LTE WiFi, are among the many things that make people adore this car.
Well, the Sonic may get even sweeter for 2016. If rumors prove to be true, Chevy may begin offering it as an EV with a range of up to 200 miles.
Though there is only speculation so far, electric car enthusiasts are anxiously keeping their fingers crossed, hoping that this baby will head to production.
Previous Post Is Chevy's Concept for a Crossover Volt a Good Idea? Next Post OnStar's Newest Feature May Help You Save on Car Insurance