Secret Ram 1500 Feature Has a Purpose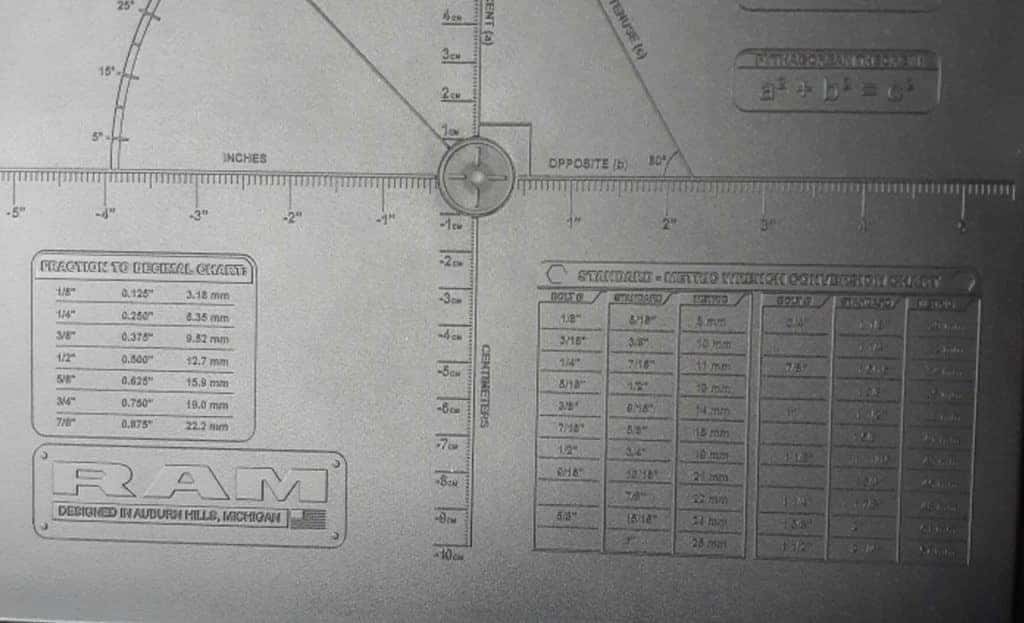 Ram took the pickup world by storm when it debuted the all-new Ram 1500 thanks to the model's perfect balance of style and substance. There's one subtle feature that might've intrigued new Ram 1500 owners — a collection of mathematical tables and charts below the center console lid. Hidden away on the underside of the console lid, slotted between the driver and front passenger, is a wrench, a right angle, trigonometry formulas, a protractor, several rulers, the Pythagorean theorem — and even fraction/decimal conversion charts! What's all this math about? Ram explained what the significance of the console lid as follows:
It's well known by now that Ram's parent company, Fiat Chrysler Automobiles (FCA), includes "Easter Eggs" — hidden details to reward an owner's careful attention — on plenty of its vehicles. Jeep was the first to feature Easter Eggs , but the tradition carried over to every FCA brand. Designers like to incorporate Easter Eggs because it's an easy and fun way to include some sort of secret perk. Ryan Nagode, Ram's chief interior designer, said "They're free in a sense. It doesn't take that much effort to throw something in there, from a cost perspective."
As it turns out, all the mathematical references on the Ram 1500 center console don't really serve any specific purpose. The Easter Egg actually helped solve an issue for Ram designers during the manufacturing process. Ram tried to pour the plastic of the lid into a mold in several ways when designing the current-generation Ram 1500. The mold wouldn't fill correctly unless the molten material was dropped directly in the middle. This posed a problem because wherever the plastic fell, a drop circle was created, ruining the sleekness of the console lid. In an effort to mask the drop circle, designers opted for an Easter Egg as the appropriate cover.
Usually, a plastic drop circle would be of no consequence since interior components tend to be viewed from one side only, but that's not the case for the console lid. It's viewed from both sides. While designers sought a way to mask the drop circle, they settled on adding something that would be appropriate in the new vehicle. "All of it was based on trying to hide that center circle drop area. This lid… opens up pretty far so you can access the bin pretty well — so you really stare at the bottom of this tray," said Nagode. While working with tools for other projects, the designers had an idea for filling the space with mathematical charts and more.
"One day, we had some drawing tools on my desk, and one of them had a metric conversion — a little chart on it. And we're just looking at a protractor and a right angle that were sitting on our desks, and we thought wouldn't it be funny to use this opportunity to [put that sort of thing] on a piece like this? [That way, it] could all relate back to building and the creation of things," added Nagode.
Formulas, charts, and tools all tie back to one of the main reasons buyers opt for a pickup truck: work. The mathematical Easter Egg appears on every Ram 1500 pickup that's equipped with a center console and front bucket seats. Other interior features of the Ram 1500 worth mentioning include its lavish cabin with a mix of warm materials that take a standard pickup interior to the next level. There's also a table-sized center armrest, pinstripe stitching accents on the leather-and-woodgrain steering wheel, leather grab handles, and door panels with leather accents. The dashboard itself is made of dull brushed and shiny soft metal strips, panels of darkened wood, Piano Black accents, and soft swaths of stitched leather.
What's more versatile than a truck that can be used not only for work but for leisure as well with its prowess and style? Visit us atMiami Lakes Automall, check out our Ram 1500 inventory , and schedule your test drive today! Follow Miami Lakes Ram on social media for the latest Ram Truck news and offers.
Photo Source/Copyright: Bobby Brewski
Previous Post Upcoming Ram Rebel TRX Will Crush the Raptor Next Post Ram Continues its "Built to Serve" Mission