Remembering the 1994 RAM 1500 | RAM Trucks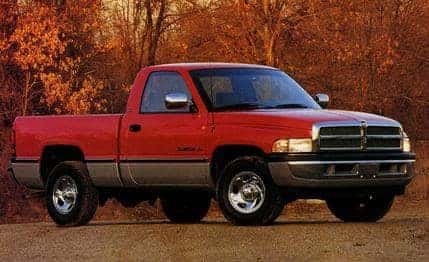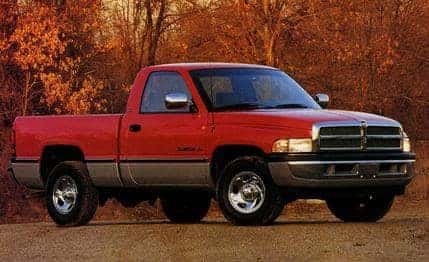 The 2014 RAM 1500 cemented itself as one of the best RAM trucks of its time when it was named Truck of the Year by Motor Trend over the summer. Oddly enough, this honor came just in time for the 20th anniversary of the 1994 RAM 1500, the first RAM truck to win the honor.
Though it may be somewhat forgotten today, we're here to tell you why the 1994 RAM 1500 remains one of the best, and most important, RAM trucks ever!
Enhanced Appearance
When 1988-1990 RAM models faced criticism for appearing too flat, RAM designers decided to beef up the appearance of all RAM trucks starting with the 1994 RAM 1500. The intent was to give all RAM trucks a more "macho" look, meaning the 1994 RAM 1500 was the first RAM truck to feature a bigger front end and larger grille. Unbeknownst to designers at the time, the 1994 RAM 1500 would establish a template for all later RAM trucks to follow.
New In-Cab Storage Features
The 1994 RAM 1500 was also the first RAM truck to pay special attention to in-cab storage features. This RAM truck featured extra storage space behind its seats, a larger glovebox, a center armrest storage area, and much more. The dash and gauge center were also updated to attain a more modern look than previous 1500 models, making the 1994 RAM 1500 to be first the pickup truck of the decade to feel apart of the times.
Massive Success
The 1994 RAM 1500 was wildly successful upon its arrival onto the market. To put its success in perspective, RAM only sold 78,000 units in 1993 whereas the 1994 RAM 1500 sold 240,000 units a year later. Sales jumped even more in the following two years with units sold reaching 480,000 by 1996. The 1994 RAM 1500 was so successful it even played a role in the 1996 disaster flick Twister !
1994 RAM 1500 is a legendary pickup truck that should be remembered more fondly today. Though it's hard to find today, you can find other several great RAM trucks doing justice to its legacy at Miami Lakes RAM!
Previous Post 2014 RAM 1500: 4 Awesome Facts Next Post How to Get the Most Out of Your Tires